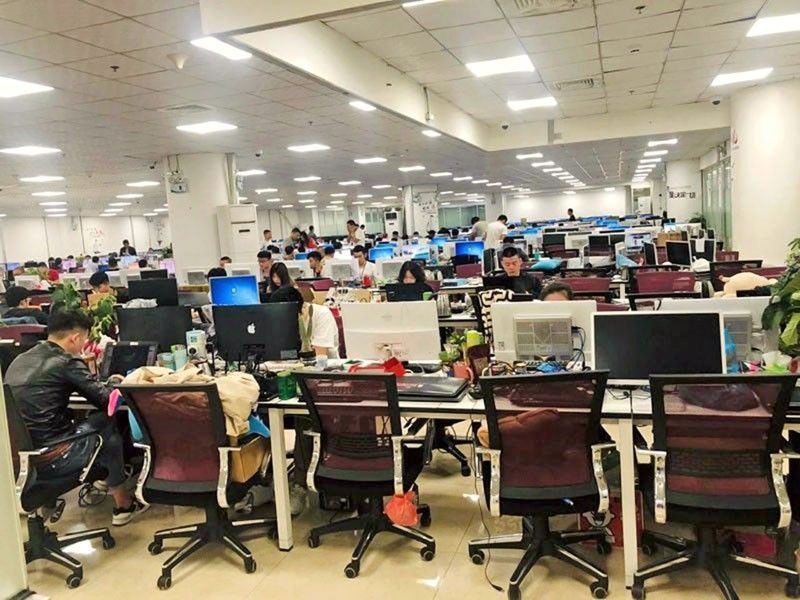 File photo shows a typical office of a licensed Philippine Offshore Gaming Operator or POGO.
China expresses 'grave concern' over POGO hubs
MANILA, Philippines — The Chinese embassy has expressed grave concern over a proposal of the Philippine Amusement and Gaming Corp. (Pagcor) to transfer Chinese nationals working in Philippine offshore gaming operations (POGOs) to "self-contained" communities or hubs.
In a statement, the embassy said yesterday Pagcor's proposal, if carried out, "may infringe on the basic legal rights of the Chinese citizens concerned." Malacañang raised the same concern.
The embassy reminded Chinese citizens that gambling, including online gaming, is prohibited in their country. It lamented that there were Chinese workers who have suffered abuse including extortion and even torture in the Philippines.
In an interview with "The Chiefs" aired on Cignal TV's One News Tuesday night, Pagcor vice president Jose Tria said the POGO hubs would address complaints of Filipinos regarding unruly behavior of some Chinese workers. The POGO hubs, he said, would have safeguards, including having government offices inside for easy monitoring.
Reacting to Tria's statement, the embassy said it "strongly urges the Philippine to effectively protect the legitimate rights and interests of Chinese citizens in the Philippines."
The Palace agreed. "If you restrict their liberties, then there might be a violation, because if your only reason is rudeness, you can always subject them to violation of the Revised Penal Code," presidential spokesman Salvador Panelo said at a press briefing.
The embassy emphasized that Chinese nationals overseas are required to abide by local laws and regulations.
Any form of gambling by Chinese citizens is illegal under Chinese laws and regulations, the embassy stated. The Philippines is now home to thousands of Chinese hired – some illegally – as POGO or casino workers.
"In many cases, the employers of Philippine casinos, POGOs and other forms of gambling entities do not apply necessary legal work permits for their Chinese employees," the embassy said. "Some Chinese citizens are even lured into and cheated to work illegally with only tourist visas."
The embassy said "many of the Chinese citizens working illegally in Philippine casinos or POGOs and other forms of gambling entities are subjected to what media described as modern slavery due to severe limitation of their personal freedom."
Their passports are taken away or confiscated by Philippine employers, according to the embassy. They are confined to live and work in certain designated places and some of them have been subjected to extortion, physical abuse and torture as well as other ill treatment, it added.
"At the same time, dozens of kidnappings and tortured cases of Chinese citizens who gamble or work illegally in gambling entities in the Philippines have taken place. Some Chinese citizens were physically tortured, injured or even murdered," the embassy statement read.
It claimed that huge amounts of Chinese funds have illegally flown out of China to the Philippines, and likely laundered through underground banking, to the detriment of China's financial security.
"The Chinese side hopes and urges relevant departments of the Philippine government to pay more attention to China's position and concerns and take concrete and effective measures to prevent and punish the Philippine casinos, POGOs and other forms of gambling entities for their illegal employment of Chinese citizens and crack down related crimes that hurt the Chinese citizens," the embassy said.
It has also resulted in an increase of crimes and social problems in China.
China will carry out more special operations aimed at preventing and combating cross-border gambling.
The embassy warned Chinese companies or individuals in the Philippines to immediately stop illegal activities, or "they will be punished in accordance with Chinese law."
Clarification
With Malacañang expressing disapproval of Tria's proposal, Pagcor chairman Andrea Domingo clarified the POGO "hubs" they have in mind won't unduly restrict the movement of the Chinese or other foreign workers.
"When we refer to POGO hubs as self-contained communities, what we mean is that these hubs will have all the basic needs of the foreign employees of POGO, such as office and residential spaces, food establishments, wellness and recreational facilities, service shops and others," she said in a statement.
"No need to be going to other places just for some of their needs. Nonetheless, they are free to go anywhere they want to without any limitation on their personal rights or liberties," she pointed out.
"The hubs are in fact being established for the protection of the foreign workers. They are no longer exposed to crimes being committed against them on the streets, they are assured of good working conditions and decent living quarters, and will be given their proper visas as there will also be other relevant government agencies setting up offices at the hubs," she explained.
At Malacañang, Panelo said any move aimed at isolating certain groups or restricting their movement is a violation of the law. But he admitted that details of Pagcor's proposal are still "vague" to him.
"Are they saying that they going to isolate them in one particular community?" he said. "We want to get the official communication from Pagcor."
Panelo said there are specific provisions in the Revised Penal Code that punish rude acts. "What is important is we will not violate their rights," the spokesman said.
He made it clear, however, that Chinese or other foreigners found working in the country illegally will be dealt with accordingly under the law.
"If there are illegals here, then due process would have to take its course. Meaning to say, they will be investigated, they will be allowed to present their side. And if they violated the laws, would do whatever is stated in our laws," Panelo said in a separate interview.
He said the Philippine government is ready to work with the Chinese embassy in identifying Chinese nationals working illegally in POGOs.
Sue abusive employers
Panelo also called on the Chinese embassy to file complaints against Philippine employers found maltreating Chinese workers.
"Well, we will not allow any violation of their rights as visitors or working nationals in this country. We certainly have the Constitution to guide government authorities in dealing with them," the Palace spokesman said.
"My suggestion then is they should file formal complaint, so that this particular concern will be raised in the appropriate agencies of the government. So we can properly respond," he added.
Panelo said there is nothing the government can do if no complaints are filed.
While studying concerns raised by the Chinese embassy, the Department of Finance (DOF) said it will not suspend the taxpayer registration of foreign workers in the gaming industry.
In a text message to reporters, Finance Secretary Carlos Dominguez said the Bureau of Internal Revenue (BIR) will continue the issuance of Tax Identification Numbers (TIN) to foreign POGO workers.
"We will not suspend the issuance of TINs to foreign workers," Dominguez said. "As for the BIR, we are simply implementing the Tax Code, and requiring those earning Philippine sourced income to pay income tax."
In a statement, DOF Assistant Secretary Dakila Napao said the BIR has so far collected P186 million in withholding taxes from POGOs earlier issued notices for tax delinquencies. Another P170 million is expected to be collected this month.
According to Napao, the BIR sent out 48 notices to POGO operators directing them to pay the withholding taxes of their foreign workers. Of the 48, 22 either replied to the notices or protested the tax assessments.
In a report to the President, Internal Revenue Commissioner Caesar Dulay said tax collections from service providers of POGOs reached P175 million in 2017, or the first year of operations of these companies. He said the figure grew to P579 million in 2018, and P789 million in the first half of 2019.
The DOF estimates that the government would be able to generate about P2 billion in additional revenues a month from the withholding tax of foreign workers in the POGO sector.
The BIR is also working with the Department of Labor and Employment in developing a database of foreign nationals working in the country to effectively monitor them and ensure that they pay the correct taxes.
Money laundering
Citing link between online gaming and money laundering, Surigao del Norte Rep. Robert Ace Barbers is appealing to his colleagues to approve a bill regulating POGOs to prevent them from being used for money laundering by local and foreign drug syndicates and other crime groups.
"I have read reports on how the Italian and Sicilian mafias have used online gaming as a tool or scheme to launder their illegally obtained monies. They invested funds in Malta to operate huge online gaming firms where they launder their money," Barbers said.
"Under this scheme, the Italy and Sicily-based syndicates would bet huge amounts on the online gaming firms they themselves set up in Malta. And via long or short-term online betting games, they would of course win millions of dollars or euros. They would be issued receipts or other proofs that they've won by their own dummy online gaming firms, and voila, their illicit or laundered money now becomes clean money," he said.
Barbers chaired the House of Representatives committee on dangerous drugs in the last Congress. He hopes to head the committee again.
He said the illegal practice he is concerned about "is similar to a scheme employed earlier by drug syndicates and other crime groups whose gang members are flown via chartered planes to some of the country's airports, and later brought to casinos operated by (Pagcor)."
"Most of these are Chinese and Taiwanese nationals. At the Pagcor casinos, they change their money into chips. They use some of the chips for gaming but convert the bulk later into cash, which they bring back to their countries. Thus, the illegal funds are 'cleaned' with the casinos used for laundering," he said.
He is urging the legislature to "impose strict laws and rules and regulations to ensure that no drug or other crime syndicates would use dummy individuals to set up dummy POGO firms and be granted Pagcor franchises and use them to launder their money."
He maintained that the government, through Pagcor, should conduct due diligence before granting franchises to these POGOs scattered all over the country.
"Pagcor has reportedly granted 87 POGO franchises to gaming operators mostly from China. But we received reports that there are now more than 300 POGO firms operating in the country," he said.
Barbers noted that Pagcor is reportedly expecting to collect P6 billion this year from POGOs.
He expressed doubt on the projected collection, citing a BIR report that as of last month, the agency has collected only P200 million from foreigners – mostly Chinese – working in the country. Alexis Romero, Jess Diaz, Mary Grace Padin