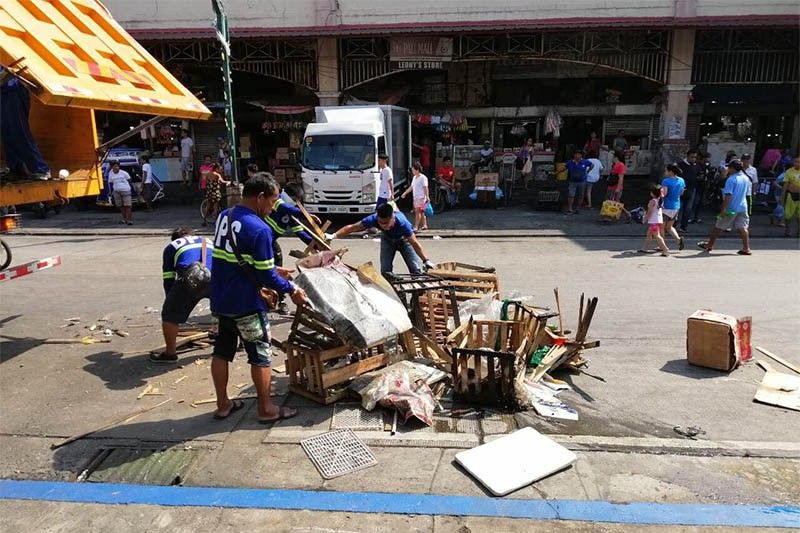 In this July 2019 file photo, officials of Manila City government are clearing some roads in the Philippine capital.
Manila Public Information Office/Facebook
DILG reverts to 60-day deadline for LGUs to clear public roads
MANILA, Philippines — The Department of Interior Local Government on Monday said local government units across the Philippines have 60 days to clear public roads used as parking spaces or vending areas.
Local Government Secretary Eduardo Año formalized the order on Monday and issued Memorandum Circular No. 2019-121 to all provincial governors, city and municipal mayors, barangay chiefs, heads of local sanggunians, DILG Regional Directors, Bangsamoro Autonomous Region in Muslim Mindanao Regional Governor and all others concerned.
During the meeting of the DILG, Metro Manila Development Authority and the Metro Manila Council last Thursday, Undersecretary Epimaco Densing III requested the mayors to clear the roads within two months.
READ: Metro Manila mayors to clear national roads within 60 days
However, on Friday, Densing said Año shortened the original deadline of 60 days to 45 days since some local executive chiefs managed to accomplish clearing roads in their areas in a short period of time.
Quezon City Mayor Joy Belmonte requested 60 days to clear local roads as a more "realistic" target than 45 days.
"In line with the President's directive during the 2019 State of the Nation Address, all local officials are enjoined to exercise their powers essentials to reclaim public roads which are being used for private ends and in the process, rid them of illegal structures and constructions," the memorandum read.
"Local governments are also to cause rehabilitation of all recovered public roads by placing street names and street lights, among others," it added.
The local officials are likewise encouraged to develop and implement strategies that will address the displacement issues cause by the implementation of these directives.
The 60 days mayors have to clear public roads starts Monday, a week after Duterte asked the MMDA and Año during his fourth State of the Nation Address to order mayors to reclaim all public roads.
"I reiterate my directive, my request, my pleadings to the MMDA and all concerned local officials in Metro Manila, and all other cities, to undertake immediate action to ensure the speedy and smooth flow of vehicular traffic," Duterte said in his speech.
"Reclaim all public roads that are being used for private ends," he added, citing that the country loses P3.5 billion a day due to the Metro Manila traffic.
Duterte told Año also to suspend those who do not comply with the directive.
"If there is a mayor or a governor, or kung ano kang — sino kang demonyo ka, i-suspend mo Sir Año. Give him time and if he cannot — if he is not up to it, then pagpahingain mo na lang. Suspend mo na. Wala talagang — wala tayong magawa," the president said.
(If there is a mayor or a government, or what — whoever demon you are, suspend them, Sir Año. Give him time and if he cannot — if he is not up to it, then just let him rest. Suspend them. There's nothing — there's nothing we can do.)
Rules on public road clearing
Under the DILG memorandum, local chief executives are directed "to revoke permits that give authority to private entities to occupy public roads, alleys and other signage to avoid exacerbating problems on obstructions."
Earlier, Densing said the DILG asks the mayors to make an inventory of road networks with illegal structures and review their ordinances so that illegal structures will be prohibited especially during rush hour.
This was reiterated in the memorandum as all provinces, highly urbanized cities, municipalities are asked to make an inventory of all roads within its jurisdictions.
The DILG also encouraged the local sanggunians "to revisit ordinances and similar legislative measures to ensure responsiveness to this presidential directive and consistency with related laws and policies."
Meanwhile, provincial governments are asked to share their local roads network development plan which provides a geographic information system based roads network map to help their component local government unit.
All concerned officials are asked to document their clearing operations while DILG regional office and the BARMM Regional Governor are required to submit a weekly progress report.
"Within 60 calendar days, significant results must be achieved, documented and reported together with the efforts of the LGUs to sustain the same," the memorandum said.
The DILG warned that those who will not comply with the directive may face appropriate administrative cases filed to section 60 (c ) of the Local Government Code of 1991 and other existing laws and policies.