LIST: Senate committee heads for 18th Congress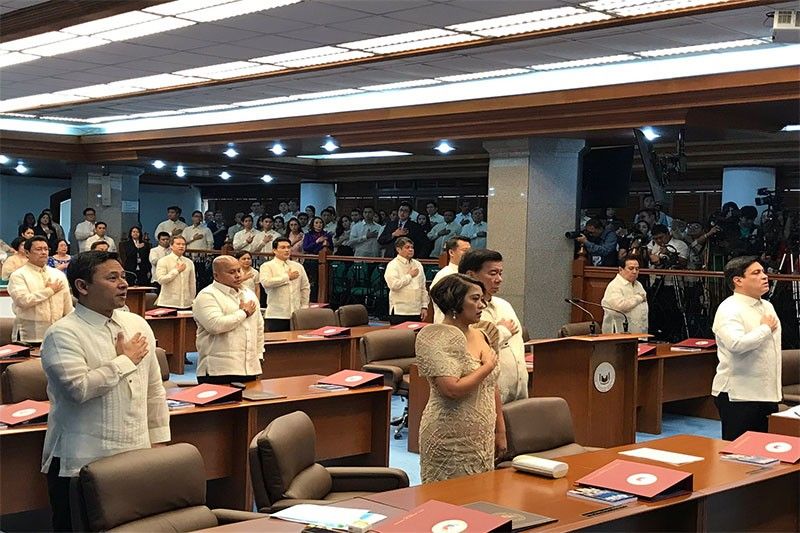 MANILA, Philippines (Update 3, 2:13 p.m.) — The Senate of the Philippines on Wednesday approved more chairmanships and the organizations of its committees.
On Tuesday, the Senate only approved 20 of the 40 were assigned chairmanships a day after the opening of the first regular session of the 18th Congress.
The chairmanships approved 17 more chairmanships on Wednesday.
READ: 'Game of chairs': Winning senators share preferred Senate committee | IN PHOTOS: Senate opens regular session of 18th Congress
Senate President Vicente Sotto III was reelected Monday as the leader of the upper chamber while Sen. Ralph Recto is still the Senate President Pro-Tempore.
Sen. Juan Miguel Zubiri, meanwhile, was voted the chair of the committee on rules or the Senate majority leader. His counterpart is Sen. Franklin Drilon who will lead the four-member Senate minority bloc.
The opposition bloc is composed of Sens. Drilon, Leila de Lima, Risa Hontiveros and Francis "Kiko" Pangilinan.
Hontiveros and Pangilinan were designated as members of the Committee on Appointments while Drilon was named a member of the Senate Electoral Tribunal.
Sotto reportedly said each committee should have around one to three members from the minority.
Here are the committees and their chairmanships:
Accountability of Public Officers & Investigations (Blue Ribbon) – Sen. Richard Gordon
Accounts – Sen. Panfilo M. Lacson
Agrarian Reform – Sen. Cynthia A. Villar
Agriculture and Food – Sen. Cynthia Villar
Banks, Financial Institutions and Currencies – Sen. Grace Poe
Civil Service, Government Reorganization and Professional Regulation – Sen. Ramon Bong Revilla Jr.
Climate Change – Sen. Maria Lourdes Nancy S. Binay
Constitutional Amendments and Revision of Codes – Sen. Francis "Kiko" Pangilinan
Economic Affairs – Sen. Imee Marcos
Electoral Reforms and People's Participation – Sen. Imee R. Marcos
Energy – Sen. Win Gatchalian
Environment and Natural Resources – Sen. Cynthia A. Villar
Ethics and Privileges – Sen. Emmanuel "Manny" D. Pacquiao
Finance – Sen. Sonny Angara
Foreign Relations – Sen. Aquilino "Koko" Pimentel III
Games, Amusement and Sports – Sen. Manuel "Lito" Lapid
Health and Demography – Sen. Christopher Lawrence Go
Justice and Human Rights – Sen. Richard J. Gordon
Labor, Employment and Human Resources Development – Sen. Joel Villanueva
Local Government – Sen. Francis "Tol" Tolentino
National Defense and Security – Sen. Panfilo Lacson
Public Information and Mass Media – Sen. Ramon Bong Revilla Jr.
Public Order and Dangerous Drugs – Sen. Ronald "Bato" dela Rosa
Public Services – Sen. Grace Poe
Public Works – Sen. Emmanuel "Manny" Pacquiao
Rules – Sen. Sen. Juan Miguel "Migz" F. Zubiri
Science and Technology – Sen. Win Gatchalian
Social Justice, Welfare and Rural Development - Sen. Leila de Lima
Sports – Sen. Christopher Lawrence T. Go
Tourism – Sen. Maria Lourdes Nancy Binay
Trade, Commerce and Entrepreneurship Sen. Aquilino "Koko" Pimentel III
Urban Planning, Housing and Resettlement Sen. Francis "Tol" N. Tolentino
Ways and Means – Sen. Pia Cayetano
Women, Children, Family Relations and Gender Equality – Sen. Risa Hontiveros
Youth – Sen. Sonny Angara
Meanwhile, here are the committees yet to be granted chairmanships:
Cultural Communities
Education, Arts and Culture
Government Corporations and Public Enterprises