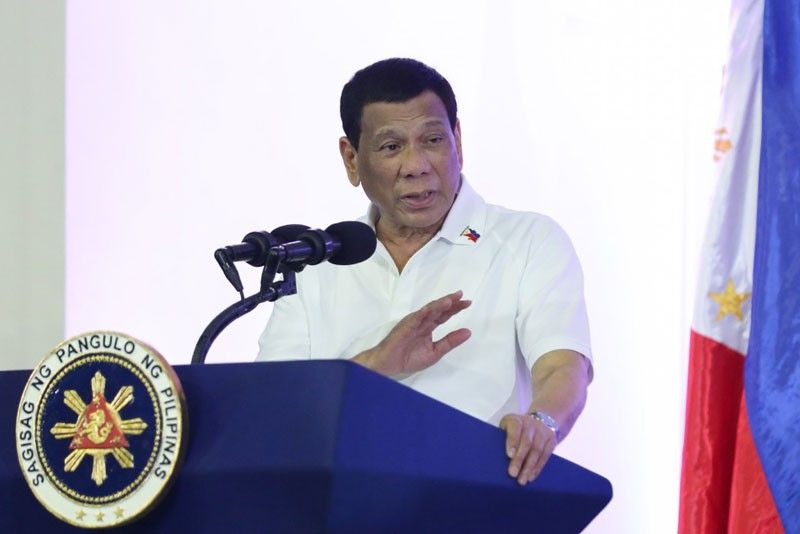 As Duterte rehearsed the delivery of his 45-minute SONA Friday night in Malacañang, Palace officials said he was ready for his speech which will focus on his 2016 campaign promises, such as drugs and corruption, and his plans in the next half of his term.
Duterte set to deliver '45-minute' SONA
Ad-libs to be short, related to speech
MANILA, Philippines — President Duterte is all set to deliver his fourth State of the Nation Address (SONA) tomorrow at the House of Representatives, where he is likely to focus on his independent foreign policy, Malacañang said yesterday.
As Duterte rehearsed the delivery of his 45-minute SONA Friday night in Malacañang, Palace officials said he was ready for his speech which will focus on his 2016 campaign promises, such as drugs and corruption, and his plans in the next half of his term.
Presidential spokesman Salvador Panelo said the President will likely address the issues currently hounding the government – the West Philippine Sea and the United Nations Human Rights Council's call for review of the Philippines' human rights situation.
Duterte will not defend himself during the SONA, Panelo said, but he will "educate the critics and detractors of the falsity and wrongness of their stands."
The administration has been criticized for opting to deal with China through diplomatic channels rather than a more aggressive stance, especially after the Recto Bank incident where 22 Filipino fishermen were left floundering at sea by a Chinese ship that rammed their fishing vessel.
The President reportedly said he will stick to his speech and that it will be "short" and off-script commentary would also be short and still related to the prepared speech.
Presidential Communications Secretary Martin Andanar, in a recent interview, said the President will deal with pressing matters by explaining how his independent foreign policy led to better economic deals for the country.
"What's really important is how the President will be able to also send the message again to the entire nation about our independent foreign policy, being friends to all and enemies to none, and it's really worked on our side so far," Andanar said.
Since Duterte shifted to an independent foreign policy, Andanar noted that the Philippines is able to corner some good trading deals with China and more economic packages from Japan.
"Our economy looks great, and people and different investors from different countries are investing in the Philippines," he added.
Budget, environment, 'Filipino First' urged as top policy
Reelected Sen. Sonny Angara said President Duterte's fourth SONA should cough up his administration's long-term plans for the last 1,000 days of his six-year term.
What is important, according to Angara, is propelling the second half of Duterte's game plan through the proposed 2020 budget, which would kick-off the government's plan for the next decade.
"Of all the bills he will send to Congress, I think the most important is the 2020 national budget. It will set the direction for the next 10 years," Angara added.
Angara, who is poised to take over the chairmanship of the Senate finance committee, added that the proposed 2020 national budget should bare the framework for the 10-year development plan for the country.
"The 2020 budget should have a 20/20 vision. The framework is a 10-year development plan. In the next decade, what do we really want to achieve? What is the situation of the Philippines when 2030 comes?" Angara said.
Environment watchdog Greenpeace yesterday said it was urgent for the President and lawmakers to deal with the difficulties concerning the environment, as the 18th Congress opens and Duterte delivers his SONA tomorrow.
"The Philippines is ground zero when it comes to the climate crisis. Our country's environmental support systems are breaking down. We need politicians to heed the urgency and implement laws that will enable Filipinos to cope with and demand justice for climate catastrophes," said Greenpeace Philippines country director Lea Guerrero.
While the Duterte administration took a strong stance against waste importation earlier this year with the return of imported waste from Canada and other countries, Greenpeace said it wanted to see an equally strong stance on similarly pressing issues on the environment.
Greenpeace said the current administration is merely adopting the same policy on coal energy like previous administrations, favoring coal projects, leaving little space for renewable energy and, worse, considering nuclear power as an energy source.
Meanwhile, the Catholic Bishops' Conference of the Philippines (CBPC) was expecting Duterte to talk about policies that would directly benefit Filipinos, especially workers.
In an interview over the Church-run Radio Veritas,
CBCP-Episcopal Commission on Migrants and Itinerant People chairman Bataan Bishop Ruperto Santos yesterday said he hopes to hear the President talk about his policies that would benefit overseas Filipino workers (OFWs).
For instance, creating more jobs in the country so Filipinos would not have to work abroad and be forced to leave their families behind.
"The SONA should speak about 'Filipino first,' that is to create jobs here so that our countrymen will never be forced to go abroad for work and give priority to our Filipino to work here in our own country," Santos said.
Groups to create 'civil unrest' at SONA
The Armed Forces of the Philippines (AFP) said it has monitored "anti-government" organizations allegedly plotting to disrupt the peace in tomorrow's SONA.
"We monitored that anti-government organizations will conduct rally and demonstrations to agitate civil disorders," said Lt. Arriane Bichara of the AFP-Joint Task Force-National Capital Region.
Bichara, however, did not clarify if these groups were separate entities from the militant groups that have already announced mass movements, which have been coordinated with police, on Monday.
She said the AFP was prepared to deal with this alleged anti-government plan in coordination with the Philippine National Police-National Capital Regional Command.
A source in the intelligence community, meanwhile, bared that intelligence units from the Army, Air Force and Navy pooled their resources as the AFP heightened its intelligence monitoring of some groups in Metro Manila with possible links to the homegrown Maute and Abu Sayyaf terror groups.
Without going into specifics, activities of a group of "Balik Islam" in Metro Manila are being closely monitored due to their possible links to local and foreign jihadists.
Batasang Pambansa and surrounding vicinities were declared "no-fly zones" or a designated area over which aircraft may not fly without risk of interception during Duterte's SONA by the Civil Aviation Authority of the Philippines (CAAP), a measure effective from July 20 to 23.
The CAAP said from July 20 at 9 a.m. to July 21 at 11 a.m., drones and aircraft will be limited from flying at a vertical limit of 700ft AGL (height above ground level) within a 10-km radius of Batasang Pambansa.
Training flights of flight schools within Luzon are also suspended from 12 a.m. of July 22 to 12 a.m. of July 23.
A no-fly zone will be enforced from 2 p.m. until 9 p.m. of July 22 within 4 nautical miles radius from surface to 10,000 feet AMSL (above mean sea level) of the House of Representatives.
Meanwhile, Brig. Gen. Joel Napoleon Coronel, Central Luzon police director, said the entire Region 3 police have been placed under full-alert status and that some 462 PNP personnel for Civil Disturbance Management operation will be sent to Batasan to augment forces of Metro Manila police for Duterte's SONA.
He said the troops will come from Regional Mobile Force Battalion and from the Police Provincial Offices of Nueva Ecija, Pampanga and Tarlac.
About 350 personnel from Aurora, Bataan, Bulacan and Zambales Police Provincial Offices as well as Angeles and Olongapo City Police Offices would also be sent if needed, Coronel added. – With Cecille Suerte Felipe, Rhodina Villanueva, Evelyn Macairan, Jaime Laude, Rudy Santos and Ric Sapnu