Duterte tells PhilHealth execs: Resign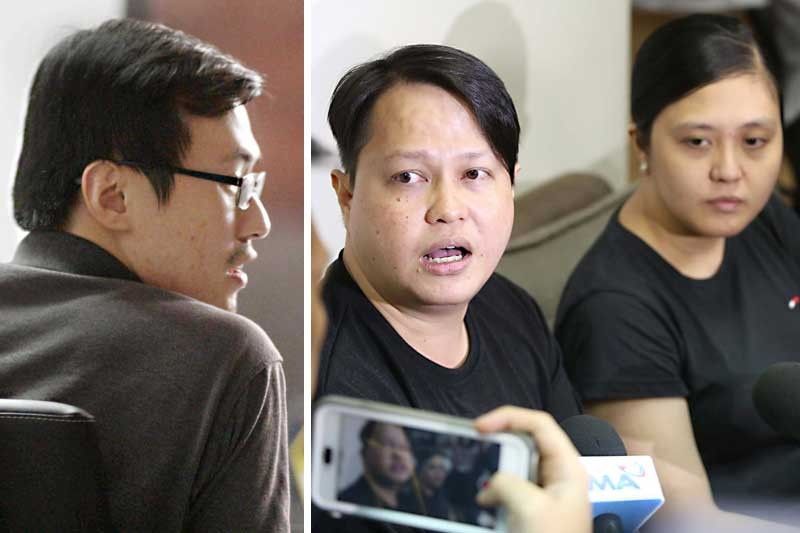 MANILA, Philippines — Resignation or termination.
These were the two options President Duterte gave officials of the Philippine Health Insurance Corp. (PhilHealth), which has been rocked by a multibillion-peso fraudulent scam involving dead kidney patients.
Duterte was to meet last night with the PhilHealth board, including ex-officio members, at Malacañang to hear the full report of the agency on the scam and announce the start of a top-to-bottom revamp, senator-elect Christopher Go told reporters.
Go said he spoke with the President on Sunday night. He was told that Duterte would ask for the resignation of PhilHealth officials, including regional vice presidents who reportedly have been bickering, to the detriment of the delivery of services.
"The President told me he was very dismayed by what happened. The President won't allow this, so there must be accountability and the issue of command responsibility. The President really wants a revamp," he revealed.
He clarified though that Duterte still believes in the integrity of PhilHealth acting president Roy Ferrer even though the scam happened under Ferrer's watch.
Go also revealed that many PhilHealth officials, who are career executives, might be placed on floating status while Malacañang scouts for their replacements. The reported intrigues and "friction" among regional vice presidents in the Visayas and Mindanao allegedly led to gaps in the delivery of services and allowed corruption to happen.
Also expected to attend the meeting last night were Health Secretary Francisco Duque III, Finance Secretary Carlos Dominguez III, Labor Secretary Silvestre Bello III and Department of Budget and Management officer-in-charge Janet Abuel, being among the ex-officio members of PhilHealth.
'Strict finance whiz'
Go said Duterte, in seeking a revamp of the agency, wants a "strict manager" and one "who knows how to handle funds" to head PhilHealth.
"What the President is looking for is not only limited to a doctor, maybe a banker, who can really handle funds, especially now that we're talking about hundreds of billions of pesos for beneficiaries," he explained.
The Chief Executive is also reportedly searching for a retired female military or police doctor to be part of the board or even to become PhilHealth's head to provide "balance" in the predominantly male agency.
Outgoing Sen. Joseph Victor Ejercito, principal author of the Universal Health Care (UHC) law, suggested the appointment of a financial expert, particularly with actuarial experience, meaning a person who can make accurate projections on the agency's fund life.
Ejercito said there was a P10-billion fund diversion at PhilHealth during the previous administration, which caused damage that is felt up to now.
"What the PhilHealth needs is sound financial management, especially now that we're about to implement the UHC law," he said, adding he has been pushing for the appointment of an actuarial expert in the last two years.
At a press briefing earlier yesterday, presidential spokesman Salvador Panelo said Duterte wants PhilHealth officials to come up with a report on the controversy that involved dialysis payment claims for dead patients.
"Perhaps they will report to him... He instructed them to make a comprehensive report on what is happening in PhilHealth," Panelo said at a press briefing.
Malacañang is also opposed to former lawmaker Harry Roque's call to suspend the Universal Health Care law until the government addresses the issues on payment claims.
"If the problem is irregularities, then you solve the irregularities; you don't stop the operation. You don't burn a house just because there are so many rats there," Panelo said.
NBI arrests WellMed co-owner
Meanwhile, the National Bureau of Investigation (NBI) arrested WellMed co-owner Bryan Sy hours after he showed up at the bureau's headquarters along Taft Avenue to answer the subpoena issued against him for estafa and falsification of documents.
Vicente de Guzman III, NBI deputy director for investigation services, said the agency initially filed the two cases without prejudice to cases that may be added as the investigation progresses.
Sy was accompanied by his lawyer Ruel Ilagan when he arrived at the bureau around 1:30 p.m. and had a dialogue with NBI anti-graft division chief Nathaniel Ramos.
The NBI subpoena ordered Sy and WellMed assistant manager Sheena Rodriguez to answer the complaints regarding fraudulent claims for dead patients for hemodialysis package from 2015 to 2018.
"It's good that this is now in the proper forum and an investigation is being conducted so that we will know what really happened. We have already given our side and we are ready to cooperate," Ilagan told reporters.
He pointed to whistle-blowers Edwin Roberto and Liezel Santos as the real culprits and the ones allegedly responsible for running away with millions of pesos of cash handed by PhilHealth to dialysis patients.
Roberto used to work as WellMed manager while Santos was its health officer until last year when they resigned.
The defense lawyer accused the duo of siphoning money and of hiding their "real relationship" to defraud PhilHealth in the course of their stints as WellMed employees.
The lawyer earlier showed optimism that his client would be cleared of the charges and was surprised when his client was placed under arrest at around 4 p.m.
"We have sufficient evidence to file charges against him based on the documents that we have. We are now preparing papers for inquest proceedings," De Guzman said.
Roberto and Santos, who stayed at his office while the investigation on Sy was being conducted, denied Ilagan's allegations, saying they would show documents that they resigned last year without any trouble and even received quitclaim benefits from the company. – With Alexis Romero, Rey Galupo, Emmanuel Tupas, Cecille Suerte Felipe, Delon Porcalla, Helen Flores