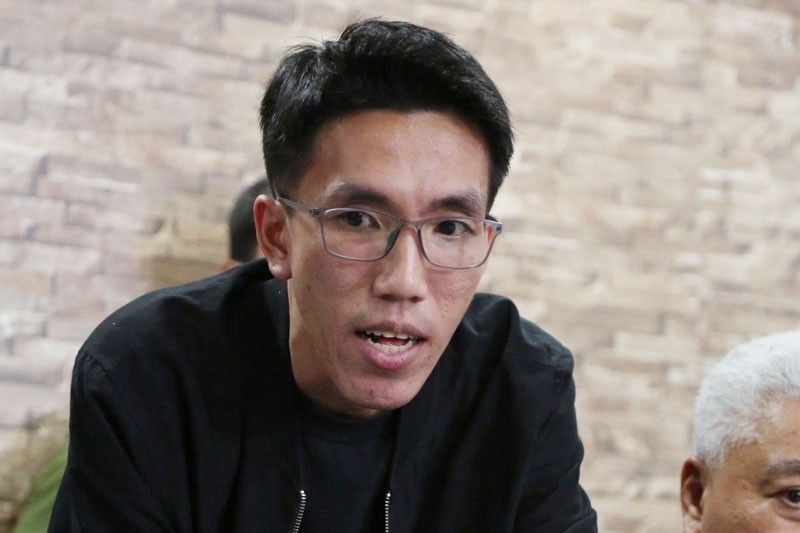 Rodel Jayme, administrator of metrobalita.net, faced members of the media on Friday, May 3, at the National Bureau of Administration headquarters.
The STAR/Russell Palma
Website admin Jayme pleads 'not guilty' on inciting to sedition charge
MANILA, Philippines — Rodel Jayme, a web admin accused of sharing allegedly seditious videos and a potential state witness, entered a plea of "not guilty" in the government's inciting to sedition charge against him.
The case was raffled off to Parañaque Regional Trial Court Branch 258 Judge Noemi Balitaan.
EXPLAINER: Inside the inciting to sedition charge vs 'sharer' of 'Bikoy' videos
The National Bureau of Investigation said on May 3 that Jayme may serve as a state witness as the government continues to look for the people behind a series of videos alleging members of the Duterte family have links to illegal drugs.
"That's very possible that's why if you look at the strategy of the NBI, we have to file a case against him, because later on if we intend to consider him as a state witness, he should be charged first," NBI Deputy Director Ferdinand Lavin said then.
"If we could prove that his involvement is only until the creation of the website, then upon due application with Department of Justice and it is considered by DOJ, we could qualify him as state witness," he added.
On May 6, a man claiming to be the person in the "Bikoy" videos, briefly surfaced to say he had come out in public because of threats to his life.
"Nandito ako ngayon sa tanggapan ng [Integrated Bar of the Philippines] upang humingi ng legal assistance. Kailangan ko ng abogado para i-submit ang aking sinumpaang salaysay at tulungan akong magsampa ng kaso laban sa mga miyembro ng sindikato na pinangalanan ko sa video seryeng 'Ang Totoong Narcolist,'" Peter Joemel Advincula said.
(I am here at the office of the Integrated Bar of the Philippines to seek legal assistance. I need a lawyer so I can submit my sworn statement and to help me file cases against members of the syndicate whom I named in the 'Ang Totoong Narcolist' video series.)
Advincula, who faces fraud and illegal recruitment cases in Benguet, is still at large.
RELATED: Sotto: Man claiming to be 'Bikoy' tagged past admin's execs to drugs
The "Bikoy" or "Ang Totoong Narcolist" video series are central to the government's allegation that there is a conspiracy to oust President Rodrigo Duterte.
Presidential spokesperson Salvador Panelo initially said that diagrams he presented to media in relation to the supposed conspiracy are based on intelligence reports already vetted by the Office of the President.
Duterte vouches for matrix, but won't file raps
Duterte however said that he is not interested in filing cases against his alleged detractors.
Duterte vouched for the credibility of the matrix and hinted that wiretapping was used in making the diagram that also tagged media organizations as part of the supposed ouster plot.
The president also left it to the media and the public to interpret the diagram, but he stressed that the lines in the "matrix", some of which were labelled with the word 'link', are "not really line connections."
He said that "there are a lot of communications there that were recorded," again hinting at wiretapped conversations.
"Who did the wiretapping? I really do not know. It was already the finished product," Duterte explained in a mix of English and Filipino.
Wiretapping is illegal in the Philippines. Under Republic Act 4200, or the Anti-Wiretapping Law, it is unlawful for any person to record a private communication or spoken word without the permission of parties involved or unless allowed by the court.
This is not the first time that the president has hinted at having records of conversations of people plotting against him. In September 2018, he claimed to have records showing a conspiracy among the Communist Party of the Philippines, the Liberal Party, and the pro-military and anti-communist Magdalo Group.
RELATED: Sison dares Duterte to release 'conspiracy' conversations