Duterte vouches for conspiracy 'matrix', hints at wiretaps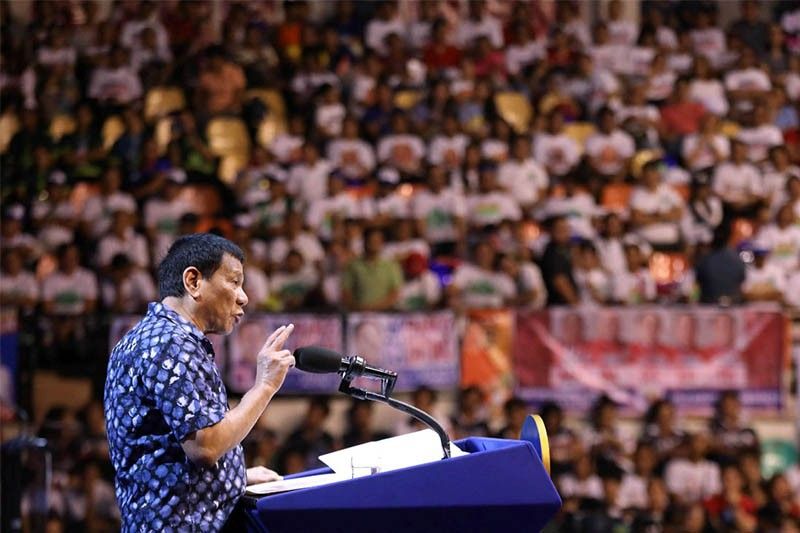 MANILA, Philippines — President Rodrigo Duterte vouched for the Palace's latest diagram of people allegedly plotting against him but refused to go into its detail, saying presidential spokesperson Salvador Panelo will field questions on the supposed conspiracy.
"The matrix is true, also that on 'Bikoy,'" Duterte told reporters in a mix of English and Filipino, in a chance interview after he cast his vote in Davao City.
The president also said that the "spectral analysis" of the voice of the "Bikoy" in a series of anonymous videos accusing members of the Duterte family of links to drugs proved its veracity.
RELATED: Palace questions credibility of man who claims to be 'Bikoy' | Sotto: Man claiming to be 'Bikoy' tagged past admin's execs to drugs
But the president said that he would rather have Panelo answer more of the reporters' question so that his words would not be twisted. The president did not cite evidence to substantiate the claim of a conspiracy.
Duterte says he will just let his spokesman Salvador Panelo answer questions on 'equivocal' issues like the matrix @PhilippineStar @PhilstarNews

— Alexis B. Romero (@alexisbromero) May 13, 2019
On May 8, presidential spokesperson Salvador Panelo yet another diagram of personalities he said are working together in "a deliberate attempt to discredit this administration." It was an expanded diagram of a matrix that was presented late April.
Panelo, who is also the presidential chief legal counsel, said at a press briefing in Malacañang April 22 that the source of the matrix involving pro bono lawyers and three news organizations is the "Office of the President. It's from the President himself."
But nearly two weeks later, Panelo walked back his earlier statement that the matrix came from no less than Duterte. He said on May 2: "He did not give anything. Someone sent me a matrix. I told you that someone sent me a text."
He said that he is sure that that "someone" is from the Office of the President.
READ: Panelo backtracks, admits matrix source 'unknown'
Wiretapping used to make 'matrix'?
Duterte also left it to the media and the public to interpret the diagram, but he stressed that the lines in the matrix, some of which were labelled with the word 'link', are "not really line connections."
He said that "there are a lot of communications there that were recorded," again hinting at wiretapped conversations.
Wiretapping is illegal in the Philippines. Under Republic Act 4200, or the Anti-Wiretapping Law, it is unlawful for any person to record a private communication or spoken word without the permission of parties involved or unless allowed by the court.
This is not the first time that the president has hinted at having records of conversations of people plotting against him. In September 2018, he claimed to have records showing a conspiracy among the Communist Party of the Philippines, the Liberal Party, and the pro-military and anti-communist Magdalo Group.
RELATED: Sison dares Duterte to release 'conspiracy' conversations
Earlier that year, Duterte threatened to release a transcript of a wiretapped phone conversation involving Loida Nicolas-Lewis—whom he mistakenly referred to as "Loida Reyes"—regarding the International Criminal Court's preliminary examination into the government's bloody war on drugs.
He did not release the supposed transcript but the Palace said that the Lewis is capable of conspiring with the Hague-based court to indict Duterte for crimes against humanity because "she's rich."
Panelo had earlier said that foreign countries sometimes share information, including taped conversations, for intelligence gathering.
"Who did the wiretapping? I really do not know. It was already the finished product," Duterte explained in a mix of English and Filipino.
Duterte, who was a prosecutor himself, stressed that wiretapped communications cannot be used in court as evidence.
RELATED: Guevarra: 'Wiretaps' by foreign governments not admissible in court
Media inclusion
Panelo had accused three media organizations as those with linkages "to those responsible for this black propaganda."
Duterte also called veteran journalist and VERA files president Ellen Tordesillas a "prostitute," but did not expound.
Tordesillas is one of the journalists tagged in the alleged ouster scheme. She denied the accusation of her links to an "imagined" destabilization plot.
The veteran journalist dismissed Duterte's latest tirade against her as the firebrand leader resorting to vulgar words due to lack of evidence to prove the supposed ouster plot.
"Since Duterte does not have evidence to support his silly matrix, he is now resorting to vulgarity—the only language he knows," she said in a statement. — Kristine Joy Patag with reports from The STAR/Alexis Romero