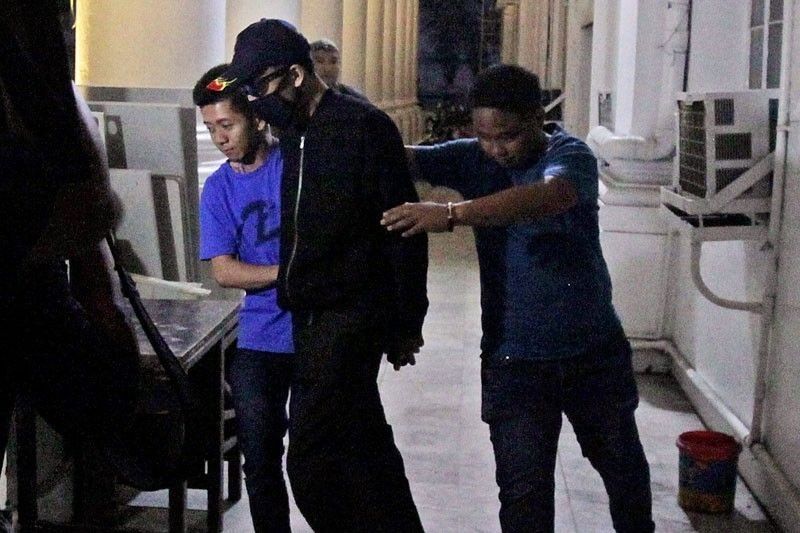 Rodel Jayme, the administrator of a website where the 'Bikoy' videos were first uploaded, is escorted out of the Department of Justice building in Manila following an inquest yesterday. The suspect, whose photos have been circulating online (right inset), was arrested by NBI agents last April 30.
The STAR/Joven Cagande
Admin of site posting links to 'Bikoy' videos may be state witness — NBI
MANILA, Philippines — Arrested web administrator Rodel Jayme, accused of sharing links to the "Ang Totoong Narcolist" videos, may be a state witness as the government continue to look for the persons behind the alleged malicious video series.
The National Bureau of Investigation Friday presented Jayme to the media. The Bureau's Deputy Director Ferdinand Lavin said that Jayme may later serve as state witness as the government continue to determine the uploader and creator of the anonymous videos.
"That's very possible that's why if you look at the strategy of the NBI, we have to file a case against him. Because later on if we intend to consider him as a state witness, he should be charged first," Lavin explained.
"If we could prove that his involvement is only until the creation of the website, then upon due application with Department of Justice and it is considered by DOJ, we could qualify him as state witness," he added.
Justice Secretary Menardo Guevarra Thursday said that he has ordered an investigation into the "Ang Totoong Narcolist" videos as early as April 17.
On April 29, NBI Cybercrime Division agents obtained a court-issued search warrant to look into the belongings of the administrator of metrobalita.net, the website traced to Jayme.
Late Thursday afternoon, the NBI filed inciting to sedition raps against Jayme.
Jayme, during the press conference, clarified that he knew nothing about the anonymous videos that tagged the Dutertes to the illegal narcotics trade.
He repeatedly said that he was neither given a video nor did he upload it.
He alleged that he was just tapped by someone, who he knew is a fellow supporter of the Liberal Party in the 2016 national elections, to create a website. Jayme, however, refused to identify the person.
He shared that he was just told that website would be used to post "good works" of the candidate whom the person supported.
Jayme clarified that he is not a staff of Vice President Leni Robredo.
The arrested web administrator told the media that he is ready to serve as state witness.
"Because I know, I am telling you, I have no direct knowledge and I can point whoever ordered the creation (of the website). Like I said, I am cooperating with the NBI," Jayme said in Filipino.
The inquest prosecutor who handled that NBI complaint has yet to issue a resolution as of this story's posting.