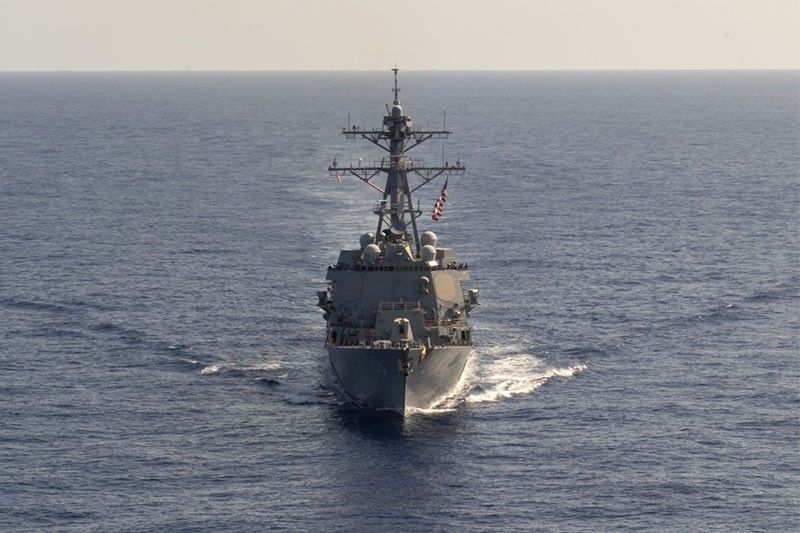 In this April 18, 2019 photo, the rleigh Burke-class guided-missile destroyer USS Preble (DDG 88) steams through the water during a cooperative deployment in the Philippine Sea.
US Navy/Mass Communication Specialist 1st Class Bryan Niegel, Release
US warship sails past Scarborough Shoal
(Philstar.com) - May 20, 2019 - 1:09pm
MANILA, Philippines — In a bid to challenge China's expansive claims in the South China Sea, a US Navy warship sailed near Manila-claimed Scarborough Shoal.
According to a report from ABC News, the US military confirmed that guided-missile destroyer USS Preble conducted a freedom of navigation operation in the South China Sea on May 20.
The shoal off the coast of Zambales province is a traditional fishing ground, as ruled upon by the July 2016 arbitral ruling of Hague-based Permanent Court of Arbitration.
"USS Preble sailed within 12 nautical miles of Scarborough Reef in order to challenge excessive maritime claims and preserve access to the waterways as governed by international law," US Navy 7th Fleet spokesman Cmdr. Clayton Doss said, as quoted by ABC News.
Beijing recently imposed a unilateral fishing ban in the South China Sea, which also covers the Scarborough Shoal.
China has been harvesting giant clams in Scarborough Shoal, which the Philippine government protested. Local fishermen had reported that Chinese Coast Guard personnel deny them access to the shoal.
"We just caught them doing that recently, filed a diplomatic note, and will be taking legal action. With our legal department now," Foreign Affairs Secretary Teodoro Locsin Jr. earlier said on Twitter.
The latest passage of the US Navy near Scarborough Shoal is only its second freedom of navigation operation in the area after January 2018.
Doss, however, clarified that Washington operates in the Indo-Pacific region on a daily basis, which includes the disputed South China Sea.
"All operations are designed in accordance with international law and demonstrate that the United States will fly, sail and operate wherever international law allows. That is true in the South China Sea as in other places around the globe," Doss said.
Earlier this month, USS Preble, along with the USS Chung-Hoon, sailed near Gaven and Chigua reefs in the Spratly Islands, which China claims as a violation of its sovereignty.
The Chinese Foreign Ministry said the US warships entered the area without its permission.
"The relevant actions of the US warships violated China's sovereignty and undermined peace, security and good order in the relevant sea areas," Chinese Foreign Ministry spokesman Geng Shuang said. — Patricia Lourdes Viray