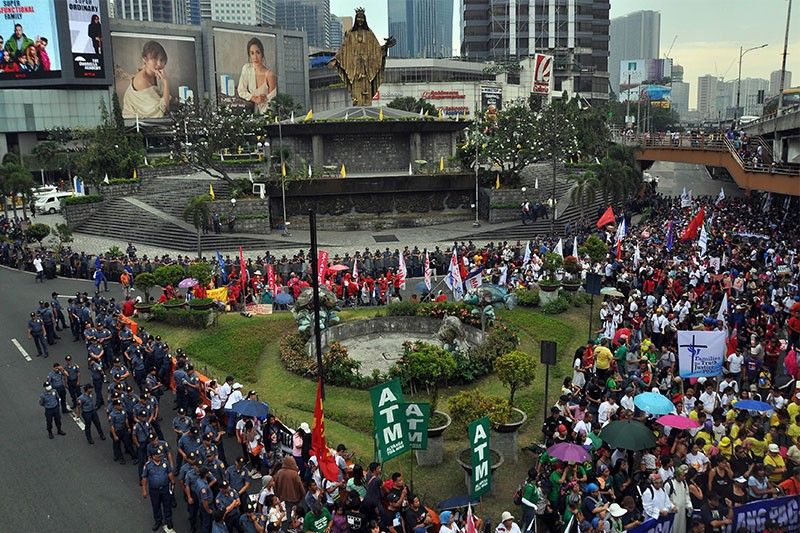 In this Feb. 23, 2019 photo, groups stage a rally at EDSA shrine days before the commemoration of the 33rd EDSA People Power anniversary.
The STAR/Boy Santos
69% of Filipinos satisfied with democracy — Pew poll
MANILA, Philippines — Majority of Filipinos are satisfied with how democracy works in the country, according to a recent survey released by Washington-based polling firm Pew Research Center.
The study released April 29 showed that 69% of Filipinos are satisfied with the state of democracy in the country while 31 percent are not satisfied.
The survey also showed that between 2017 and 2018, dissatisfaction with the way democracy is working in the Philippines remained the same at 31%.
According to Pew, Asia-Pacific nations tend to be satisfied with how democracy works in their country with the exception of Japan with 56% who said they are dissatisfied.
In Europe, six out of 10 countries are dissatisfied with democracy, the highest discontent rate recorded in Italy, Spain and Greece.
Around half or more in the sub-Saharan African and Latin American countries surveyed were also discontent with how democracy works in their countries.
Overall in the 27 countries surveyed, a median of 51% were dissatisfied and 45% were satisfied with the democracy in functioning in their countries.
"Dissatisfaction with democracy is higher in emerging than edvanced economies," the study read.
Aside from the Philippines, nine other countries did not experience significant change in democratic dissatisfaction between 2017 and 2018 — Greece, Kenya, Indonesia, Italy, Nigeria, Hungary, Poland, Australia and Israel.
The Pew study found that countries with rising concerns in their economic situation also had increased dissatisfaction such as India, Germany and Brazil.
The survey on satisfaction with democracy was conducted in the fourth quarter of 2018 using telephone and face-to-face interviews. The poll results are based on national samples, unless otherwise noted, Pew said.
In the Philippines, Pew noted that 1,181 adult respondents were surveyed from May 28 to July 7, 2018.
"For results based on the full sample in a given country, one can say with 95% confidence that the error attributable to sampling and other random effects is plus or minus the margin of error. The margin of error is larger for results based on subsamples in the survey," the research firm said.