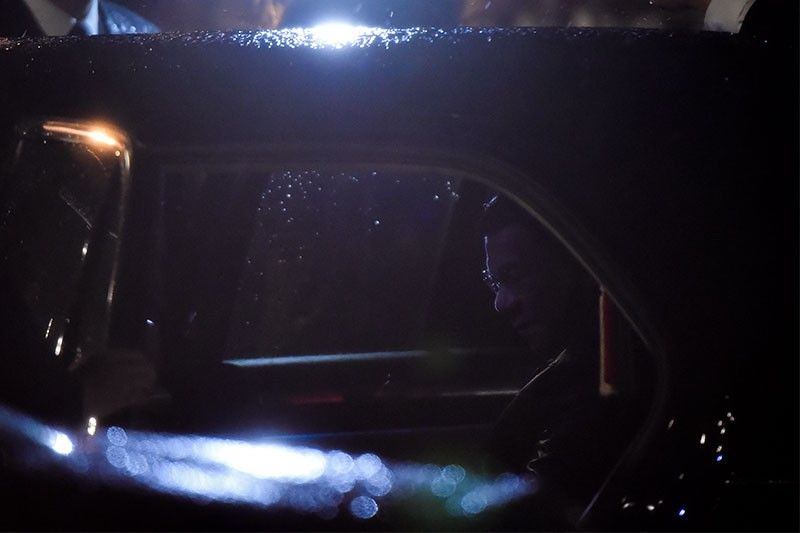 Philippines' President Rodrigo Duterte arrives at Beijing Capital International Airport on April 24, 2019. Duterte arrived to take part in the Belt and Road Forum, which will be held in Beijing from April 25 to 27.
AFP/Wang Zhao, Pool
Infographic: Countries visited by Duterte since assuming presidency
MANILA, Philippines — As President Rodrigo Duterte attends the second Belt and Road Forum in Beijing, China becomes his most visited country since assuming office in June 2016.
This is his fourth visit to China, where he is expected to discuss the presence of hundreds of Chinese ships in the West Philippine Sea during a scheduled bilateral meeting with Chinese President Xi Jinping.
Next to his list of most visited countries are Southeast Asian neighbors Singapore, Brunei, Cambodia, Indonesia, Malaysia, Thailand and Vietnam.
When he took office almost three years ago, Duterte declared that his administration would pursue an "independent foreign policy," which was already mandated by the 1987 Constitution.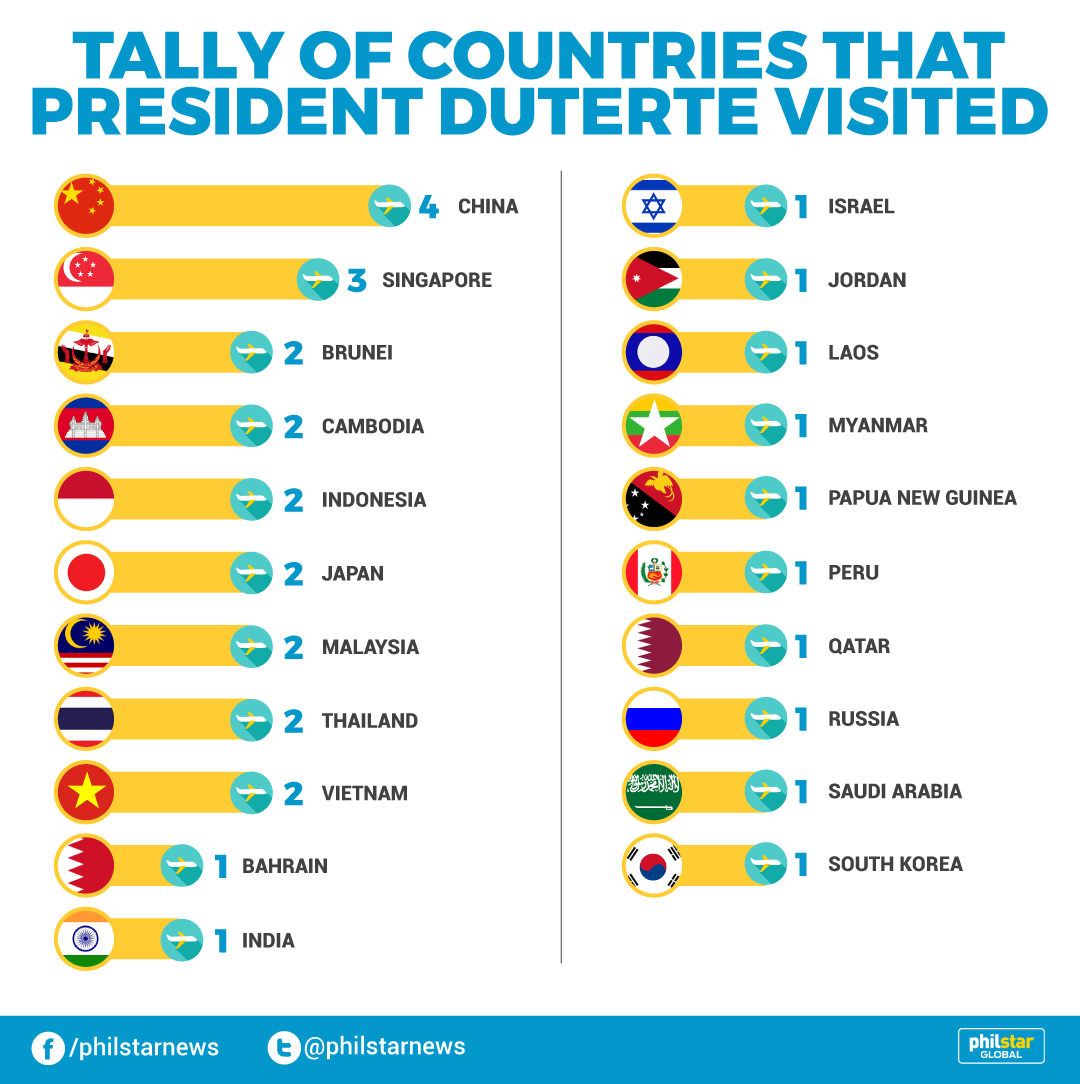 Here's a rundown of the countries that he had visited as president:
Bahrain
As part of his Gulf tour in April 2017, Duterte undertook a state visit to the Kingdom of Bahrain, where he met with His Majesty King Hamad bin Isa Al Khalifa. After holding a bilateral meeting, the two of them witnessed the signing of four agreements between the Philippines and Bahrain.
Brunei
Duterte made two visits to Brunei Darussalam — the first was a state visit in October 2016, where he met with Sultan Hassanal Bolkiah, and the second was in October 2017 to attend the Golden Jubilee celebration of the accession to the throne of Bolkiah.
Cambodia
In December 2016, the president made his first state visit to the Kingdom of Cambodia where had had a royal audience with King Norodom Sihamoni at the Royal Palace, followed by a bilateral meeting with Cambodian Prime Minister Hun Sen. His second visit to the Southeast Asian country was for the World Economic Forum for ASEAN, which Cambodia hosted in May 2017.
China
Since assuming office, Duterte has visited China once a year. The first was a state visit in 2016 while his second visit was in May 2017 to attend the first Belt and Road Forum for International Cooperation in Beijing. His third visit was in April 2018 to participate at the Boao Forum for Asia in Hainan province. He also visited Hong Kong after the summit in Hainan. His participation in the second Belt and Road Forum this month would be his fourth time in China.
India
In January 2018, Duterte went to India for the ASEAN-India Commemorative Summit. He also met with Prime Minister Narendra Modi for a bilateral meeting.
Indonesia
The president's first-ever visit to Indonesia, where he met with President Joko Widodo, in September 2016 was part of his maiden international voyage since taking office earlier that year. His second visit to the country was in October 2018 for the ASEAN Leaders' Gathering in Bali.
Israel
Duterte made an official visit to Israel in September 2018. Aside from meeting with President Reuven Rivlin, part of his trip to the Jewish state was visiting the Yad Vashem Memorial Center in Jerusalem.
Japan
The chief executive described his first visit to Japan in October 2016 as a productive, noting that he and Prime Minister Shinzo Abe discussed the state of Philippines-Japan ties. He embarked on a second trip to Tokyo in November 2017, which he described as "most productive and engaging."
Jordan
An official visit to the Hashemite Kingdom of Jordan was also part of Duterte's Gulf tour in September 2018. There he met with Prime Minister Benjamin Netanyahu and His Majesty King Abdullah II.
Laos
Duterte's first foreign trip was in Vientiane, Laos in October 2016. This is also where he formally accepted the Philippines' chairmanship of ASEAN in the following year.
Malaysia
Malaysia is also among the countries that Duterte already visited twice — first in November 2016 as part of his introductory visits to Southeast Asian countries. The second one was in July 2018, where he met with Prime Minister Dr. Mahathir Bin Mohamad.
Myanmar
Duterte visited Myanmar in March 2017 upon the invitation of President U Htin Kyaw. He also met with State Counsellor and Foreign Minister Aung San Suu Kyi during his visit to the country.
Papua New Guinea
The president attended the Asia Pacific Economic Cooperation (APEC) Leaders' Summit in Port Moresby, Papua New Guinea in November 2018. While in the country, he also met with the members of the Filipino community there.
Peru
Duterte also went to Lima, Peru in November 2016 for the APEC Summit. This was his first time to attend the summit after being elected as president earlier that year.
Qatar
Qatar was the president's last stop in his week-long Gulf tour in April 2017. Several agreements were signed between the Philippines and Qatar during his visit to the country.
Russia
The president's official visit to Russia in May 2017 was cut short as he had to rush home because of the Marawi siege. His meeting with President Vladimir Putin was moved at an earlier schedule as he had to return to the Philippines, where he then declared martial law in Mindanao.
Saudi Arabia
At least three agreements were signed when Duterte visited Saudi Arabia in April 2017. In this visit, the president met with Prince Faisal bin Bandar bin Abdulaziz Al Saud, governor of Riyadh.
Singapore
Singapore is Duterte's second most visited country to date. His first visit was in December 2016, where President Tony Tan Keng Yam hosted a state banquet for him. He also held bilateral talks with Prime Minister Lee Hsien Loong. Duterte's second and third visits to Singapore were in April and November 2018 for the ASEAN Summit.
South Korea
The president undertook an official visit to Seoul, South Korea in June 2018. He participated in a summit meeting, a business luncheon forum and attended the E-Mart Philippine Food Festival while in Seoul. In his meeting with President Moon Jae-In, the two leaders also discussed the rehabilitation of Marawi City, as well as advancing the relationship between the Philippines and South Korea.
Thailand
Duterte first visited Thailand in November 2016 to pay respects to the late Thai monarch, His Majesty King Bhumibol Adulyadej. He undertook an official visit to Bangkok in March 2017 and held a bilateral meeting with Thai Prime Minister Prayut Chan-o-Cha.
Vietnam
Vietnam was also among the first countries that Duterte visited in September 2016 as part of his introductory visits to Southeast Asian neighbors. His second visit to Vietnam was in November 2017 for the APEC Summit. Duterte also met with US President Donald Trump on the sidelines of the summit.
— Graphics by Jonathan Asuncion