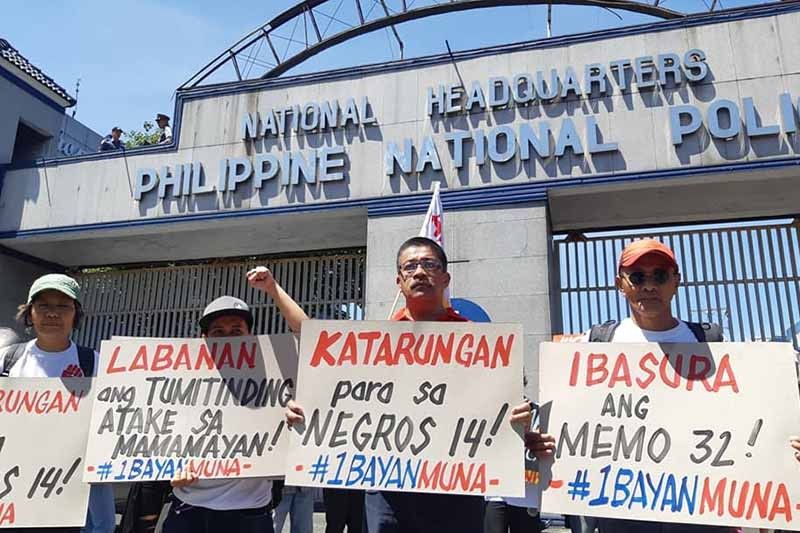 In this April 2, 2019 photo, Bayan Muna Rep. Carlos Zarate condemns the killing of 14 farmers in police operations across Negros Oriental.
Bayan Muna, Facebook
Bayan Muna tops Pulse Asia's survey of preferred party-lists in midterm polls
MANILA, Philippines — Fourteen organizations—led by the progressive Bayan Muna—could secure at least one party-list seat available in the House of Representative in the May midterm elections, a new Pulse Asia survey suggested.
According to a poll conducted from March 23-27, 14 of the 134 accredited party-list groups managed to get more than 2% voter preference. Each could get one seat in the lower house in the first round of seat allocation if the elections were held during the survey period.
Bayan Muna, which has criticized several policies and statements of President Rodrigo Duterte, topped the list with a voter preference rating of 8.5%.
Magkakasama sa Sakahan, Kaunlaran (Magsasaka) placed second with a voter preference rating of 6.45%. It was followed by Gabriela Women's Party with 6.04%, Ako Bicol Political Party (Ako Bicol) with 4.72% and Advocacy for Teacher Empowerment through Action Cooperation and Harmony towards Educational Reform (A Teacher) with 4.58%.
Pulse Asia noted that Bayan Muna, Magsasaka, Gabriela Women's Party, Ako Bicol and A Teacher "each garner the ceiling of three seats in the lower house."
Bayan Muna Rep. Carlos Zarate expressed gratitude "that many people recognize the hard work of Bayan Muna in fighting for higher wages, pension and benefits as well as doing all it can to stop power, oil and water rate hikes."
He added: "Its role as a fizcalizer in Congress has also been highlighted when we go after abusive and corrupt government officials as well as unscrupulous companies."
Bayan Muna bested all the party-list organizations participating in the midterm polls in the automated raffle conducted by the Commission on Elections to determine their order on the ballots.
Other party-list groups with a statistical chance of clinching at least one seat in the lower chamber were Coalition of Association of Senior Citizens in the Philippines, Inc. (Senior Citizens) with 3.66%, Buhay Hayaan Yumabong (Buhay) with 2.98%, Anak Citizens Action Party (Akbayan) with 2.51%, Anak Mindanao (Amin) 2.42%, An Waray with 2.18% and Kalinga-Advocacy for Social Empowerment and Nation-Building through Easing Poverty, Inc. (Kalinga) with 2.13%.
Three-quarter of Filipinos aware of party-list system
The Pulse Asia survey also found out that 74% of registered voter have heard, read or watched something about the party-list system. The polling firm noted the March figure was higher than the 61% recorded in February.
Awareness was higher in Luzon (79%), Mindanao (77%) and Metro Manila (74%) than in Visayas (57%).
Awareness was also more marked in Class ABC (86%) than Class E (62%).
The survey, based on sample of 1,800 adults, has a +2.3% error margin at the 95% confidence level. Subnational estimates for the geographic areas covered in the survey have the following error margins at 95% confidence level: +6.5% for Metro Manila, +3.5% for the rest of Luzon, +5.3% for Visayas and +4.7% for Mindanao.