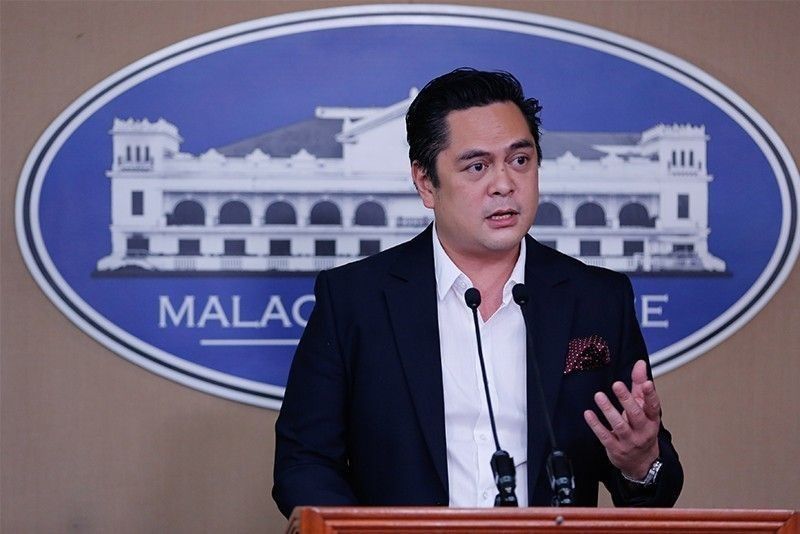 File photo shows Presidential Communications Secretary Martin Andanar in a press conference.
PPD, File photo
Andanar calls to fight disinformation following release of Oust-Duterte matrix
MANILA, Philippines — The head of the government's lead communications arm Tuesday called for a fight against "disinformation" following the release of a matrix that linked some journalists to an alleged plot to oust President Rodrigo Duterte.
Presidential Communications Secretary Martin Andanar said elections would become dishonest and unfair if "disinformation" is allowed to prevail. He claimed that about 90 percent of an electoral campaign is spent on communications.
"If we allow fake news or disinformation to win, we are actually allowing ourselves to be cheated by way of an election that is no clean and not fair, which destroys basically the democratic process of electing a person," Andanar told radio station dzXL.
"We really need to fight disinformation," he added.
Andanar, a former broadcaster, said an example of "disinformation" is the video series of a certain "Bikoy," a self-confessed former member of a drug syndicate who accused Duterte's family of involvement in narcotics trade.
Malacañang previously claimed news organizations Vera Files, Rappler and Philippine Center for Investigative Journalism (PCIJ) and lawyers' group National Union of People's Lawyers (NUPL) spread the videos online to tarnish the credibility of the government.
The four organizations and their leaders were mentioned in the matrix that claims to shows their connections with "Bikoy." In a recent press briefing, presidential spokesman Salvador Panelo could not say who provided Duterte the matrix, how it was vetted and how the people and groups are conspiring to oust the president. Duterte, however, claimed that a foreign government has been listening to the conversations of those who are seeking to destabilize the government.
Vera Files, Rappler, PCIJ and NUPL have denied involvement in any effort to overthrow Duterte and have questioned the credibility of the matrix, which was released days after Duterte lambasted reports that examined his income sources.
While some sectors are questioning the reliability of the matrix, Andanar claimed the involvement of some personalities in the ouster plot is alarming.
"We have to fight disinformation just like the one released by 'Bikoy.' If we link this to the matrix released by Sal Panelo, Secretary Sal, it's scary. It is alarming that such personalities involved," he said.
Andanar, whose agency had faced controversies over error-filled press releases and the blunders of some of its officials, said the government, the media and voters should work together to dismiss disinformation.
"Disinformation is our enemy and we can defeat it if the media, the government and especially the voters unite, if we in the mass media have rules and regulations, and we regulate ourselves. The problem with social media is everyone is a broadcaster," the Cabinet official said.
"We should practice our civic responsibility of sharing only truthful, correct, the right information," he added.