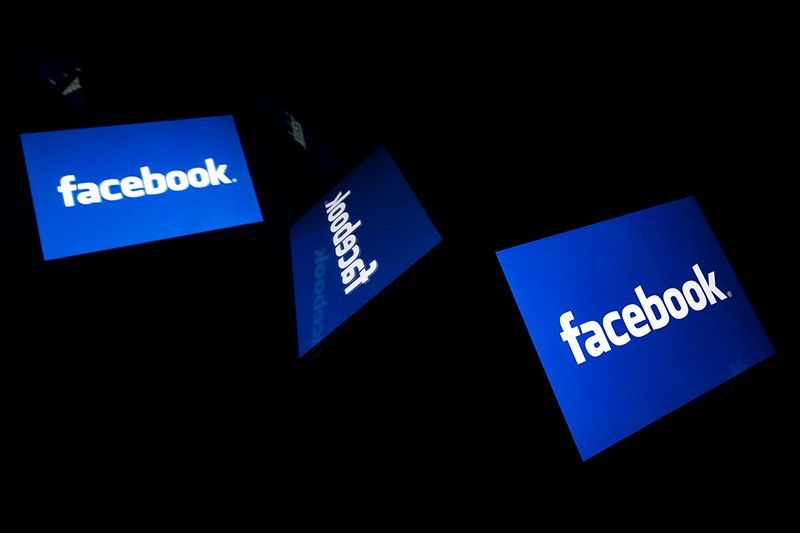 This illustration file picture shows the US social media Facebook logo displayed on a tablet in Paris on February 17, 2019.
AFP/Lionel Bonaventure
Palace: Duterte poll victory, popularity not due to social media
(Philstar.com) - April 1, 2019 - 5:23pm
MANILA, Philippines — Malacañang on Monday said President Rodrigo Duterte has nothing to do with a network of Facebook accounts that the social media recently took down for using "coordinated inauthentic behavior," adding most of the president's supporters are not even online.
Last week, 67 Facebook pages, 68 accounts, 40 groups and 25 Instagram accounts were taken down for "misleading others about who they were and what they were doing."
These pages—a combination of authentic and fake accounts that frequently post about local and political news—were linked to a network organized by Nic Gabunada.
Gabunada, as described by Adobo Magazine, was "former CEO of Omnicom Media Group Philippines and former senior vice president at ABS-CBN" and the man behind then Davao City Mayor Rodrigo Duterte's successful social media campaign.
But Presidential Spokesperson Salvador Panelo said the chief executive knew nothing about the network of accounts that Facebook recently removed and that no government funds were used to fund the said network.
"I don't think the president has anything to do with those Facebook accounts, which were initiated during the campaign or even during the assumption of his presidency. He doesn't know anything about it," Panelo said in a televised press briefing.
Panelo added that he did not know that Gabunada was Duterte's social media strategist for his 2016 campaign.
Duterte's time 'just right'
The president's mouthpiece also said Duterte "definitely" would have won the 2016 elections even without the help of supporters using social media to promote his candidacy.
"His time was just right. The Filipino people needed someone like him. His entry was just the appropriate time," Panelo said.
He added most of those who voted for Duterte were the "masses" who do not have access to Facebook.
"You must remember that since both sides are active, you will never know whether you benefited from that or you lost in the fight. But to my mind, what is important is an overwhelming mass of our people voted him to office and majority of them are not into social media. These are the masses," Panelo also said.
He added: "And the campaign promises of the president as a candidate resonated with them and that is why they elected him into office."
But special reports from MSNBC and Bloomberg in 2017 said that Facebook helped in handing the chief executive position to Duterte.
"Facebook is a global company and it was ground zero for this [Russian President Vladimir] Putin and Duterte playbook, long before Zuckerberg was playing naive about fake news," MSNBC said.
Bloomberg said Facebook's "political team" had gone around countries to "train" politicians to maximize the platform for campaign.
"In the Philippines, it trained the campaign of Rodrigo Duterte, known for encouraging extrajudicial killings, in how to most effectively use the platform," Bloomberg said.
A University of Oxford study also found that $200,000, around P10 million, was spent to hire trolls who would spread propaganda for President Rodrigo Duterte and target his opposition. The study said that Duterte's team of 400 to 500 cyber troops post nationalistic and pro-government comments and interact with dissenters through harassment and individual targeting.
Gabunada: FB takedown to 'weaken' Duterte's support base
Gabunada, who denied involvement in the network that was taken down, claimed that the takedown of pro-Duterte accounts was a way of weakening the support base of Duterte and lessening the chances of pro-administration candidates from winning in the May midterm polls.
"There is a reason for me to suspect that they pulled down pages and groups associated with the President and the candidates of the President because they thought it will weaken the support base and also diminish the chances of pro-admin candidates. Big mistake," Gabunada was quoted by state-run Philippine News Agency.
He said that he felt "singled out" while the accounts of those who support candidates belonging to the opposition were not removed from the platform.
Facebook head of cybersecurity policy Nathaniel Gleicher said last week that the accounts were taken down "based on their behavior, not the content they posted."
"In this case, the people behind this activity coordinated with one another and used fake accounts to misrepresent themselves, and that was the basis for our action," he said.
PNA reported that Gabunada also said "he wouldn't be surprised if Facebook may have snooped on Messenger exchanges as well."
Gabunada said he had already been joining groups since the start of Duterte's presidential campaign, where he even became moderator or administrator.
"I am also participating in several FB chat groups and in these groups, I share with people my personal views, thoughts and comments on issues affecting our country. And I also encourage them not only to continue supporting the President and its administration but also encourage others to do so," he said.
READ: Ad, PR execs are 'chief architects' of disinformation in Philippines — study