Ad, PR execs are 'chief architects' of disinformation in Philippines — study
February 12, 2018 | 11:48am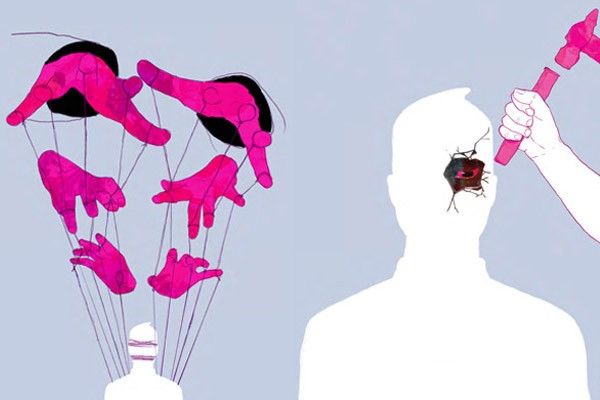 MANILA, Philippines — A study from the University of Massachusetts Amherst and the University of Leeds have identified those playing leadership roles in the advertising and public relations industries as the "chief architects of networked disinformation" in the Philippines.
The report titled "Architects of Networked Disinformation: Behind the Scenes of Troll Accounts and Fake News Production in the Philippines" was co-authored by Jonathan Corpus Ong, associate professor of communication at UMass Amherst in the US, and Jason Cabañes, lecturer in international communication at the University of Leeds in the UK.
Ong and Cabañes found out during their 12-month research project that sitting atop the disinformation hierarchy are executives in the advertising and PR industry.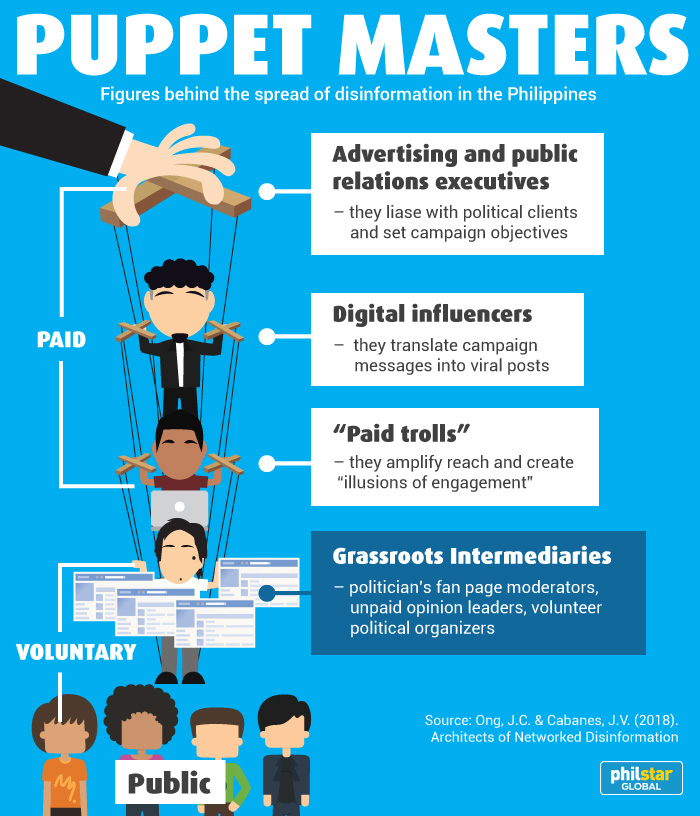 These strategists apply their expertise in corporate marketing and social media content management to the "unregulated and highly-profitable industry of digital political campaigning."
"Conveniently hidden behind the smoke-screen of prominent social media influencers who fan the flames of political divisiveness and stoke the public's moral panics about trolling, ad and PR executives assemble their own teams of anonymous digital influencers and community-level fake account operators," the study reads.
It added: "They transpose tried-and-tested industry techniques of reputation-building and spin to networked disinformation campaigns."
The researchers conducted in-depth interviews with 20 disinformation architects at both managerial and staff level from December 2016 to December 2017, as well as participant observation of Facebook community groups and Twitter accounts.
Last year, a University of Oxford study also found that around P10 million was spent to hire trolls who would spread propaganda for President Rodrigo Duterte and target his critics.
Hierarchy of disinformation
These chief architects work closely with anonymous digital influencers with followers ranging from 50,000 to 2,000,000 on Facebook and Twitter and community-level fake accounts operators who manually operate fake profiles to infiltrate community groups and news pages.
Their main responsibility is to generate and inspire support through online engagement.
"To achieve this, they recruit a team of anonymous digital influencers and fake account operators to seed core campaign messages in online spaces and create 'illusions of engagement' to inspire enthusiasm from real supporters," the report reads.
The ad and PR executives rely very minimally on automated bots as they would rather depend on the labor of "savvy creative writers" who can mobilize populist public sentiment.
One of the chief architects likened the bots to the white walkers of the popular HBO show Game of Thrones. "They're stupid and obvious and easily killed. They can't inspire engagement."
Anonymous digital influencers
Anonymous influencers operate social media pages with humorous, inspirational and pop culture content.
"Translating the campaign plans of the ad and PR strategists into shareable content, they use snark, humor or inspirational messaging consistent with the social media personas they operate to post content that is favorable or unfavorable to particular politicians, often anchored by a hashtag agreed upon between them and the chief architects," the report said.
The anonymous influencers interviewed for the study take on the role on a part-time or per-project basis because many of them have day jobs in IT, corporate marketing and other sideline jobs such as managing celebrities' fan clubs.
These digital influencers are motivated by economic gains to take on disinformation work as they have previously endured less stable, less financially and less socially rewarding jobs.
Community-level fake accounts operators
Community-level fake account operators, on the other hand, are middle-class workers subcontracted by ad and PR strategists or hired by politicians' chief of staff to amplify reach and create "illusions of engagement." They sit at the lowest level of the networked disinformation hierarchy.
"By actively posting content from generic greetings to political messages within Facebook community groups, they are often responsible for maintaining activity and initiating bandwagon effects that would drive real grassroots supporters to come out and openly express their enthusiasm for a particular politician," the study said.
They are tasked to post a prescribed number of posts or comments on Facebook groups, news sites or political opponents' pages per day. They also initiate quarrels with a supporter of rival politicians.
Most of the respondents in the study were working with politicians' own administrative staff, usually junior-level employees.
Their primary motivation is also to achieve financial stability.