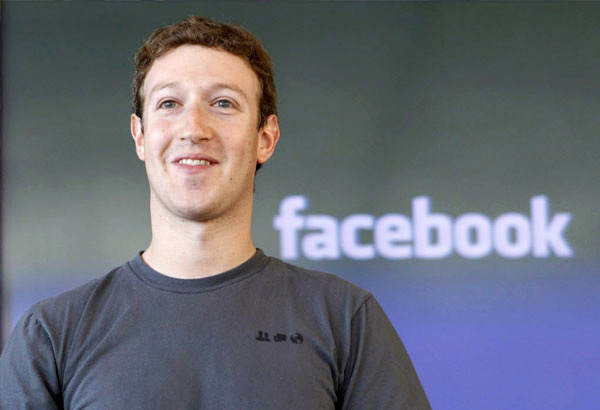 It was learned that Facebook sent a team of three to the Philippines to teach politicians how to maximize its platform to further their campaign, a strategy that is used by President Rodrigo Duterte to gain the top seat in the country. File photo
Facebook: A tool for democracy or global business?
(Philstar.com) - December 28, 2017 - 8:22am
MANILA, Philippines — Social media giant Facebook, that has touted itself as a "tool for democracy," has handed the chief executive position in the Philippines to "authoritarian Rodrigo Duterte," media reports claim.
Facebook's co-founder, Mark Zuckerberg, has once again come under fire as two separate special reports from MSNBC and Bloomberg revealed how the social media giant profited from partnership with Duterte during the 2016 national elections.
Zuckerberg was first confronted on his company's role in the rise of US Donald Trump's rise to power in September this year. He vehemently denied Facebook's involvement in catapulting Trump to global power: "I don't want anyone to use our tools to undermine democracy. That's now what we stand for."
"The integrity of our elections is fundamental to democracy around the world," Zuckerberg added.
Zuckerberg claims naivete?
But MSNBC, in its special report on December 27, said that Zuckerberg was merely claiming naivete in raising people to power, as it traced how partnership came between Facebook and President Rodrigo Duterte.
"Facebook is a global company and it was ground zero for this [Russian President Vladimir] Putin and Duterte playbook, long before Zuckerberg was playing naive about fake news," MSNBC said.
The media outfit referred to Duterte as an authoritarian who follows a strategy like a leaf taken out of Putin's playbook.
The Philippine leader has repeatedly expressed admiration to his Russian counterpart who is known for broad use of the military force and for ruthlessly silencing of dissent.
Human rights organizations, meanwhile, claim that there are 16,000 deaths under the Duterte administration's bloody campaign against illegal drugs.
RELATED: Duterte gov't probing over 16,000 drug war-linked deaths as homicide, not EJK
Bloomberg, in an earlier report dated December 21, bared Facebook's "political team" that has gone around countries to "train" politicians to maximize the platform for campaign.
"Facebook has embedded itself in some of the globe's most controversial political movements while resisting transparency," Bloomberg said.
Facebook training for politicians
Bloomberg also pointed out that following Facebook's opening of its first office in Washington, "the world's first 'Facebook President'" Barack Obama was voted to power.
It also noted that Obama's campaign launched through Facebook "was able to reach millions of voters in the weeks before the election."
"In the Philippines, it trained the campaign of Rodrigo Duterte, known for encouraging extrajudicial killings, in how to most effectively use the platform," Bloomberg said.
The team, Bloomberg revealed was led by "Katie Harbath, a former Republican digital strategist who worked on former New York Mayor Rudy Giuliani's 2008 presidential campaign."
Harbath's team "train politicians and leaders how to set up a campaign page and get it authenticated with a blue verification check mark, how to best use video to engage viewers and how to target ads to critical voting blocs."
She told Bloomberg: "We're proud to work with the thousands of elected officials around the world who use Facebook as a way to communicate directly with their constituents, interact with voters, and hear about the issues important in their community."
Training for Duterte team
According to MSNBC, in January 2016, Facebook "flew in three employees who spent a week holding training session with candidates that include Duterte."
This was roughly two months since Duterte—after repeated denials and pleas to stop coercing him to run—declared that he is indeed gunning for the top position.
"But giving tips to a few campaigns in constitutional democracy can be different in giving tips to this authoritarian Duterte," MSNBC said.
"And Facebook learned that quickly. In fact, after his team got that Facebook briefing, his allies went into overdrive: Pushing fake news and fake accounts, along with wide campaigns," the media outfit said.
This allegation has hounded the Duterte campaign, and eventually, continues to hound his presidency—with those accused of spearheading the smear campaign given seats in the national government, such as Communications Assistant Secretary Mocha Uson.
The Senate has held a hearing on fake news October this year, however the one-day probe proved to have missed crucial questions and issues as senators aired their grievance over allegedly being a target of "fake" information and so-called digital influencers defended their online activities.
READ: Hits, misses of first Senate probe into fake news
Pope endorsement
Among the first and the notable fake new propagated during Duterte's campaign was the alleged badge of support given by Pope Francis to the firebrand leader, whose almost two decade mayoral stint in Davao was marred by alleged human rights abuses and rampant killings.
READ: Papal visit organizers deny Pope's endorsement of Duterte
MSNBC pointed out that the same strategy was used in the US national elections, for now-US President Donald Trump.
The media outfit quipped that the Pope's support is basically the sign that a politician is using fake news to further his campaign.
MSNBC also stressed that Duterte had less constitutional limits for launching acampaign, as the Philippines is a democratic country with the freedom of expression among its most hailed freedoms.
Duterte, in his inauguration, "banned journalists" from covering the event and opted to stream it through Facebook.
Philippine journalists fight back
MSNBC sought the side of Filipino journalist Maria Ressa who raised the issue of fake news proliferation with Facebook management.
Ressa told MSNBC: "Facebook needs to moderate its greed, clean up the toxic waste and be accountable for its role as the new gatekeeper to information."
She launched the Shark Tank project that uncovered 12 million users believed to be fake that also push fake news.
Ressa lamented that the only action from Facebook is "media literacy training," which, MSNBC pointed out, shifts the responsibility to its consumers.
Facebook, in reply, told MSNBC: "Any time Maria has raised an issue with us, we've promptly reviewed it and taken action when there were violations of our community standards."
MSNBC said that it fielded follow up questions on the matter but Facebook has yet to reply when they aired the special report.
VERA files, for its year-end report, also revealed that most of false claims in 2017 are peddled by Duterte himself.
The information was also spread by his known allies such as Foreign Affairs Secretary Alan Peter Cayetano and former Presidential Spokesperson and now Foreign Affairs Undersecretary Ernesto Abella.
The Department of Foreign Affairs and Presidential Communications Office likewise echoed the fake claims.
Internet.org in PH
MSNBC, meanwhile, traced the partnership between Facebook and the Philippines that started in May 2015, when the social media giant, in a bid to realize its mission to "connect everyone," introduced Internet.org.
Facebook officials trooped to the Philippines to launch an application that will offer free mobile internet services to the Philippines.
The Internet.org app provides mobile users free access to selected websites, such as ask.com, bing.com, dictionary.com, wikiHow and Wikipedia for general information, philstar.com and interaksyon.com for news updates, ESPN and spin.ph for sports events, Accuweather and RainCheckPH for weather alerts, and online reading and writing platform Wattpad.
Through the Internet.org app, smartphone users could also log into the official website of the Technical Education and Skills Development Authority (TESDA) at TESDA.gov.ph to check out its offered programs and training, Jobstreet for job opportunities and olx.ph for online retailing.
Zuckerberg was quoted as saying that Internet.org is a partnership between "governments, mobile operators, local entrepreneurs and companies like Facebook."
"We'll work with anyone who wants to join us," Zuckerberg also said.
In April 2016, Facebook opened its first Philippine office.
Facebook remains a business
In the end, the MSNBC said, Philippines is a very fertile land for Facebook to flourish as a global company.
It noted that there are 49 million active users in the Philippines, with 60% more Facebook friends than other global users of the internet tool.
And Facebook, MSNBC pointed out, "makes money from shares and clicks."
READ: Amid rights outcry, Palace insists on drug war accomplishments in yearend report
Just last month, Facebook has once again entered the Philippine economic landscape by coming in as a player in government's bid to provide faster internet connection to Filipino users.
The Bases Conversion and Development Authority (BCDA) and Department of Information and Communications Technology (DICT), last November 16, signed a landing party agreement with Facebook, which would be called the Luzon Bypass Infrastructure to improve speed and accessibility, as well as reduce the cost of broadband internet in the country.
READ: Facebook to help put up ultra-fast internet in Luzon
Facebook will construct and operate a submarine cable system that will land in the cable stations in Baler, Aurora and Poro Point, San Fernando, La Union on the western part.
The Philippines currently ranks 7th in 10 ASEAN countries in terms of download speed in 13.15 mbps.