Leyte rep in 'narco list' wants House inquiry into how info was validated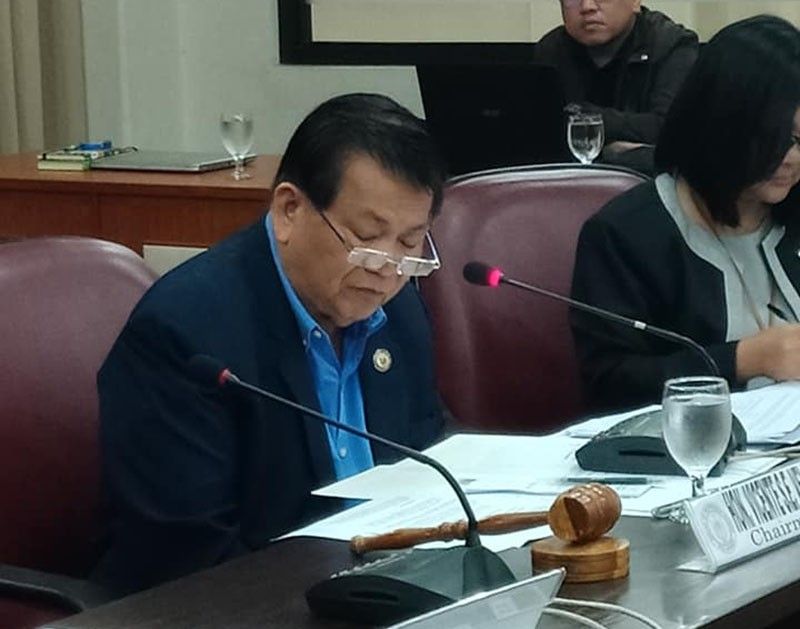 MANILA, Philippines (Update 1:45 p.m.) — Rep. Vicente Veloso (3rd Dist., Leyte) on Friday denied involvement in the drug trade and said he would call for a House inquiry into how the government's "narco list" was made.
In an interview on the ABS-CBN News Channel, he said he would also file criminal charges against those responsible for putting him on the list but said the congressional inquiry will come first.
"It is important that a lot of people be spared form the rigors I am going through," Veloso, who was in a list that President Rodrigo Duterte read out on Thursday night and whom he said are facing administrative charges at the Office of the Ombudsman, said.
He said he had previously asked Philippine Drug Enforcement Agency (PDEA) acting regional director Edgar Jubay if he is on the list and had been told he is not. "He said I cannot be [on the list] because I am their partner in the crusade against drugs in Leyte," he said.
He added he sponsors a radio show for the PDEA and helps with funding for motorcycles, safe houses and allowances for the agency's "assets."
He said that at an earlier House hearing "attended by the top brass of the [Philippine National Police] and the PDEA people," PDEA officials had said the contents of the "narco list" were validated by PDEA people on the ground.
On Thursday, Local Government Secretary Eduardo Año said the list had been evaluated and validated by the Interagency Committee on Anti-Illegal Drugs. The committee is chaired by PDEA and includes the PNP, the Armed Forces of the Philippines, National Intelligence Coordinating Agency and other offices.
Presidential spokesperson Salvador Panelo initially hinted that sources of information for the "narco list" include wiretapped conversations "not necessarily from our law enforcement" but later walked the statement back as "an educated guess."
He initially said the Philippines should be thankful for the wiretapped conversations.
"Then at least you would know who are involved, have them under surveillance, find a way to entrap for one, or invalidate the information coming for your other sources," Panelo said.
Justice Secretary Menardo Guevarra, asked about the potential use of bugged conversations in criminal prosecution, said "if the wiretapping act involves an element performed in Philippine jurisdiction, such as bugging local phone lines, that may be considered unlawful ... and its admissibility questionable."
Veloso had been included in list of officials supposedly protecting Kerwin Espinosa, an alleged drug trafficker. Police said Espinosa's father Roland, former mayor of Albuera in Leyte, had prepared the list. The elder Espinosa was killed in a supposed shootout during a search of his cell in November 2016.
RELATED: After 'cleared' of drug links: Vice Governor Loreto hails Senate investigation
In a Senate hearing in November 2016, Kerwin said he had never transacted with the Veloso.
"This is a rehash," Veloso, chair of the House Committee on Constitutional Amendments and a former Court of Appeals justice, said Friday.
"I have been unduly injured by this list and those responsible for the inclusion of my name in that list must be sued criminally, must be penalized criminally," he also said.
READ: Charges filed vs 46 alleged narco politicians
Veloso denounced his inclusion in the list on Thursday, saying allegations he is involved in drugs are fabricated and baseless.
3rd District Congressman Vicente Veloso maintains his innocence over the narco list released by President Duterte. Veloso calls his alleged involvement as "fabricated" and "baseless." | via Miriam Desacada

— The Philippine Star (@PhilippineStar) March 14, 2019
Veloso, who ran under the National Unity Party in 2016, is seeking reelection under the administration PDP-Laban party.
Denials, 'political' accusations
Also on Friday, Ferdinand Dancel Aguinaldo, mayor of Pasuquin in Ilocos Norte, said that politics are behind his inclusion in the "narco list."
Aguinaldo said authorities should validate its list again, claiming 90 percent of his constituents know the truth about the allegations against him.
He said his camp is still studying what their next steps will be.
Aguinaldo is in Manila to celebrare his wedding anniversary but said he will face his constituents and explain his inclusion in the list.
Last May, authorities raided his house and the houses of two of his relatives and confiscated several firearms and ammunition.
Search warrants were issued against the mayor, his brother former Mayor Felix Aguinaldo, and cousin Vice Mayor Pedro Rex Aguinaldo ahead of the 2018 barangay and SK elections.
Aguinaldo ran under the Kilusan Bagong Lipunan in the 2016 polls.
According to a report on GMA News' "News To Go", the following local officials have also issued denials of their alleged involvement in illegal drugs:
Mayor Jefferson Khonghun (Subic, Zambales)
Mayor Larry Alilio (Lemery, Batangas)
Mayor Erlon Agustin (Camiling, Tarlac)
Mayor Jamar Abdullah Mansul (Madji Mutahmad, Basilan)
Vice Mayor Ottoh Montawal (Datu Montawal, Maguindanao)
RELATED: Journalists urged to exercise prudence, fastidious judgment in evaluating 'narco-list'
Administrative cases filed
Duterte read out the names during the National Peace and Order Council meeting in Davao City on Thursday night.
The Department of the Interior and Local Government had already filed administrative complaints against the officials on the list, which includes 35 mayors, seven vice mayors, three members of Congress and one provincial board member.
Año said the officials face complaints of grave misconduct, conduct prejudicial to the best interest, conduct unbecoming of a public officer and gross neglect of duty.
The list was released as the country prepares to elect new local and national elections in May and the government said the names were released to guide voters. — with a report from The STAR/Artemio Dumlao in Baguio City