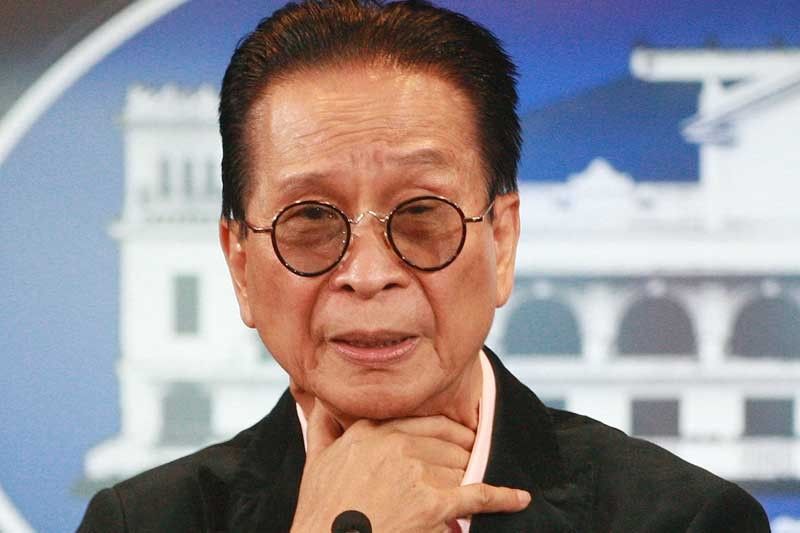 After receiving flak, presidential spokesman Salvador Panelo clarified his earlier statement that the government's list of narco politicians was based on technical surveillance, including the possibility of wiretapping.
Joven Cagande
Panelo claims wiretapping for narco list just 'an educated guess'
MANILA, Philippines — Wiretapping to monitor narco politicians? It was just "an educated guess."
After receiving flak, presidential spokesman Salvador Panelo clarified his earlier statement that the government's list of narco politicians was based on technical surveillance, including the possibility of wiretapping.
"Apparently, the discussion we had in the wiretapping created a firestorm. There was a misunderstanding. First, it's the policy of the government to comply with the law. Wiretapping is illegal in this country, so that's it," Panelo stressed.
He said it was merely "an educated guess on what is happening in the world today. Countries whose survival depends on measures that they will undertake to preserve their territory or sovereignty will have to use that."
Panelo maintained the position that wiretapping is illegal and information coming from such activity cannot be admissible in court.
Information gathered from wiretapping can be used as a lead by investigators but it cannot be used as evidence.
The discussions came after President Duterte allowed Interior Secretary Eduardo Año to release the names of politicians running for elective posts who are in the government's narco list.
"My elucidation was more on a general term, because there are many sources, one of them is surveillance; information coming from those who surrendered, and the arrested persons; including the use of high technology – that is where these supposed wiretapping activities come in," Panelo said.
Panelo hinted at a press briefing last Tuesday that the Philippine government could be in possession of "wiretapped conversation" among personalities who may be involved in drugs.
He said the wiretapped conversations provided to the Philippine government could be used for surveillance of supposed narco politicians.
Panelo's statement on use of wiretapping to gather evidence against suspected drug personalities caused concern among various sectors, including lawmakers who reminded Malacañang that any evidence obtained by wiretapping is not admissible in court.
Some lawmakers invoked the "fruit from poisonous tree" doctrine, where criminal complaints mainly banking on illegally obtained evidence cannot be used during court trial.
Vice President Leni Robredo said the alleged use of wiretapped material to identify the so-called narco politicians is against the law.
"We know that we have an anti-wiretapping law. That is not allowed," Robredo said.
"If they have evidence against narco politicians, why not file a case? I think we deserve to know who these politicians are because we don't want to elect narco politicians. But we have to do it the right way," she added.
Robredo noted instances in the past when names were removed from lists previously released by the government.
"It would be unfair to the victims," she said.
Robredo lamented the list is being used in politics, stressing the campaign against illegal drugs should not be used for further injustices.
The Commission on Human Rights (CHR) warned the release of the list of politicians allegedly involved in the illegal drug trade may fuel reckless mudslinging, character assassination and violence in the lead up to the midterm elections.
CHR spokesperson Jacqueline de Guia said the publication of the list at the start of the local campaign period would constitute a denial of a person's right to due process.
She earlier urged officials to file appropriate charges against these personalities to make them accountable for their alleged acts.
"If we can withhold judgment against some candidates still facing plunder cases before the Sandiganbayan, Secretary Año can also respect and follow due process," she said.
Camarines Sur Rep. Luis Raymund Villafuerte said the public's right to know candidates with alleged drug links "takes precedence over the right of politicians running for public positions."
"Candidates who have nothing to hide have nothing to fear. They should not get spooked by the public release of the nationwide list of so-called 'narco politicians' if they do not have any connections whatsoever with the illicit drug trade or narco-trafficking," he said.
Villafuerte said those who feel aggrieved by their inclusion in the document "could go to court to take action against the authorities if they believe they have been unduly maligned and erroneously placed in the list."
Besides, Villafuerte added that based on a statement from the Commission on Elections (Comelec) spokesman, inclusion in the list is not a ground to disqualify a candidate.
"Everyone becomes fair game as soon as he or she decides to run for public office," Villafuerte said.
On the other hand, Philippine National Police (PNP) chief Gen. Oscar Albayalde said the concerned politicians should take the opportunity to clear their names once the list becomes public.
Instead of feeling nervous, Albayalde said the politicians should deem the list an opportunity to disprove the allegations against them.
Albayalde said he is supporting the President's decision to release the names of the politicians in public before the elections.
"This would be a good move for the public to know who they really are," he said.
Asked if the police had wiretapped some of the politicians, Albayalde said the PNP lacked the capability for telephone tapping.
"No, we cannot do wiretapping. I don't know with the other government agencies," he said. – Janvic Mateo, Delon Porcalla, Romina Cabrera, Emmanuel Tupas