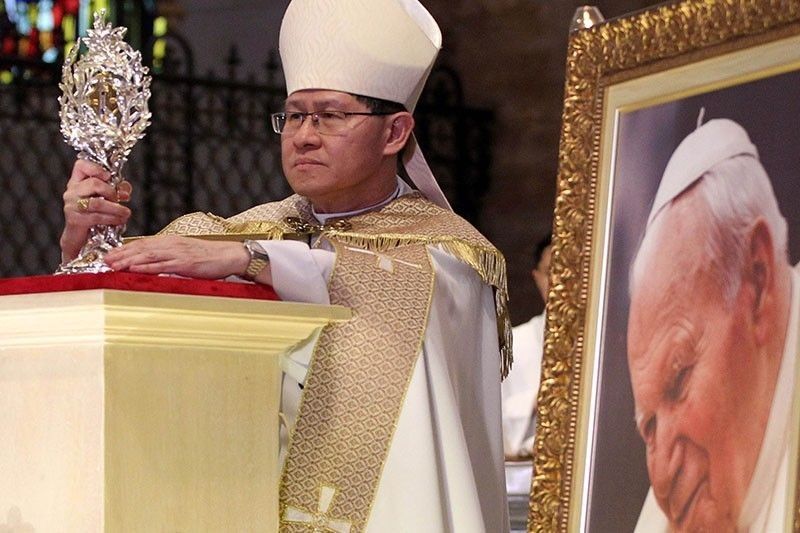 Manila Archbishop Luis Antonio Cardinal Tagle urges the faithful to do charity this Lenten season.
The STAR/Krizjohn Rosales
Tagle urges Catholics: Help fight hunger this Lent
MANILA, Philippines — Manila Archbishop Luis Antonio Cardinal Tagle urged Filipino Catholics to help feed those most in need this Lenten season.

"We, Filipinos, have a deep relationship with our faith. The season of Lent is another opportunity for us to re-center our lives by helping those who are most in need," Tagle said in a statement.

Lent is the 40-day period of solemn observance and sacrifice, marking the days leading up to the crucifixion and resurrection of Jesus. Church leaders also encourage members of the Catholic faith to be involved in small acts of charity.

This year, the Church has partnered with the Hapag-Asa Integrated Nutrition (Hapag-Asa) program to actively reduce hunger and malnutrition of more than two million Filipino children through regular feeding programs.

In the last quarter of 2018, a Social Weather Stations survey reported that some 2.4 million Filipino families are experiencing involuntary hunger.

READ: 2018 hunger rate lowest in 15 years – SWS survey

A 2015 Food Security Survey also found that 21.9 percent of households in the country were "food insecure."

The Catholic Church said in a statement that poverty is one of the main causes leading to three out of 10 Filipino children currently stunting (low height for age) or wasting (severe weight loss).
"These conditions have long-term effects on children's physical and mental development, and render them susceptible to communicable diseases," the statement read.

Hapag-Asa is asking Catholics who practice fasting during the Lent season to donate extra money saved to the FAST2FEED initiative.

"As little as PHP 10 a day can feed a child Manna Pack-based meal," the statement said. "Manna Pack is a rice meal formula fortified with proteins, Vitamin A, B, C, D, and calcium which is mixed with vegetables and commonly used for nutrition feeding programs."

Aside from feeding programs, the organization also offers skills and livelihood training for parents, and "values education" sessions for both parents and children.
"It takes only P1,200 for six months or P10 per day to nourish a hungry and undernourished child," said Tagle.
Nuncio: See Christ in those suffering
Echoing Tagle's message to help those suffering from hunger this Lent, Papal Nuncio to the Philippines Archbishop Gabriele Caccia said on Tuesday that believers should see the face of Jesus in "all people who are suffering."
According to CBCP News, Caccia said that people should see someone who suffered and was disfigured by violence, mockery and injustice when they see Jesus.

The Papal Nuncio is the Vatican's official representative to a particular country.
"So anytime we look at the face of Jesus, we should be able to recognize him in all people who are suffering," Caccia said during a mass at the Shrine of the Holy Face of Jesus in Quiapo, Manila on Tuesday.
"How can it be the face of God? God is beauty, God is justice. Why the face of God shows something different?" he added.

Catholic Bishops Conference of the Philippines President Davao Archbishop Romulo Valles said in an interview with Radio Veritas last week that Catholics should "avail the season of grace during Lent so that we would be really prepared into the joyous season of Easter."
"This is a season that would prepare us deep in our hearts for the coming celebration of Easter, the Paschal mystery, the passion, death and resurrection of Jesus that brought us salvation," Valles added.
At the beginning of Lent on Ash Wednesday, Valles said the ashes marked "the need to go back to the Lord, the grace of conversion, the grace of forgiveness and the mercy of God."

The Lent season ends on Easter Sunday, April 21, which commemorates the death and resurrection of Jesus Christ.