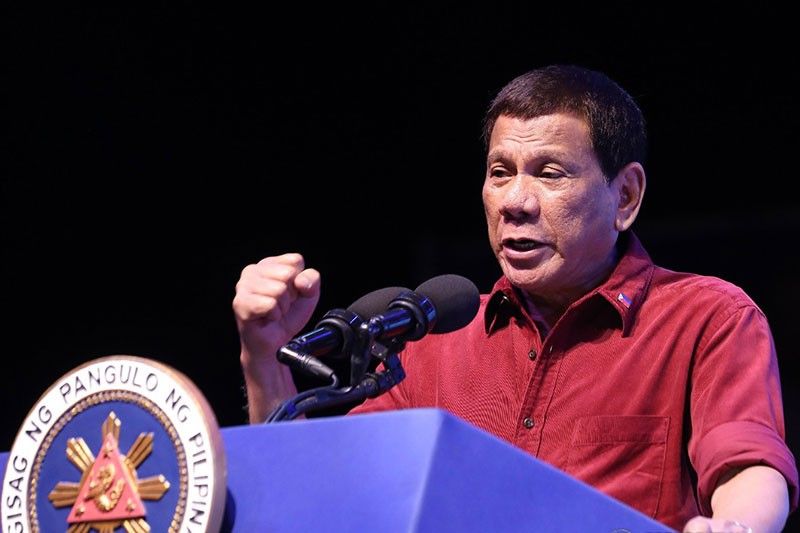 President Rodrigo Duterte delivers his speech during the PDP-Laban campaign rally at the Plaza Independencia in Cebu City on Feb. 24, 2019.
Presidential photo/Alfred Frias
Duterte hikes drug use figure after claims of 'successful' drug war
MANILA, Philippines — President Rodrigo Duterte had promised to end drugs within three to six months but halfway through his term, the number of drug users appear to have blown up.
Speaking before a campaign sortie of the Partido Demokratiko Pilipino–Lakas ng Bayan or PDP-Laban in Laguna, the president claimed that there are now seven to eight million drug users in the Philippines.
"There are seven to eight million Filipinos reduced to slaves to a drug called shabu. Seven to eight million lost souls," the president said.
Duterte, however, did not say where he got these supposed latest figures of drug users in the country.
In September 2016, the Dangerous Drugs Board (DDB) released its 2015 Nationwide Survey on the Nature and Extent of Drug Abuse in the Philippines, which indicated that there are 1.8 million drug users in the country.
This study contradicted Duterte's own claim that there are 4 million drug addicts in the Philippines. In making this claim, the president did not distinguish whether the "addicts" were occasional users or dependent on illegal drugs.
READ: Are there 4 million drug addicts in the Philippines?
The DDB had made clear that there are differences between drug abuse, addiction and dependency.
In the same month, Malacañang declared that the Duterte administration's crackdown against illegal drugs was a "success" as the drug supply in the country decreased by 90 percent.
This declaration was made despite a disagreement on the number of drug users between Duterte and the DDB.
Eight months after the survey was released, Duterte fired DDB Chairman Benjamin Reyes for "contradicting" his own government.
The president insisted that former Philippine Drug Enforcement Agency Director General Dionisio Santiago told him in 2012 that there were an estimated 3 million drug users in the country.
The Duterte administration would continue to claim that the so-called war on drugs was "hugely successful" in 2017.
In its 2017 yearend report, Malacañang highlighted the drug war as of the administration's gains for the year.
The report indicated that 16,000 deaths were being investigated and over 118,000 drug offenders have been arrested since the administration launched the drug war.
"I think the communities are safer and our young people are better protected against drugs," then presidential spokesperson Harry Roque said.
Despite Malacañang's claim that the campaign was a success, the supposed number of drug users in the Philippines would continue to grow in 2018.
In November 2018, DDB chairman Catalino Cuy said there are about four to five million Filipinos still involved in illegal drugs.
According to Cuy, these individuals are involved in the illegal drug trade either as users or peddlers. He also clarified that this was a "conservative estimate" as authorities are having a hard time in determining how many Filipinos are involved in drugs.
This year, Duterte vowed to launch a harsher war on the illegal drug trade, citing that the country is going "insane."
"This is the most dangerous time for anybody to be playing with drugs," Duterte said a few days ago.
"I'll make it simple. I will finish you off because my nation is going insane. You know, you create so many social dysfunctions. When you enter into drugs, the head of the family becomes inutile," Duterte said, adding that he will finish the war on drugs in three years.
What used to be a campaign promise to end the drug menace in three to six months have yet to be fulfilled in up to six years as Duterte extends his promise to end drugs until he ends his term.