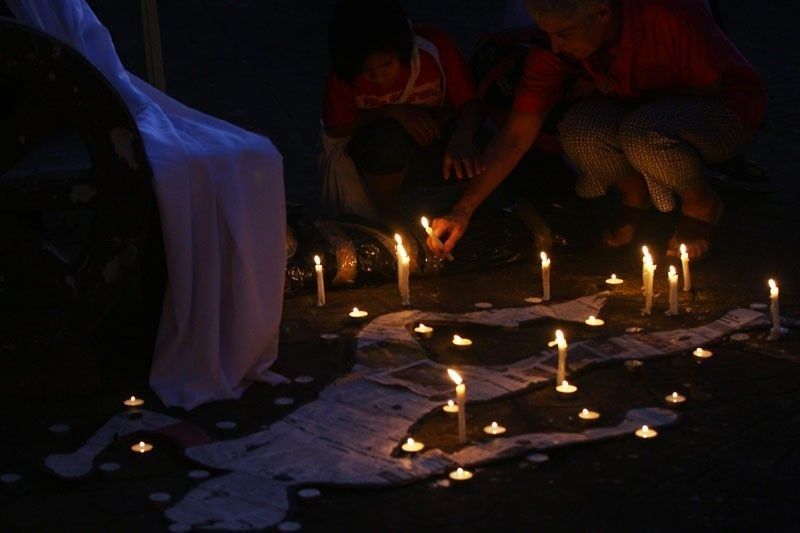 This file photo shows individuals joining a protest against the government's bloody war on drugs.
The STAR/Miguel de Guzman, File
'Harsher' anti-narcotics crackdown insults drug war victims — CHR
MANILA, Philippines — Vowing to ramp up the controversial anti-narcotics campaign is an insult to the victims of the bloody crackdown and their families, the Commission on Human Rights said Friday.
President Rodrigo Duterte in a speech Wednesday said his signature war on drugs will be "harsher in the days to come" amid claims an international drug cartel is behind floating cocaine packages found in the country's waters.
When asked by reporters later if the crackdown would be bloodier, Duterte said: "I think so."
CHR said that while the president's "harsher" drug war remark might be intended to warn those involved in the illegal drug trade, the agency stressed that his statement as the commander-in-chief can be interpreted as an order and embolden state agents to dismiss due process.
"With thousands that have already been killed because of this campaign, 'harsh' is an understatement and a trivialization of the lives that were lost—it is irreversible and the suffering of families of victims can be lifelong," Jacqueline De Guia, CHR spokesperson, said.
She added: "To say that it will be 'harsher' insults the victims and their families while the drug trade has not seemingly waned."
De Guia instead urged the administration to re-think its approach and exemplify due process, respect for human lives and rule of law in its words and policies.
Over 5,000 individuals were killed in the course of anti-drug operations, government data showed.
But right groups estimate over 20,000 deaths—a tally which included vigilante-style killings.