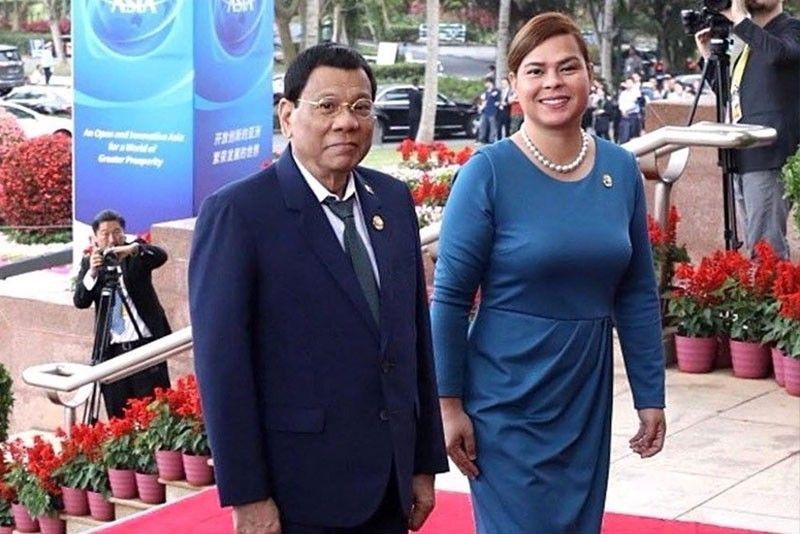 "I will not be surprised if she becomes president of this country after her father," Presidential spokesman Salvador Panelo said.
File
'Sara Duterte could be next president after Rody'
MANILA, Philippines — Presidential spokesman Salvador Panelo did not discount the possibility that Davao City Mayor Sara Duterte-Carpio might become the next president of the country, like some of the children of former presidents who followed in their parents' footsteps.
"I will not be surprised if she becomes president of this country after her father," Panelo said.
Panelo made the remark when asked if government funds are used when the younger Duterte goes around the country to campaign with the senatorial candidates under her regional political party Hugpong Ng Pagbabago.
"Definitely, Mayor Sara is very strict. You know what the people there in Davao City said when she was mayor until now, she is more strict than Mayor Digong, especially in terms of expenses," Panelo said.
Panelo added that since Hugpong has many supporters and financiers, it can mount a national campaign.
"There are many admirers of Inday Sara – admirers and supporters," he said.
"In fact, there is even a movement launching her to be the next president. Many believe in her. They see in her the character of the father: formidable, intelligent, courageous – braver than the President, I heard," Panelo said in English and Filipino.
"So, it's natural for her friends and her friends' friends to support her causes because they admire Mayor Inday Sara," he added.
Panelo was quick to douse insinuations that he is endorsing Sara's presidential bid.
"No, that is not an election with regard to presidential election," he said, adding that Filipinos have elected two children of former presidents to be the country's chief executive.
Panelo mentioned Speaker Gloria Macapagal-Arroyo, the daughter of the ninth president of the country Diosdado Macapagal; and Benigno Aquino III, the son of Corazon Aquino, who was president from 1986 to 1992.
"We have President Duterte and Sara Duterte, so that's why I said it," Panelo added.
But whether or not Sara would run as president after her father's term, Panelo said the question "should be addressed to her."
The President and his daughter support two different senatorial slates although they have a few common candidates.
"As he said, he did not interfere with Mayor Sara and I don't think he would interfere, given his character," Panelo said, adding that the President believes in survival of the fittest.