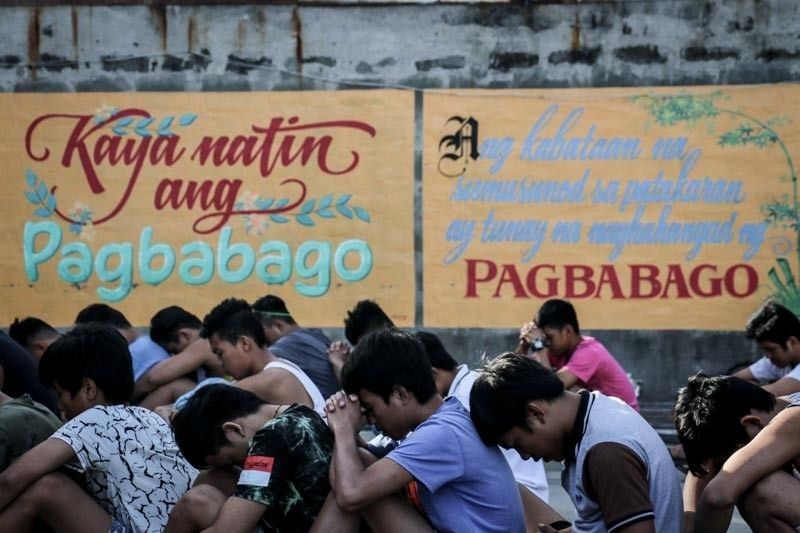 Children in Bahay Pag-Asa say a short prayer while in line before they start with their daily activities.
Philstar.com/Efigenio Christopher Toledo
Functioning Bahay Pag-asa can help reform youth offenders, says Gatchalian
(Philstar.com) - February 13, 2019 - 11:02am
MANILA, Philippines — Sen. Sherwin Gatchalian believes Bahay Pag-asa facilities are effective in rehabilitating children in conflict with the law, but only if these centers are properly-staffed, properly-funded and properly operating.
In a release Wednesday, Gatchalian stressed the need to strengthen intervention programs and address the root causes of why children in conflict with the law commit crimes.
"We just need to give more attention to Bahay Pag-asa facilities. We need more constructive and nurturing means than outright imprisonment," Gatchalian said.
He cited the Bahay Pag-asa in Valenzuela City, which has been lauded for providing comprehensive rehabilitation program to youth offenders.
Out of the 550 children in conflict with the law rehabilitated at the Valenzuela Bahay Pag-asa from 2013 to 2018, 449 individuals were reintegrated to their families and communities after completion of rehabilitation program, Gatchalian said.
"Of course, this is not to say that Bahay Pag-asa is perfect. But the success rate of the Bahay Pag-asa in Valenzuela shows that the program works—that rehabilitation is possible," the senator said.
Bahay Pag-asa centers are child-caring institutions built to offer rehabilitation and intervention to children in conflict with the law. Under the Juvenile Justice and Welfare Act, these facilities are established and run by local government units.
Some Bahay Pag-asa centers 'worse than prison'
Bahay Pag-asa centers have been criticized for having "subhuman conditions" due to budget constraints.
"They lack the minimum staff requirement; they even lack food for children. Some of the Bahay Pag-asa that we saw are worse than prisons. They don't have programs, beds and cabinets," Tricia Oco, executive director of the government's Juvenile Justice and Welfare Council, told the Senate justice committee last January 22.
There are only 63 Bahay Pag-asa facilities nationwide, five of which are no longer operational.
Maria Lourdes Gardoce, head of the Bahay Pag-asa in Valenzuela City, told Philstar.com that sending children to community rehabilitation centers should always be the "last resort" and that community intervention and diversion should be priority.
"Children at risk are usually street children and out-of-school youth who lack support from their family. We should strengthen preventive measures in terms of providing intervention," she said. — Gaea Katreena Cabico