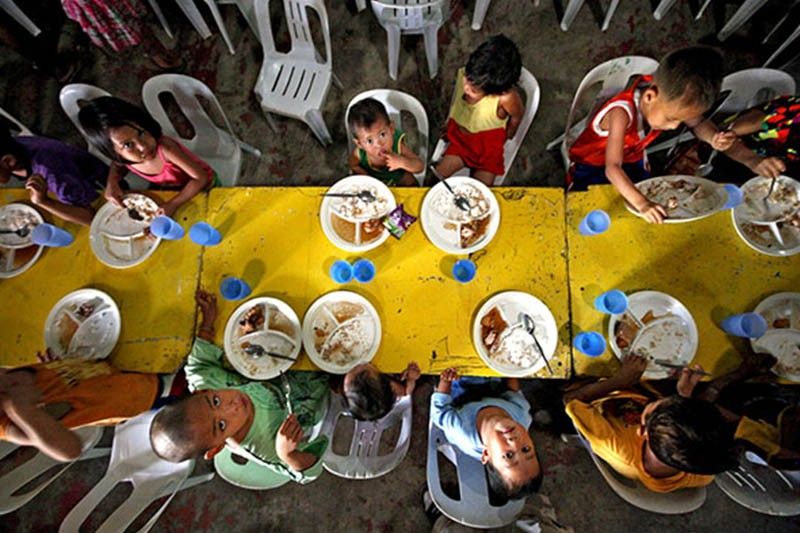 This file photo shows a group of children eating their meals in a community shelter.
The STAR/Miguel de Guzman, File
Juvenile Justice and Welfare Council: Some Bahay Pag-asa centers 'worse than prisons'
MANILA, Philippines — The dismal condition of youth care facilities supposed to help children in conflict with the law was highlighted at a Senate panel hearing on proposed bills on the age of criminal responsibility.
Tricia Oco, executive director of the government's Juvenile Justice and Welfare Council, lamented that some of "Bahay Pag-asa" centers have "subhuman conditions" due to budget constraints.
"They lack the minimum staff requirement; they even lack food for children. Some of the Bahay Pag-asa that we saw are worse than prisons. They don't have programs, beds and cabinets," Oco told the Senate committee on justice led by Sen. Richard Gordon Tuesday.
She added: "The children there are just told to keep quiet the whole day and not do anything. So some of them do self-harm because they're just very bored."
'Mandatory placement'
Under a controversial substitute bill approved by House justice panel Monday, children as young as nine years old who commit serious crimes would be "mandatorily placed" for rehabilitation and reform at Intensive Juvenile Intervention and Support Center within youth care facilities.
Bahay Pag-asa centers are child-caring institutions built to offer rehabilitation and intervention to children in conflict with the law. Under the Juvenile Justice and Welfare Act, these facilities are established and run by local government units.
But the JJWC executive director said that no IJICSC—where children are supposed to undergo more intensive multi-disciplinary intervention program —has been built inside Bahay Pag-asa facilities.
Oco added that there are only 63 Bahay Pag-asa facilities nationwide, five of which are no longer operational. Human Rights Commissioner Leah Armamento in a press conference on Tuesday pegged the number built at 58.
Under the House panel's proposed bill, the Department of Social Welfare and Development will build, fund and run Bahay Pag-asa facilities. Congress will allocate funds for Bahay Pag-asa annually.