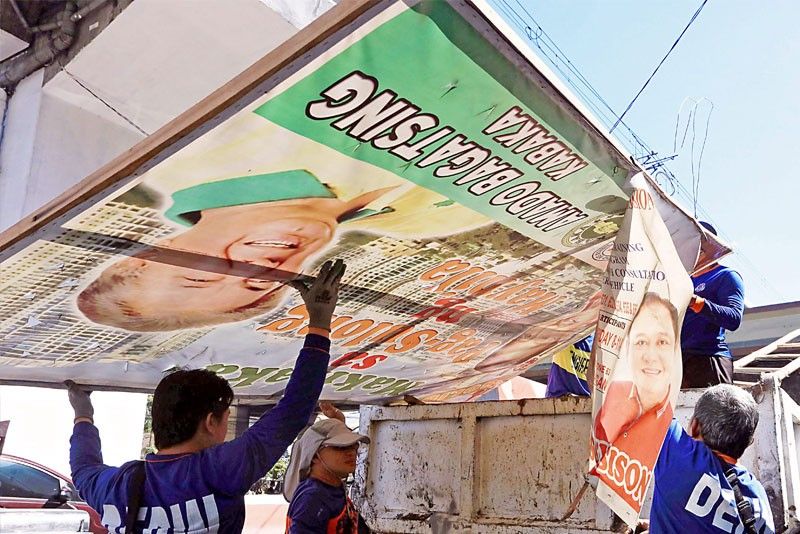 Manila City Hall workers take down billboards and streamers of local officials from a non-designated poster area in Sta. Mesa, Manila yesterday.
Edd Gumban
Official campaign period starts for national candidates
MANILA, Philippines — The 90-day national campaign for over 60 senatorial candidates and 154 party-list groups in the May elections officially kicks off today, with the Commission on Elections (Comelec) again warning them against committing electoral offenses.
The Comelec last month released the names of 62 senatorial candidates it has allowed to run as well as 154 accredited party-list groups seeking seats in the House of Representatives.
The Senate race is considered to be tight, with seven senators seeking reelection, six others wanting to return to the chamber and several prominent candidates, including those endorsed by President Duterte, fighting over only 12 slots.
The reelectionist senators, belonging to different political parties, will be launching their electoral campaign separately but they are expected to be together in a rare sortie tomorrow in Tondo, Manila.
Sens. Cynthia Villar, Sonny Angara, Joseph Victor Ejercito and Aquilino Pimentel III are scheduled to attend a campaign kick-off in Pampanga this afternoon organized by the Hugpong ng Pagbabago (HNP), a regional party headed by Davao City Mayor Sara Duterte.
Also expected to join the campaign rally are other candidates supported by the HNP, namely former special assistant to the president Christopher Go, former Bureau of Corrections chief Ronaldo dela Rosa, former political affairs adviser Francis Tolentino, Taguig City-Pateros Rep. Pia Cayetano, former senators Ramon Revilla Jr. and Jinggoy Estrada, Maguindanao Rep. Zajid Mangudadatu and former journalist Jiggy Manicad.
Ejercito and Dela Rosa, both motorbike enthusiasts, are expected to proceed to the venue in a convoy of motorcycles.
Also expected to speak during the rally are Speaker Gloria Macapagal-Arroyo and Pampanga Gov. Lilia Pineda.
Sen. Grace Poe will kick off her campaign this morning with a school feeding program at a multi-purpose hall in Payatas, Quezon City.
Sen. Nancy Binay will launch her campaign with a motorcade from San Jose del Monte, Bulacan. She will be joined by Angara, former Senate president Juan Ponce Enrile and senatorial candidate Dan Roleda.
Reelectionist senators Angara, Binay, Ejercito, Pimentel, Poe, Villar and Aquino – who is running under the opposition coalition Otso Diretso –are scheduled to be together in one rally in Tondo tomorrow.
The event was organized by Poe, who is running as an independent. Five of her fellow reelectionists and Senate President Vicente Sotto III have confirmed their attendance.
House-to-house
Opposition senatorial bets, meanwhile, will begin their house-to-house campaign today. Liberal Party president Francis Pangilinan said a house-to-house campaign will enable them to directly relay to the people their platforms while listening to their concerns.
"This campaign strategy of going house-to-house is a game-changer. It has not been done on a national scale," said Pangilinan, who is also the Otso Diretso campaign manager.
The candidates of the Otso Diretso (Straight Eight) slate are Aquino, former senator Mar Roxas, human rights lawyer Chel Diokno, Marawi civic leader Samira Gutoc, former solicitor general Florin Hilbay, veteran election lawyer Romulo Macalintal, former Quezon congressman Erin Tañada and Magdalo Rep. Gary Alejano.
Otso Diretso candidates except Roxas will join a "face-to-face persuasion campaign" in Caloocan City, where they are also expected to launch the slate's eight-point program.
Pangilinan said the opposition bets will focus on improving the lives of Filipino families.
"They themselves will knock on doors and talk to ordinary folk all over the country," he said.
"Our campaign would be uphill as most of them are relatively unknown in the national stage. But I am confident that when the people get to know them more, they will vote for them to become our public servants in the Senate," he said.
Pangilinan, who himself ran and won as an independent in 2007, said getting the people's attention would be key to victory for Otso Diretso.
He said Project Makinig, a 10-week project he started late last year, was able to mobilize 9,800 volunteers to talk to 116,000 people.?Project Makinig promotes face-to-face, volunteer-driven persuasion campaign.
"Makinig 2.0 is our version of People Power, empowering ordinary citizens so that they are able to make the right choice for senators and empowering them to campaign for these choices," Pangilinan said.
"Unlike resource-rich traditional politicians who will launch their electoral campaigns through massive proclamation rallies, the Otso Diretso candidates will start their campaign going back to the people, sharing each other's stories," he said.
Vice President Leni Robredo, LP chair, will join all Otso Diretso candidates in a kick-off rally in Naga City, Camarines Sur tomorrow.
Active campaigning
At Malacañang, presidential spokesman Salvador Panelo said President Duterte is expected to actively campaign for his allies – including the ones embroiled in controversies. He has yet to disclose his choices for senators.
"The President will, as he said, endorse certain candidates of his choice so presumably he will be actively campaigning since he is not prohibited by law to do so," Panelo said in a chance interview.
"An endorsement could translate into votes given the popularity of the President, but then again the ultimate judgment will be on the part of the people," he added.
While Duterte has been publicly praising some candidates, he has not released a complete list of senatorial bets of his choice.
Two political groups with senatorial slates are aligned with the administration. They are the Partido Demokratiko Pilipino-Lakas ng Bayan (PDP-Laban), the political party of Duterte; and the HNP coalition of presidential daughter and Mayor Carpio, which is reportedly endorsing 14 candidates.
Previous reports said Duterte would also lead the kick off for a mixed slate of senatorial candidates under a coalition called "Du it."
In his previous speeches and media interviews, the President voiced support for the senatorial bids of 10 candidates – Tolentino, Dela Rosa, Go, folk singer Freddie Aguilar, Angara, Villar, Cayetano, Ilocos Norte Gov. Imee Marcos, Ejercito and Estrada.
Duterte previously admitted there were disagreements among his allies over who would comprise the administration's senatorial slate.
But Panelo said the development only proved that the administration has a "deep bench."
"If he, for instance, supports the three slates, then it only means that he has a deep bench of senatorial hopefuls. So, regardless of who among the wins, eh OK pa rin sa kanya iyon (that would be acceptable to him)," the spokesman said.
While Malacañang claimed Duterte has a lot of candidates to choose from, critics pointed out that some of his choices were involved in irregularities, especially Estrada and Marcos.
Estrada is out on bail for plunder in connection with the multibillion-peso pork barrel scam.
Critics said Duterte's endorsement of Estrada was incompatible with his promise not to tolerate even a whiff of corruption under his watch.
But Panelo said Estrada is presumed innocent until a court finds him guilty of the charges against him.
"The Constitution says unless you are convicted by final judgment... He (Estrada) has been granted bail and the reason for the court's grant of provisional liberty is anchored on the fact that the evidence of guilt is not strong," the spokesman said.
"So you cannot begrudge the President for endorsing a man who is presumed to be innocent under the law. Otherwise you are prejudging him," he added.
Asked what qualifications Duterte wants for candidates seeking his endorsement, Panelo replied: "Based on what I heard from him when he endorses – honesty, efficient in work." – With Alexis Romero