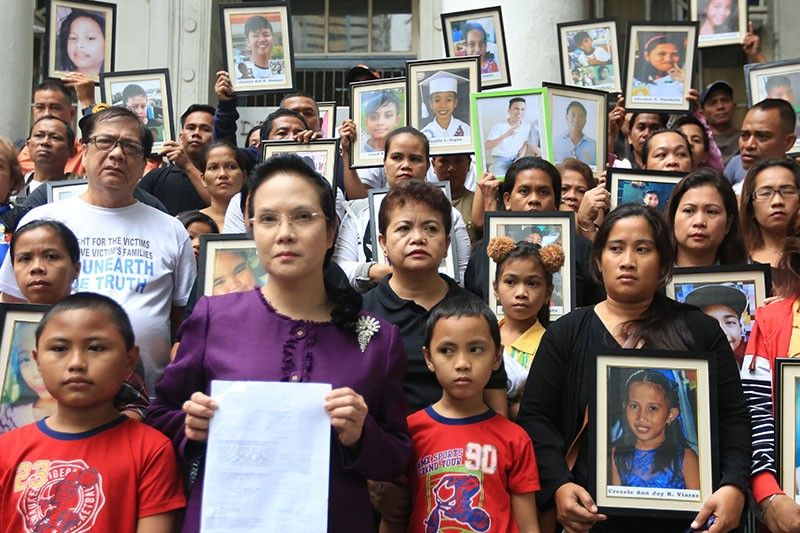 This file photo shows Public Attorney's Office chief Persida Acosta together with families of children who received the Dengvaxia vaccine.
The STAR/Edd Gumban, File
Hontiveros urges PAO's Acosta to resign amid spike in measles cases
MANILA, Philippines — Sen. Risa Hontiveros on Friday called on Public Attorney's Office Chief Persida Acosta to step down as parts of the country grapple with a measles outbreak.
Acosta, who has become the face of those allegedly affected by the controversial Dengvaxia dengue vaccine, has been blamed for eroding the public's overall trust on vaccination.
In a statement days after the Health department declared measles outbreak in parts of Luzon and the Visayas, Hontiveros said Acosta's "lies and hysterics contributed directly to the erosion of public trust in our vaccination programs."
"Acosta's scaremongering and politically-motivated investigations on the Dengvaxia issue, that defied science and the advice of experts, sowed fear in the hearts of so many parents to have their children vaccinated since the past year," Hontiveros said.
Acosta and her supporters have said the PAO is not the government agency in charge of vaccination programs.
Hontiveros said: "When there was an opportunity to clarify, she instead created confusion. A responsible public servant would have called for calm. Instead she sowed panic. The fact that she refuses any responsibility for her actions not only betrays public trust but also insults all the families she has injured."
'Lies, negligence, hyper-partisanship'
She called on Acosta to resign, saying the lawyer has brought "shame and embarrassment" to the principal law office of the government tasked to provide free legal assistance to the poor.
"An important agency like the Public Attorney's Office cannot be left in the hands of a person with such a track record of lies, negligence and hyper-partisanship," Hontiveros said.
Acosta, who personally led the filing of at least 32 criminal complaints before the DOJ, usually arrives at the department with a throng of people carrying framed photos of their loved ones.
Decline in vaccine confidence
In a statement last week, Health Secretary Francisco Duque III said that the remarks of the PAO chief have contributed to a "decline in vaccine confidence and a rise in cases of measles and other vaccine preventable diseases."
Last December, Doctors for Truth and Welfare, led by former Health chief Esperanza Cabral, called Acosta and PAO forensics head Erwin Erfe "unqualified but noisy people who are largely responsible for the fall of vaccine confidence in the country."
Data from the DOH Epidemiology Bureau showed that the number of measles cases in regions of Ilocos, Cagayan Valley, Central Luzon, CALABARZON, MIMAROPA and Bicol has shown an "increasing trend" as of January 26.
The reported cases of combined measles and rubella in 2018 ballooned to 18,026 in 2018 from only 3,804 in 2017—a 374-percent rise.
Last year, DOH posted vaccine coverage rate of only 40 percent, way below the target of 90 percent.
DOJ: Acosta 'did not mean to scare' public
Acosta found an ally in Justice Secretary Menardo Guevarra, who said that the PAO chief "did not intend to scare" the public with the Dengvaxia probe and discourage the vaccination.
Acosta was tapped by then Justice chief Vitaliano Aguirre II to aassist Dengvaxia victims in late 2017. Shortly after, the PAO began directly linking the deaths of children inoculated with Dengvaxia to the vaccine.
Guevarra said that the PAO "is just doing her job and certainly does not intend to scare the public about the possible negative effects of vaccination in general."
The Palace has acknowledged the Dengvaxia scare may have affected confidence in vaccines but said Acosta cannot be blamed for being an "impassioned" advocate for her legal theory that the vaccine caused the deaths of people who received shots.
Acosta, in an interview with ABS-CBN News, said that her office should not be blamed for the low immunization turnout and that it is not PAO's responsibility to promote vaccination programs.
"Hindi namin kasalanan kung ang DOH nanguna na magturok ng isang experimental Dengvaxia at hindi ako laban sa isang bakuna. Wala akong bakunang kinukuwestiyon except Dengvaxia," she told ABS-CBN News in an interview.
(We shouldn't be blamed if the DOH was the first to use an experimental Dengvaxia and I am not against the use of other vaccines. I'm not questioning any other vaccine except Dengvaxia.)
A 2018 study of the London School of Hygiene and Tropical Medicine noted that the "highly-politicized response" of the Philippines to the reported risks posted by the anti-dengue vaccine has eroded overall public trust in immunization.