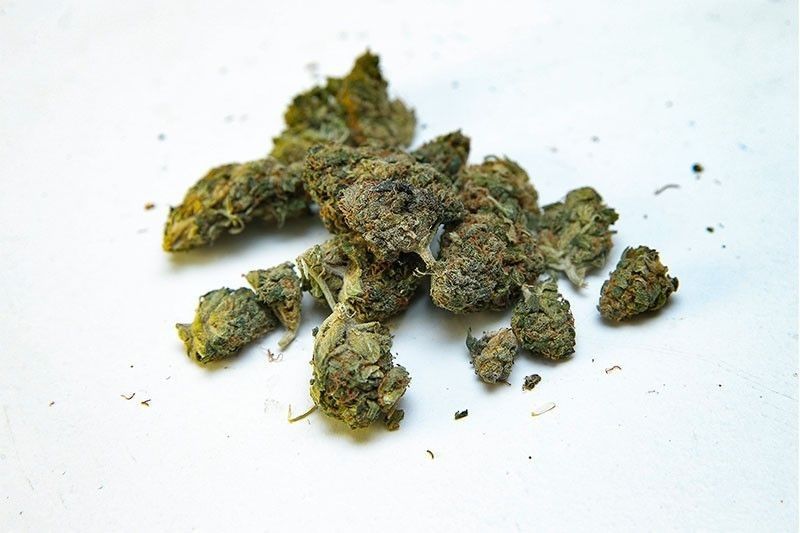 In this file photo taken on June 14, 2018 flowers containing CBD (Cannabidiol) but no THC (tetrahydrocannabinol) are pictured in a shop in Paris.
AFP/Geoffroy Van der Hasselt
Palace welcomes passage of medical marijuana bill
MANILA, Philippines — Malacañang Thursday hailed the passage of the medical marijuana bill at the House of Representatives, saying it would benefit the sick.
The bill, which aims to legalize the use and research of medical marijuana, was overwhelmingly approved by the House of Representatives last Tuesday.
A total of 163 lawmakers voted in favor of the measure, five voted against it while three others abstained.
"That's good for those who are sick. The president has always said that he is in support of marijuana being used as a healing mechanism or medicine," presidential spokesman Salvador Panelo said Thursday.
Panelo said there is no need for President Duterte to ask the Senate to pass its own version of the bill.
"He (Duterte) doesn't have to because they are also bent on passing that," he added.
Marijuana is one of the prohibited substances under the Dangerous Drugs Act of 2002. A person found guilty of possessing at least 500 grams of marijuana, or at least 10 grams of marijuana concentrate may be punished with life imprisonment and a fine of up to P10 million.
Health officials previously said an enabling law is needed before the government could go full blast in studying the health benefits of marijuana.
Duterte, who has declared a war against illegal drugs, previously said he is open to the legalization of medical marijuana but is against its use for recreation.
Earlier this month, Speaker and former president Gloria Macapagal-Arroyo said she had used cannabis medical patches to ease the pain in her cervical spine. She claimed the pain patches worked.