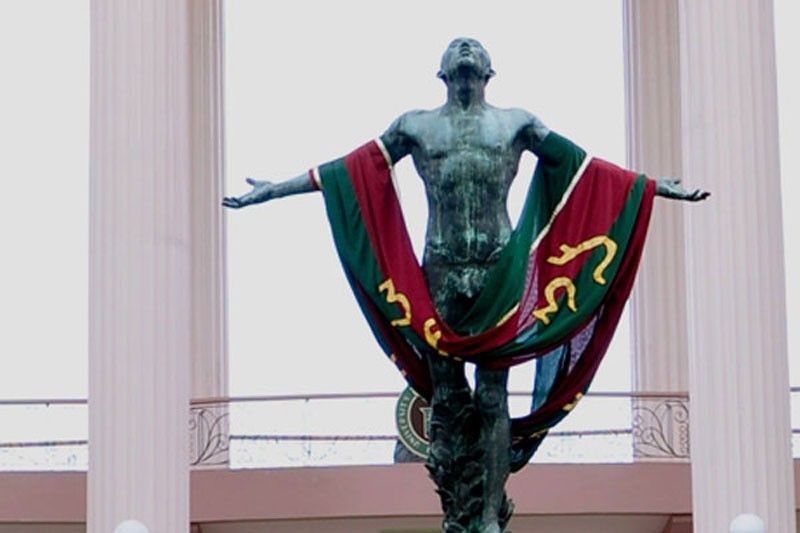 File photo shows the "Oblation", a statue by National Artist Guillermo Tolentino that is a symbol of the university. Among the elements of the statue are katakataka leaves, of which Tolentino said: "A leaf or a piece of it thrown anywhere will sprout into a young plant."
File
UP education not confined to classroom — UP Diliman chancellor
MANILA, Philippines — Immersion and field work are part of education at the University of the Philippines, the chancellor of UP Diliman said, adding anonymous allegations of communist recruitment put other students at risk of harassment by the police and military.
UP Diliman Chancellor Michael Tan this week stressed that the continued linking of state university students to communist rebels puts them at risk. He issued the statement in response to allegations by a masked man whom police said was among more than a dozen communist rebels who had surrendered to them.
Police earlier this week presented to media a certain "Ka Ruben", who claimed to be a former member of the New People's Army. "Ka Rube" recounted in a press conference at the Camp Crame how students from UP and from Polytechnic University of the Philippines, also a state-run school, would sometimes visit their camps for immersion activities.
These students were also invited to join the communist groups, "Ka Ruben" claimed, claiming further that some were coerced into joining the rebel group.
Neither the Poytechnic University of the Philippines nor the UP System have issued statements on "Ka Ruben"'s claims as of this post.
'Learning goes beyond the campus'
Tan, in a statement on Wednesday, said that UP has always recognized that learning goes beyond the campus and that there is always a need "to appreciate the world outside of UP and to develop their competencies, linked to social realities."
Although he did not say that the students "Ka Ruben" claimed to have seen were joining a class activity, Tan said that the university's mandatory National Service Training Program has immersion activities.
The UP official said that any school-related activity that would require students to step out of the campus would first have to be cleared by the Office of Field Activities, which has extensive requirements for each proposed out-of-classroom event.
"At the same time, we recognize that our students' education must go beyond the narrow confines of our classrooms or campuses," Tan also said.
He added that out-of-classroom experiences would help students build their competencies regardless of degree program.
Tan also stressed that "red-tagging", which has happened to UP students in the past puts them at risk and causes anxiety and distress.
"This is why red-baiting always alarms us. Besides causing distress to students and their parents, we worry about how the red baiting impacts our soldiers and police, especially in rural areas," Tan added.
Last year, the Armed Forces of the Philippines released unverified information on universities and colleges, which included UP, that they said were recruiting grounds for a supposed communist-led plot to oust the president. It said recruitment activities included showing films on the martial law era, which the military claimed would later lead to recruitment into the armed struggle.
The universities and their officials denied the allegation and the military claimed the plot had fizzled out.
Harassment by military due to red-tagging
The UP official said that there have been cases of students being harassed by the military, who said that their being from UP is "evidence that they were rebels."
In May 2018, researchers from the the Institute of Biology of UP Diliman's College of Science were "harassed by an Army sergeant while they were doing field work in Palanan, Isabela," Tan said.
A student studying for a doctorate degree in Linguistics was also subjected to harassment as she was interrogated and had to have her notebooks were examined by military personnel who were "insinuating that she was a rebel, again simply because she was from UP."
The two incidents highlight the dangers of red-tagging, Tan said with the recent incident of "profiling" of members of Alliance of Concerned Teachers further aggravating the tensions.
RELATED: Inventory of ACT members similar to red-tagging, says CHR
Tan said that the university would continue to encourage students to engage in out-of-classroom activities but also said UP will exercise more precautions to ensure student safety.
"We also continue to coordinate with the police and the military but ask that they exert more due diligence with their men and women in the field, especially in remote areas," the Diliman chancellor added.