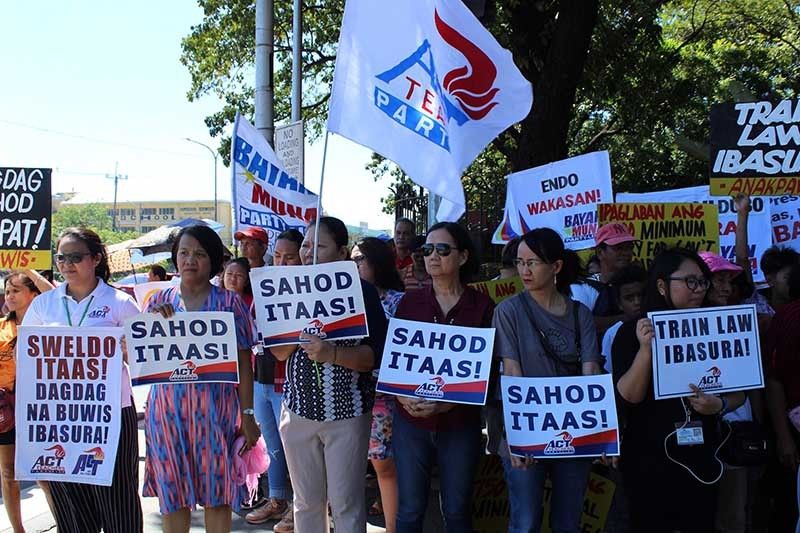 In this November 14 photo, members of ACT-Teachers call for an increase in the salary of teachers.
ACT-Teachers party-list/Facebook
Inventory of ACT members similar to red-tagging, says CHR
MANILA, Philippines — Police profiling of members of Alliance of Concerned Teachers, a teachers' union critical of the Duterte administration, could put the educators in danger, the Commission on Human Rights stressed.
CHR spokesperson Jacqueline De Guia said that alleged surveillance on ACT members—a legal organization for teaching and non-teaching personnel—is similar to "red-tagging" or the practice of publicly classifying individuals and organizations critical of the government as communist terrorists, state enemies or subversives.
"So far, there has been no court order that declares them as a terrorist organization; thus, investigating them on mere insinuations of being linked to the left is akin to red-tagging," De Guia said in a text message to Philstar.com.
RELATED: Why is red-tagging of activists dangerous?
In a press briefing Monday, presidential spokesperson Salvador Panelo said that members of ACT, which he described as a legal organization identified with the left, should not be worried about being monitored if they are not doing anything illegal.
"The PNP and the president has said there are legal fronts, but actually, they're really part of the left," Panelo said in Filipino.
When asked what potential crime the teachers might be monitored for, Panelo responded: "What do the rebels want but topple the government?"
Duterte, in response to opposition to a government plan to replace jeepneys with modern minibuses in October 2017, claimed without elaboration that rights group Karapatan, labor group Kilusang Mayo Uno, and Pinagkaisang Samahan ng mga Tsuper at Operator Nationwide are legal communist fronts.
"It's a one big conspiracy but they are at the same time—all of them—are committing right now rebellion. Tulungan lang yan sila (They are helping each eother)," Duterte claimed then.
Among the elements of the crime of rebellion as defined by the Revised Penal Code is "rising publicly and taking arms against the government."
Being a 'leftist' not a crime
Identifying as a leftist is not a crime, De Guia stressed, noting that the Anti-Subversion Law has been long repealed.
"[E]ven if they are members of any leftist organization, there is no law that prohibits such," she said.
Duterte has in the past claimed to be the first president from the left and claimed to have once been a member of the Kabataang Makabayan, an underground group outlawed by the Anti-Subversion Law.
The Anti-Subversion Law was repealed in 1992 because of the perceived infringement on the constitutional rights of an individual.
Section 4 of the repealed law punished "whoever knowingly, wilfully and by over acts affiliates himself with, becomes or remains a member of the Communist Party of the Philippines and/or its successor or of any subversive association."
The Marcos-era Presidential Decree 1835, similarly repealed, defines communist subversive groups as existing "for the purpose of overthrowing the Government of the Republic of the Philippines or for the purpose of removing from the allegiance to said government or its laws, the territory of the Philippines or any part thereof, with the open or covert assistance or support of a foreign power or the open or covert support from a foreign source of any association, group of persons, whether public or private, by force, violence, terrorism, arson, assassination, deceit or other illegal means."
The week before the supposed police inventory of its members was exposed, ACT decried the delay in the increase in teachers' salaries because of Congress' failure to pass the budget bill for 2019. "The miniscule increase in our salaries from (Executive Order 201) has now been held hostage pending the resolution of billions worth of budget issues," the group said.
De Guia, moreover, urged the police to pursue cases against members of the teachers' group if they have clear evidence. Cases should be pursued within the bounds of law should there be clear grounds, she said.
"It is dangerous to cover infringement of rights with a veil of legality, which could lead to many forms of abuses, including harassment, breach of privacy, restriction of free movement, and even detention without charges," De Guia said.
DILG open to dialogue with DepEd on profiling
Local Government Secretary Eduardo Año said the Department of the Interior and Local Government is open to having a dialogue with the Department of Education over the inventory of ACT members while emphasizing that there is no crackdown on militant teachers.
"Through this meeting with our counterparts with DepEd, we hope to relay to them that what the PNP is undergoing is not only legal but also necessary," Año said.
He echoed the argument of the PNP leadership that the police force is undertaking simple intelligence or information gathering.
"It is the responsibility of the PNP to monitor any and all groups critical of the government especially those linked to militant organizations whose objective is to overthrow the duly-elected government," Año, a former military chief, said.
But for Raymond Basilio, ACT secretary general, police profiling is "illegal and unmistakeably wrong" as it violates the members rights to privacy, free expression and self-organization.
"Nothing is procedural about this, especially since the state has long accused our organization of being a communist front, coupled with President Duterte's highly-publicized announcements on his intent to annihilate members, suspected or otherwise, of the CPP-NPA-NDF," Basilio said.