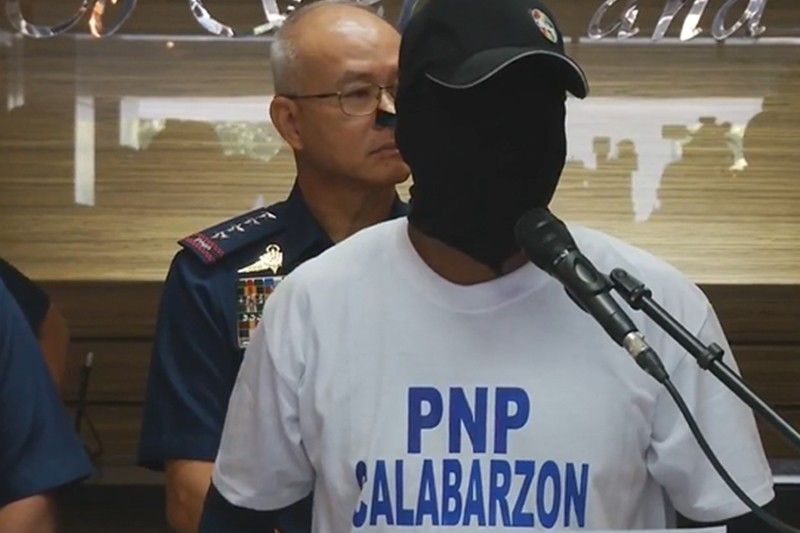 Philippine National Police Director General Oscar Albayalde presents "Ka Ruben", an alleged communist rebel returnee, to the press
Screengrab from PNP's Facebook
Police monitoring student orgs for alleged rebel support
MANILA, Philippines (Updated 3:50 p.m.) — Police are monitoring student groups in state-run universities, saying alleged communist rebels claimed students from those schools regularly brought them supplies.
"Information revealed [by communist rebels] students from the University of the Philippines and Polytechnic University of the Philippines were periodically visiting sitios in Barangay San Antonio in Kalayaan, Laguna," Chief Superintendent Edward Carranza, director of the Calabarzon regional police office, told reporters during a press conference on Monday afternoon.
"They were providing provisions to CNTs (Communist Party of the Philippines-New People's Army Terrorists) twice or thrice a week," he alleged.
According to Director General Oscar Albayalde, PNP chief, the information about students going to the mountains to bring aid for armed rebels, came from the rebels themselves.
Carranza said the students are allegedly asked to come to Kalayaan by a recruiter as part of an immersion program, then are "intimidated" into joining the rebels.
The Armed Forces of the Philippines claimed in October that communists were recruiting in colleges and universities in Metro Manila as part of a supposed "Red October" plot. Among the supposed recruitment activities was showing films about martial law.
RELATED: AFP 'red-tagged' schools using unverified information
'Ka Ruben'
The police presented an alleged returnee in a face mask at the press conference to corroborate the information.
"There were students who said they were studying and came to live with us," the masked "Ka Ruben" said. The alleged rebel returnee said that students would come up for a day and leave the next day. "Six or seven students would come up at a time," he said.
"Some would be recruited, they'd be visited in their homes. If they're young women, they'd be courted. And if they don't agree, they [the rebels] would use coercion," Ka Ruben claimed.
Carranza said that the police have a "project" to identify and monitor the schools where students are recruited to join the communist rebels.
"There are groups, front organizations of the Left, that encourage some students to join [the movement]," he said. "They will air their grievances, and convince the students to share their beliefs," Carranza said.
Albayalde said that 20 former rebels surrendered in two operations over the weekend on Friday and Sunday.
"Upon their surrender, they turned in 12 different types of high-powered firearms and several grenade projectiles," Albayalde said. The rebels who surrendered, Albayalde said, would be part of the government's returnee program known as ECLIP or the Enhanced Comprehensive Local Integration Program.

"They would be eligible for housing, program and other livelihood benefits," Albayalde said.
'Tainted, unreliable source'
The League of Filipino Students said Monday that the PNP's accusations are "nothing but a frantic attempt to threaten the ever-growing youth movement, and pacify their resistance against Duterte's tyrannical rule."
LFS national spokesperson Kara Taggaoa said in a statement that social injustice and government policies"have generated more and more ranks of students who actively resist this regime and struggle for a future they deserve."
"Instead of directly addressing the Filipino youth's demand for their rights and needs, the government's police and military perpetuate a culture of fear and violence in schools and communities," she added.
Meanwhile, Anakbayan criticized the PNP's presentation of a "surrenderee" calling them "tainted, unreliable sources."
"This is not a new tactic by the AFP and PNP to parade fake and forced surrenderees," Anakbayan spokesperson Alex Danday said in a statement in Filipino also released on Monday.
"Duterte's fascist forces have no credibility in his matter as they threaten the peaceful masses at gunpoint to pretend to be 'NPA surrendereees' and parrot their lies," she added.
He said the PNP's claim is propaganda to cover up the Duterte regime's "massive failures in 2018."
Rep. Elago: PNP's claim 'without basis'
Rep. Sarah Elago (Kabataan party-list) told DZRH in an interview on Monday that the accusations are "without basis."
"This can be used again as a reason to strengthen their presence inside schools, like what they are doing to illegally profile teachers," Elago said in Filipino.
Elago was referring an inventory by police of public and private school teachers who are "members of or aligned with ACT," an organization they believe to be linked to the Communist Party of the Philippines.
READ: PNP ready to explain 'profiling' of ACT members

"Now, it's the students they want to attack, this is just another tyrannical measure by the Duterte administration and used by the PNP and AFP to suppress schools who are first in airing their protest against the drug war killings, rising prices of goods, and self-serving charter change and the universities that protest policies that are against the well-being of Filipino citizens," she also said.
NYC: Report leftist propaganda
The head of the National Youth Commission called on elected officials of the Sangguniang Kabataan to report anti-government propaganda and "finally end the leftist youth activities" that he said have contributed to the country's deterioration.
According to a release on Monday afternoon, National Youth Commission chairman Ronald Cardema said that the 400,000 SK officials in the country's 42,000 barangays must "[do] their part for our whole-of-nation's fight against the leftist youth recruitment of the [Communist Party of the Philippines-New People's Army] rebels."
The release was emailed shortly after the PNP press briefing.
Cardema, who was previously affiliated with the Duterte Youth and is seeking a seat in Congress as a party-list representative, said that being a supporter or a critic of President Rodrigo Duterte "is part of a healthy democracy" but that being "consistently anti-government, being anti-government troops" and supporting the rebels is not.
"The newly-elected government youth leaders of today must make a stand now, report to the National Youth Commission all anti-government leftist propaganda in your area, make a project to remove their ugly vandalisms in your barangays and report vandalizers directly to the NYC," he said.
"If you will allow the leftist youth to be the mouthpiece of our generation, expect another 50 years of cellsite burning, of ugly nearly-permanent vandalisms in your barangays, towns, cities, and provinces, and the continued killings of our troops sugarcoated in their twisted sense of patriotism ala terrorist style," Cardema also said.
Last December, Duterte signed Executive Order No. 70 which institutionalizes "a whole-of-nation approach" in ending the communist rebellion.
READ: Duterte signs 'whole-of-nation' EO vs insurgency

The EO pushes a policy of "localized" peace talks instead of with negotiators of the National Democratic Front of the Philippines.