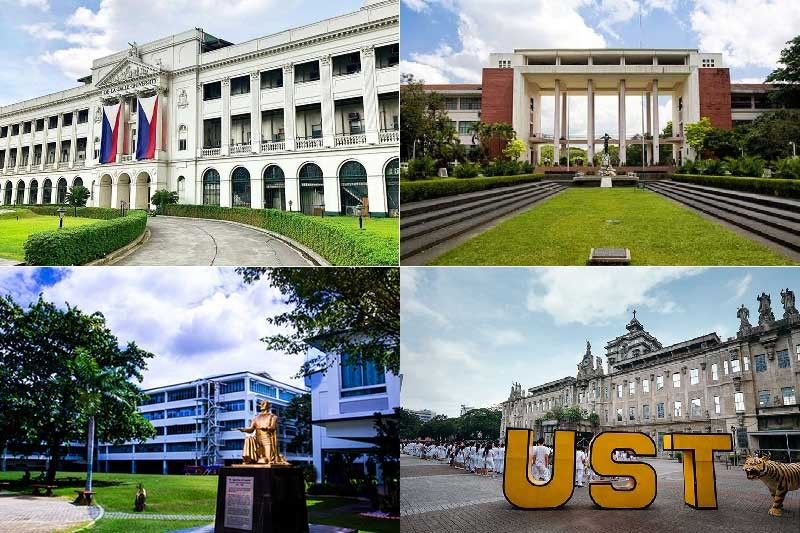 The Armed Forces admitted in a statement Thursday that some of the universities it linked to the Red October plot allegedly seeking to remove President Duterte from office are still subject to validation.
Philstar.com/Jeffrey U. Pioquinto/UST website
AFP 'red-tagged' schools using unverified information
(Philstar.com) - October 4, 2018 - 9:34pm
MANILA, Philippines — The Armed Forces of the Philippines admitted on Thursday it shared to the public some unverified information about universities and colleges where communists were allegedly recruiting students to oust President Rodrigo Duterte.
"The list of Metro Manila schools that have been possibly used as venues for arousing, organizing, and mobilizing of students by the NPA (New People's Army) has been released. Some of the schools included in the list as such, however, are subject of continuing validation," the AFP said in a statement sent to reporters.
The AFP did not name which among the 18 schools it "red-tagged" on Wednesday were already verified and those still being evaluated for supposed participation in the alleged "Red October" plot to kick Duterte out from office.
Gathering military intelligence is confidential in nature, but it is presupposed that when information is already publicized, it has already been verified to avoid unnecessary panic.
Yet this time, the military said they shared the unverified information "to create awareness among our people."
"Some of the other schools in the list are being targeted. The students are agitated initially towards activism; mobilize them as militants, and finally recruit them as regular NPA cadres and leaders to fill up the dwindling number of political cadres," the AFP said.
'Replay of accusations during Martial Law'
Eighteen universities and colleges were red-tagged by the AFP on Tuesday, including the University of the Philippines in Diliman and Manila, University of Santo Tomas, Ateneo de Manila University and De La Salle University.
On the same day, La Salle, UST and the University of Makati, which was also named on the list, all denied AFP's accusations and told the military to back up its claims.
Emilio Aguinaldo College and Far Eastern University, which were also on the list, also denied they are involved in efforts to throw Duterte out of office.
"FEU is not promoting or condoning any on-campus movement to destabilize the government," the Morayta-based university said in a statement.
UP Diliman Chancellor Michael Tan, meanwhile, said the claims are reminiscent of the accusations during Martial Law.
"Para naman replay ito ng mga accusations noong panahon ng Martial Law no?" Tan said on the AFP's claim over GMA's "News To Go.".
He said that as a national university, UP opens its doors to the people.
"Free forum no. Na ang mga estudyante namin na-e-expose sa lahat ng pananaw, lahat ng activities ng iba't-ibang sektor ng lipunan," Tan said."Of course, we show anti-Martial Law videos. And you consider that communist? I think that's what's happening with the military e because we allow showing of anti-martial law [films], we allow peasants in, we allow Lumads in. If that is communist then I'm sorry. What do you expect us to do now?
AFP: We're acting on parents' complaints
Other schools on the list were Adamson University, University of the East in Caloocan and Manila, University of Manila, Philippine Normal University, Lyceum of the Philippines University, San Beda University and Eulogio "Amang" Rodriguez Institute of Science and Technology.
Caloocan City College, one of the schools tagged by the military, was confirmed to be non-existent by Caloocan City Mayor Oscar Malapitan in an interview with radio DZMM Thursday.
Without proof, the Palace has been insisting on the destabilization plot against the president, which it said is led by communist rebels as well as the opposition, Liberal Party.
Both the opposition and rebel group have denied such plans exist, while the AFP had also cleared the Liberal Party, led by Vice President Leni Robredo, of any involvement.
As for the schools named as part of Red October, the AFP claimed it was just acting on complaints it received from parents supposedly concerned that their children are being brain-washed to supporting communism.
"We have reports of concerned parents communicating to us their worries about the 'brainwashing' activities that their children were subjected to like films showing; video teleconferencing with a terrorist leader like Jose Maria Sison; and Martial law reenactments during break time of high school students," it said.
The military said it would seek dialogue with the Department of Education and Commission on Higher Education to discuss the matter.
"The AFP, as an institution, is the protector of constitutionally guaranteed rights of our people. We do not censure, but as a matter of fact guard and support freedom of speech, of assembly, and of redress of grievances," the military said.
"But such should be done in a manner peaceful and orderly, and with due respect to other people's rights. Because the moment there is resort to violence, the AFP will be there to prevent lawlessness," it added.
— with Janvic Mateo