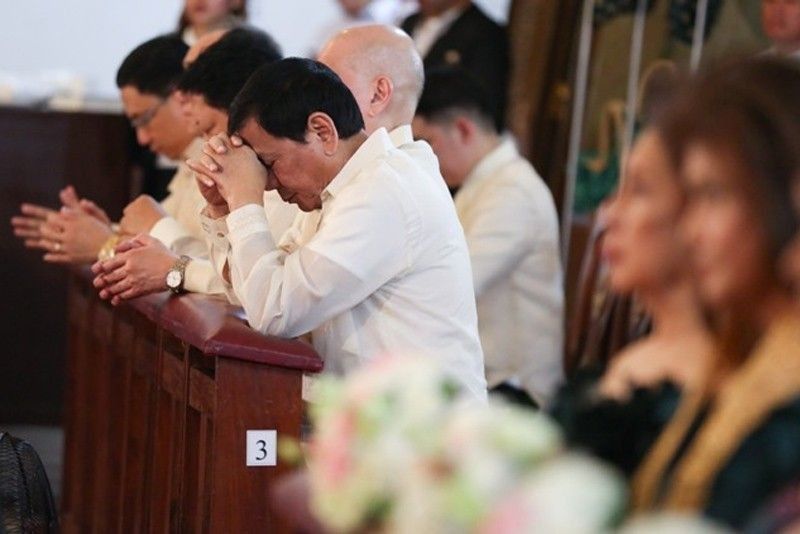 Novaliches Bishop Emeritus Teodoro Bacani Jr. dares President Rodrigo Duterte, seen praying here in this 2016 file photo, to walk around without armed guards
King Rodriguez/Presidential Photos, File
Bishop's 'friendly' challenge to Duterte: Walk around without bodyguards
MANILA, Philippines — Novaliches Bishop Emeritus Teodoro Bacani Jr. issued a friendly challenge to President Rodrigo Duterte on Tuesday.
"It's simple. You know, we bishops walk around, we don't have bodyguards, bullet-proof vests, we don't have security aids or with big entourages or guns. We're like that," he said in Filipino in an interview with Catholic news station Radio Veritas.
"My challenge to President Duterte, if he's really brave, is simple, do what we do," Bacani said, referring to how bishops walk around without armed guards.

The Novaliches bishop has been critical of the Duterte administration and has been a target of the president's verbal tirades in the past.
Duterte alleged in January 2017 that the bishop has two wives like him. Bacani responded to Duterte's tirade by saying he'll pray for the president.
Earlier Tuesday, Malacañang slammed Balanga, Bataan Bishop Ruperto Santos for condemning Duterte's joke urging the public to rob and kill "rich" bishops, saying the statement promotes crime and lawlessness.
READ: Palace hits Balanga bishop for 'lambasting' Duterte

"It is immoral authority and does not respect life and teaches wrong values. If he does it with bishops, how much more to ordinary citizens? What kind of head of state who encourages killing!" Santos said.
He added: "His presidency is a disappointment to us and disgrace to the country. It is known as 'kill, kill, kill.' And we totally speak, stand against it. We reject and condemn what he says."
But for Panelo, it was the bishop who committed "disgrace" when he criticized Duterte.
"The president who could have preferred retirement and enjoy its bliss to rise to the challenge of the times and at the commencement of his presidency has waged a war against all fronts of illegality in the country," Panelo said.
Despite the verbal tirades against the Church, Panelo earlier said that the president is still open to having a dialogue with church leaders to end the rift. Senate President Vicente Sotto III — who is a devout Catholic — volunteered to facilitate.
READ: Palace says Duterte open to dialogue with Church despite vow to continue attacks

At least three priests have been killed so far under the Duterte administration, which critics of the president have attributed to his violent rhetoric.
READ: Killing of priest 'unchristian, un-Filipino' — Cabanatuan bishop

Former presidential spokesperson Harry Roque denied last year that the president had anything to do with the killings.