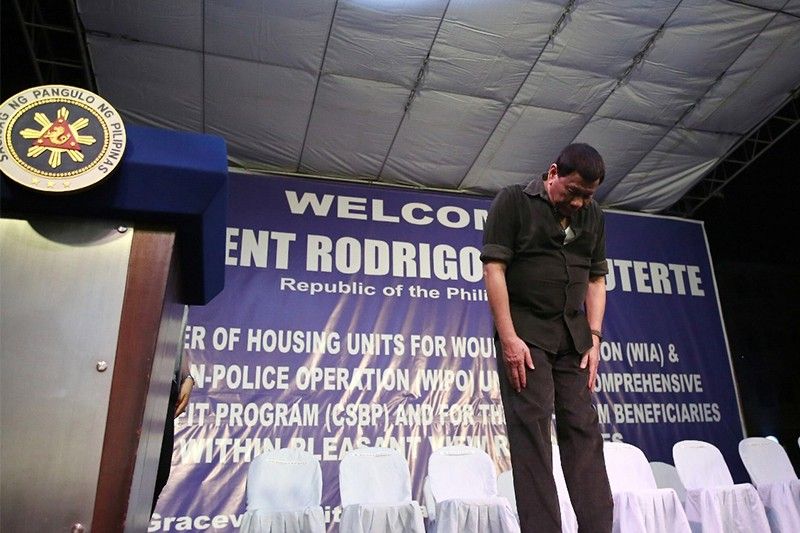 Presidential spokesperson Salvador Panelo says President Rodrigo Duterte is open to talks with the Catholic Church.
PCOO
Palace says Duterte open to dialogue with Church despite vow to continue attacks
MANILA, Philippines — President Rodrigo Duterte is still open to having a dialogue with the Catholic Church despite his constant attacks on the faith and its leadership, presidential spokesperson Salvador Panelo said on Monday.
"Anything that is beneficial to the nation — the president is easy to talk to — he's up for it, if that's what they're asking for," Panelo told Malacañang reporters on Monday.
Sen. Vicente "Tito" Sotto III told reporters on Monday that the would volunteer to mediate between Duterte and the church.
The Catholic lawmaker told reporters that the continuing dispute was making Filipinos "uneasy."
"There are attacks and counterattacks, [both] the Palace and the members of the Catholic Church," Sotto said in Filipino.
Duterte has been at odds with the Catholic Church who have been vocal critics against the drug war and human rights abuse in the Philippines.
On January 9, Duterte suggested that "tambays" or loiterers should kill and steal from "rich bishops."
Panelo defended him in a statement on Sunday, saying Duterte uses "figures of speech" to emphasize and "dramatize" a point. "In the case instant, he wishes to stress the failure of some bishops to empathize with the masses as they live comfortably in their rectories while the latter endure the vestiges of poverty," Panelo said.

READ: Palace tells bishops: take what you unleash
Bishops Arturo Bastes of Sorsogon and Ruperto Santos of Balanga condemned his statements publicly over the weekend.
"Again, his mouth has uttered absolutely silly things! And his 'fans' consider his murderous words as a mere joke! Is it a joke to advise people to kill?" Bastes said in a statement.
"It is no longer funny and does not deserve laughs or applause from audiences but condemnation. The advice just promotes criminality, encourages lawlessness. What kind of authority that calls for killing?" Santos pointed out.
READ: Bishops say Duterte call to rob, kill them alarming

On December 30, Duterte said he would continue his attacks on the Church until it "corrects itself."
READ: Duterte to continue attacks until Church 'corrects itself'
Fr. Jerome Secillano, executive director of the Catholic Bishops' Conference of the Philippines, called the statements "insensitive" in an interview over ANC.
"Those comments are quite insensitive. It's not only about the hierarchy of the church that's being attacked but it's already the doctrine of the Catholic faith. It is not only the priests or the bishops who should be affected by this but even the followers," he told ANC

No statement has been released directly criticizing the president on the CBCP website.
However, the bishops' organization issued a statement last November in defense of Caloocan Bishop Pablo Virgilio David, who Duterte accused of using drugs.

READ: 'I don't even take maintenance drugs': Bishop hits back at Duterte

On January 1, the CBCP published Pope Francis' New Year's message calling on Catholics to take on the "challenge of good politics," saying that charity and human virtues are the basis of politics at the service of human rights and peace.