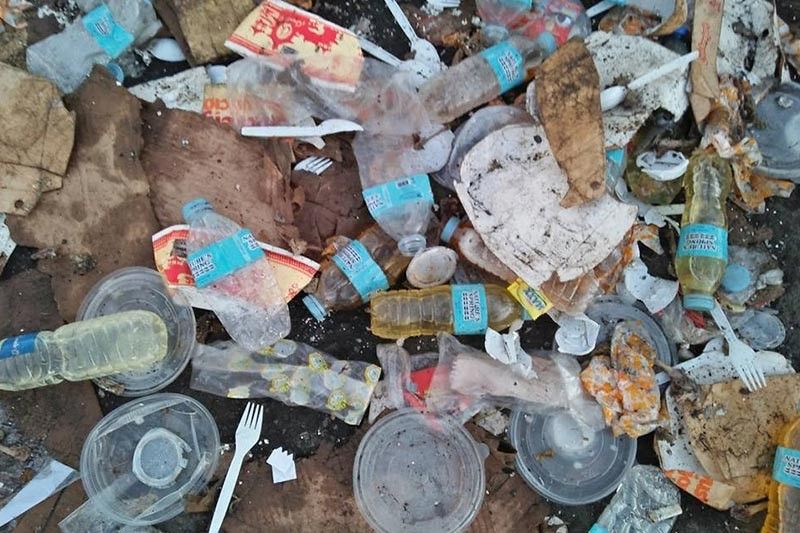 Lots of trash was left behind during this year's traslacion.
EcoWaste Coalition
'Trash-lacion': EcoWaste laments trail of garbage along traslacion route
MANILA, Philippines — Environmental advocacy group EcoWaste Coalition lamented the trail of trash left behind along the traslacion route by Black Nazarene devotees.
Among the wastes cleaned up by its volunteers include urine-filled plastic bottles, used diapers, mucky wipes, makeshift beddings, food containers, spoiled pancit, cup noodles, instant coffee sachets, cigarette filters, and lots of things plastic from shopping bags to cutlery.
"Our public appeal for a trash-less Traslacion has again fallen on deaf ears. Many people unashamedly threw their garbage anywhere turning the parade ground fronting the Quirino Grandstand into a dumping ground," Daniel Alejandre, Zero Waste campaigner of EcoWaste Coalition said in a statement.
"Families and barkadas who flocked to the park and even set up tents for the overnight vigil left piles of rubbish behind just like in previous years. There were many urine-filled PET bottles lying on the ground," Alejandre added.
The group had already asked devotees prior to the event to clean up after themselves.
"Ipagbunyi ang malinis na traslacion. Iwaksi ang makalat na trash-lacion," it said on Sunday.
Alejandre said that he hoped the devotion to the Black Nazarene will also be found in "the way we act toward our shared environment."
"Despite the painstaking efforts of street sweepers to pick up after the devotees, rubbish can be spotted everywhere! Old habits die hard," said Alejandre.
"People seem to have no qualms about littering, a prohibited act under our local and national environmental laws that is more often disregarded than enforced. Littering, especially in godly activities, is totally unacceptable. Devotion should not lead to pollution," the environmental advocate added.
After the Christmas holiday, 12 truckloads of trash was collected from families who celebrated in Rizal Park in Manila.
READ: 12 truckloads of trash hauled from Rizal Park

Personnel from the Metro Parkways Clearing Group of the Metropolitan Manila Development Authority said that 13.7 tons of trash or four of those truckloads were collected on Christmas Day alone.