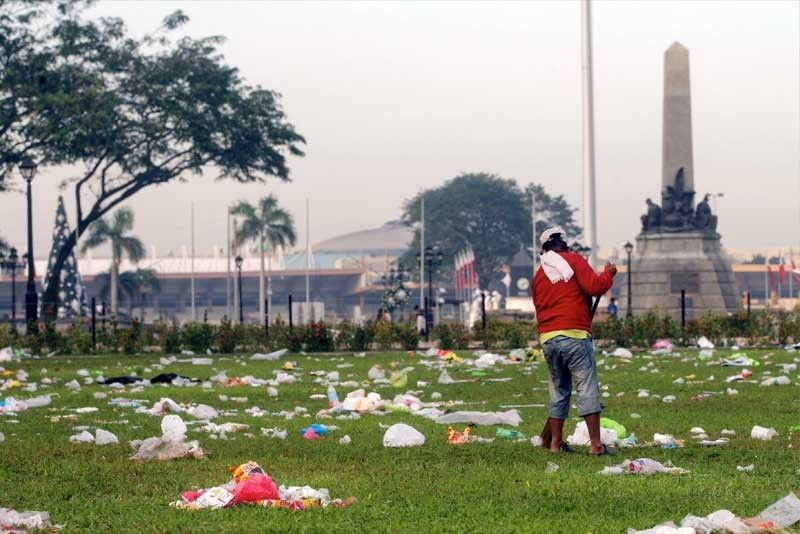 A street sweeper collects trash left by people who spent Christmas in Manila's Rizal Park.
Krizjohn Rosales
12 truckloads of trash hauled from Rizal Park
MANILA, Philippines — At least 12 truckloads of garbage left by families who celebrated Christmas in Rizal Park were collected from the popular tourist destination in Manila, officials said yesterday.
Task Force Manila Cleanup head Che Borromeo said an estimated 204 cubic meters of trash, mostly plastics, mats and empty food materials were hauled from the park as of 9 a.m.
Personnel of the Metro Parkways Clearing Group of the Metropolitan Manila Development Authority said they collected 13.7 tons or four truckloads of trash on Christmas Day alone.
Photos of Rizal Park and plazas that have been littered with trash after the Christmas celebrations were posted on social media.
The Department of Tourism (DOT) expressed dismay over the volume of garbage left by the park-goers.
Tourism Secretary Bernadette Romulo-Puyat said they are disappointed to know that people disrespect the country's tourist attractions despite their efforts to boost tourism.
"While we are happy by the people's continued patronage of Rizal Park, we are frustrated because there are individuals who do not value our tourist sites, especially the park that commemorates our national hero," Puyat said.
"We would like to remind everyone that preserving our country's destinations is also the duty of the people. Let us be responsible tourists; let us keep our tourist spots clean by throwing trash in bins," she added.
Around 5,000 people flocked to Rizal Park on Christmas, according to the National Parks Development Committee (NPDC) of the DOT.
More Filipinos are expected to welcome the New Year in Rizal Park.
"While we continue our efforts to maintain the cleanliness of our tourist sites, we appeal for public cooperation during the New Year revelry," Puyat said.
Penelope Diaz Belmonte, executive director of the NPDC, said they would mobilize personnel to clean the park.
She asked the visitors to practice "clean as you go" scheme and be responsible park-goers.
'Keep parks clean'
The EcoWaste Coalition appealed to the public to value the environment and keep public spaces clean.
"Just like how we keep our homes orderly and clean, we should do the same with our surroundings," the EcoWaste Coalition said in its Facebook page.
The group reminded the public that littering is penalized under Republic Act 9003 or the Solid Waste Management Act, which prohibits "littering, throwing, dumping of waste matters in public places such as roads, sidewalks, canals, esteros or parks and establishment, or causing or permitting the same."
Violators will be fined up to P500 and community service for one to 15 days.
"Littering is a bad behavior, which reflects our disrespect and lack of concern for Mother Nature and for other people," EcoWaste Coalition said. – With Helen Flores, Marc Jayson Cayabyab