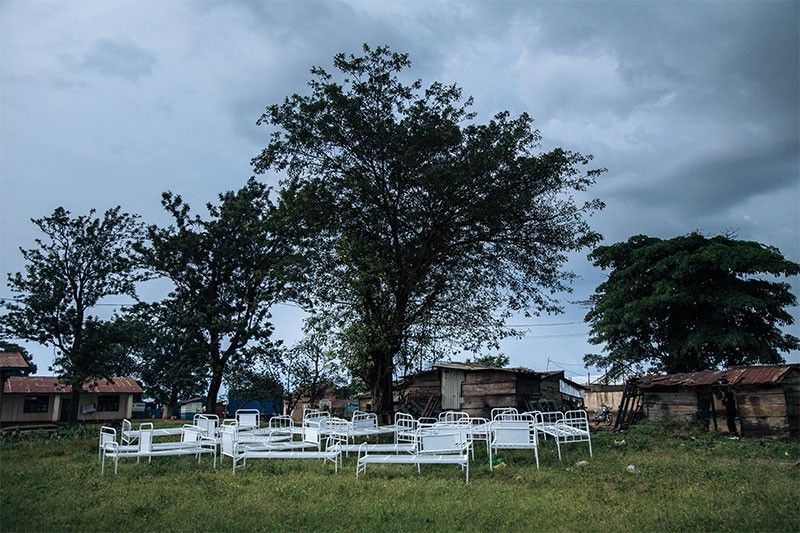 Hospital beds are stored outside ransacked tents by demonstrators by the Ebola transit centre in Beni, following a demonstration against the postponement of elections in the territory of the Beni and the city of Butembo on Dec. 27, 2018. A DR Congo opposition bloc called on Dec. 27, 2018 for a nationwide stoppage and police clashed with demonstrators in two eastern cities after upcoming elections were placed on hold in their region. In the province of North Kivu, the region most affected by the delay, several hundred demonstrators gathered in the administrative district of the city of Beni. Earlier in the week, the Democratic Republic of Congo's national election panel announced the thrice-delayed vote would be postponed in several troubled areas until March 2019.
AFP/Alexis Huguet
DFA monitoring Ebola outbreak in DR Congo
(Philstar.com) - January 4, 2019 - 3:25pm
MANILA, Philippines — The Philippine government is closely monitoring the situation in the Democratic Republic of Congo, where at least 142 Filipinos are based.
The number of fatalities due to Ebola has risen to 360, the second worst outbreak of the disease in history, the Department of Foreign Affairs said Friday.
"The Philippine Embassy in Nairobi, which has jurisdiction over the DR Congo, has informed the Home Office that so far, it has received no reports of any Filipino getting infected by the disease," DFA spokesperson Elmer Cato said.
The embassy is in communication with the Filipino Community in the DR Congo, according to Charge d'Affaires Francis Maynard Maleon.
The outbreak was first reported in August last year and has since spread to the eastern city of Butembo, where more than 600 cases have been reported.
The World Health Organization is working with Congo health officials to contain the outbreak, according to Maleon.
Filipinos in the DR Congo who are in emergency situations and may need assistance from the Philippine Embassy may contact (+254) 739310048.
An estimated 1 million voters have been barred from participating in the Central African country's elections due to the Ebola outbreak.
Protests emerged after the barring of voters, with some people vandalizing Ebola response facilities while some aid groups were forced to suspend work for days.
Some of the Ebola cases in this outbreak have been reported close to the heavily traveled border with Uganda. For months, Ugandan officials have been subjecting all passing through official border posts to mandatory Ebola screening.
The Ebola virus is spread through direct contact with the fluids of an infected person.
More than 50,000 people have received an experimental vaccine. WHO Director-General Tedros Adhanom Ghebreyesus said there were enough doses of the vaccine available "but at the same time we have already requested the supplier to produce more." — Patricia Lourdes Viray with AP