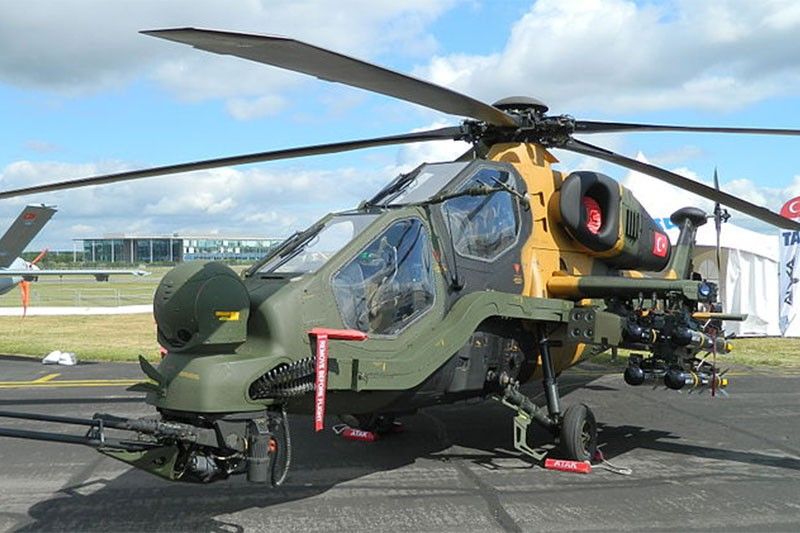 According to a report from The Diplomat, the Philippine Air Force passed the recommendation to procure the T129 to the Department of National Defense.
Wikimedia Commons/MilborneOne
Philippines eyes possible chopper deal with Turkey — reports
(Philstar.com) - December 4, 2018 - 4:00pm
MANILA, Philippines — The Philippine government may soon close an agreement with Turkey to purchase military helicopters, according to a report.
Tokyo-based The Diplomat reported that the Philippines had identified the Turkish Aerospace Industries' (TAI) T129 multirole combat helicopters as the replacement for the canceled deal with Canada.
Jane's Information Group, which specializes in the military and aerospace industries, also reported that a procurement team from the Philippine Air Force "has identified the T129 platform as fulfilling its capability demands, although the procurement project has not yet been finalized."
The Philippine Air Force, however, has yet to make a formal announcement on the possible deal with Turkey.
Lt. Gen. Galileo Gerard Kintanar, commanding general of the air force, earlier confirmed that the technical working group prefers the T129 and has passed the recommendation to procure the helicopters before the Department of National Defense (DND), the report read.
The DND would then engage with TAI for the possible government-to-government deal between the two countries.
"While specifics remain unclear, that would no doubt represent a landmark deal for the defense relationship between the two countries, where defense equipment transfers and sales have been discussed but have yet to manifest themselves in concrete, significant deals," Prashanth Parameswaran wrote on his article in The Diplomat.
The Diplomat stressed that both the Philippines and Turkey would have to take a number of steps to finalize the agreement as Philippine officials have no final decision yet.
If the deal pushes through, "the acquisition is expected to be facilitated through a government-to-government deal between the Philippines and Turkey, possibly involving credit provided by Turk Eximbank, Turkey's official export credit agency," Jane's also reported.
In February, the DND terminated a contract for the procurement of 16 helicpters from Canadian Commercial Corp after Ottawa raised concern that the choppers might be used in human rights violations.
President Rodrigo Duterte ordered the scrapping of the contract due to supposed conditions being imposed for the agreement.
What prompted Duterte to cancel the deal were the remarks of Canada's top diplomat to conduct "extremely rigorous" human rights analysis of any potential export of military equipment to the Philippines. — Patricia Lourdes Viray