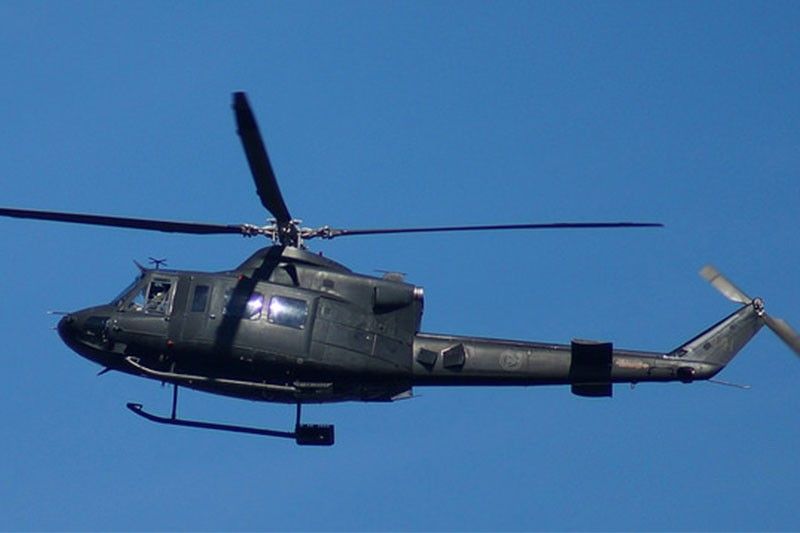 In this September 2012 photo, the Norwegian Air Force demonstrates the capabilities of its Bell 412. The Philippines ordered the same type of utility helicopter from a Canadian firm but President Rodrigo Duterte terminated the P12-billion deal.
BY-NC-ND/Johnny Comstedt
Air Force still looking for new choppers after canceled Canada deal
(Philstar.com) - July 19, 2018 - 5:33pm
MANILA, Philippines — The Philippine Air Force (PAF) is still in search for possible sources of new utility helicopters in replacement of the country's canceled deal with a Canadian firm.
In February, the Department of Defense terminated its P12-billion contract with Bell Helicopter and Canadian Commercial Corp. for the supply and delivery of 16 Bell 412 combat utility choopers to the PAF.
PAF chief Lt. Gen. Galileo Gerard Kintanar said that possible sources of new combat utility helicopters are South Korea, Italy and Russia, according to a report from state-run Philippines News Agency.
"We are going to talk to them one by one so the Philippines, in this case, the Air Force will get what is best for our conditions," Kintanar said in an interview.
A team was sent to Russia to check the helicopters that they are offering, he added.
The PAF is looking to finalize the contract for the combat utility choppers within the year.
Department of Defense spokesperson Arsenio Andolong earlier stressed that the Philippines does not have to justify its purchase to the Canadian government.
"While the combat utility helicopters being purchased are primarily for the purpose of transporting personnel and supplies, the Department believes that it does not owe the Canadian government any justification for an outright purchase of equipment from a privately-owned company," Andolong said.
The Canadian government earlier wanted to look into "extremely rigorous" human rights analysis of the Philippines for any potential export of military equipment.
A few members of the Canadian Parliament raised the issue during debates earlier this year.
Hélène Laverdière, member of the Parliament of Canada, noted that the Philippines has a "terrible human rights record."
"How can the Liberal government justify selling these helicopters to the Philippine army when it knows that this regime could use them against civilians? What about our principles?" Laverdière told parliament.
Canadian Foreign Minister Chrystia Freeland assured the parliament that she has the authority to decline any export application if needed amid concerns over extrajudicial executions in the Philippines.
President Rodrigo Duterte ordered the termination of the deal with the Canadian firm after this discussion in the Canadian Parliament.
The president directed the Armed Forces of the Philippines not to purchase anymore from Canada or the United Sates as "there is always a condition attached." — Patricia Lourdes Viray
Related video: