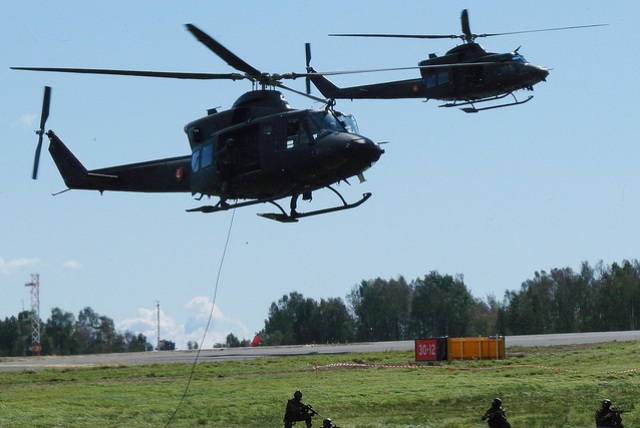 On Friday, Duterte ordered the helicopter deal scrapped, citing supposed conditions being imposed for the deal to push through. File photo
DND formally terminates chopper contract with Canadian firm
MANILA, Philippines — The Department of National Defense on Tuesday formally issued a notice to a Canadian firm that it is terminating a contract for 16 helicopters after Ottawa raised concern that they might be used in human rights violations.
The Defense department explained that the termination of the contract with Canadian Commercial Corp. for the supply and delivery of 16 Bell 412 Combat Utility choppers to the Philippine Air Force was based on President Rodrigo Duterte's order to rescind the deal.
It said a provision in the Government Procurement Law allows contract termination for the convenience of the government.
"The termination was precipitated by the review ordered by the Canadian government on the implementation of the signed contract agreement between the DND and CCC," the department said in a statement.
On Friday, Duterte ordered the deal scrapped, citing supposed conditions being imposed for the deal to push through.
"I am directing the Armed Forces of the Philippines do not buy anymore from Canada or the United States because there is always a condition attached," the president said in a press conference in his hometown Davao City.
The DND said that the combat utility helicopters were being bought primarily for transporting personnel and supplies.
However, Duterte on Friday said that the helicopters would be used against terrorists and Maoist rebels, whom the government now considers a terror group.
"If I cannot use the gunship or the helicopter, then I might as well surrender government to them," the chief executive said.
The DND in its statement insisted that it does not owe the Canadian government any justification for an "outright purchase" from a private company.
Last week, Canada's parliament discussed the potential sale in light of human rights concerns.
Canadian Foreign Minister Chrystia Freeland replied the Philippine government had not received any application for an export permit related to the deal.
"I will conduct an extremely rigorous human rights analysis of any potential export permit application related to this contract," Freeland said.
The DND "said it will continue to pursue the modernization program and will look into procuring the combat utility helicopters from other countries in lieu of the Bell 412."
Duterte also canceled a plan by the Philippines to purchase some 26,000 M4 assault rifles from the US for the Philippine National Police after several US senators threatened to block the sale over human rights concerns in the government's war on drugs.
The government said that it could always consider other suppliers following the scrapping of the deal with Canada.
The Philippines signed the agreement with the Canadian firm on February 7 for the sale of 16 helicopters worth around P12 billion.
Related video: