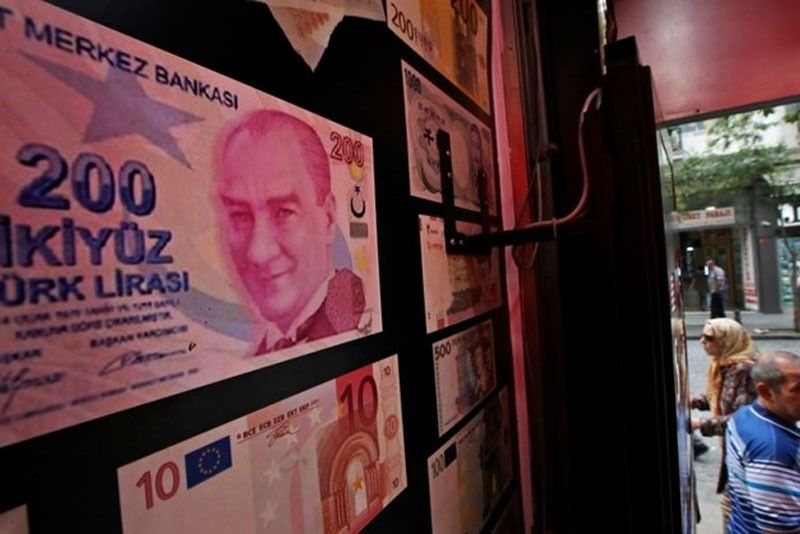 Turkey is facing economic difficulties at present, including the depreciation of the lira.
AP/Lefteris Pitarakis
Philippines mulls preferential trade deal with Turkey
MANILA, Philippines — The Philippines is studying the possibility of entering into a preferential trade arrangement (PTA) with Turkey, a senior trade official said.
Trade Undersecretary Ceferino Rodolfo told reporters discussions to look into the possibility of having a PTA were brought up during the joint economic commission (JEC) meeting held between the two countries earlier this year.
"During the JEC, we discussed that we are open, we would study it. They also would like to study it. With what's happening, let's see," he said, citing the current economic challenges in Turkey.
Turkey is facing economic difficulties at present, including the depreciation of the lira.
In addition, Turkey is reported to be facing deficits both in its fiscal and current accounts, as well as an inflation rate three times more than the central bank's target.
While a PTA has a limited scope compared to a free trade agreement as it only covers goods, Rodolfo said such would be beneficial for both countries.
He said a PTA with Turkey would be strategic for the Philippines as the former can serve as a source of textiles which can be used by local manufacturers for garments to be exported to other markets.
While Turkey has good quality textiles, Philippine garment manufactures are currently not using such in production.
Instead, Philippine garment manufacturers get textiles from China, South Korea, Indonesia and Vietnam.
"It's (Turkey) far and the market has not been developed on both sides," Rodolfo said.
A PTA, he said, could bring down the tariff of Turkish textiles to zero from around 10 to 20 percent currently.
He said Turkey also stands to gain from a PTA as it can get products from the Philippines.
In particular, he said the Philippines could provide automotive parts and tropical products to Turkey.