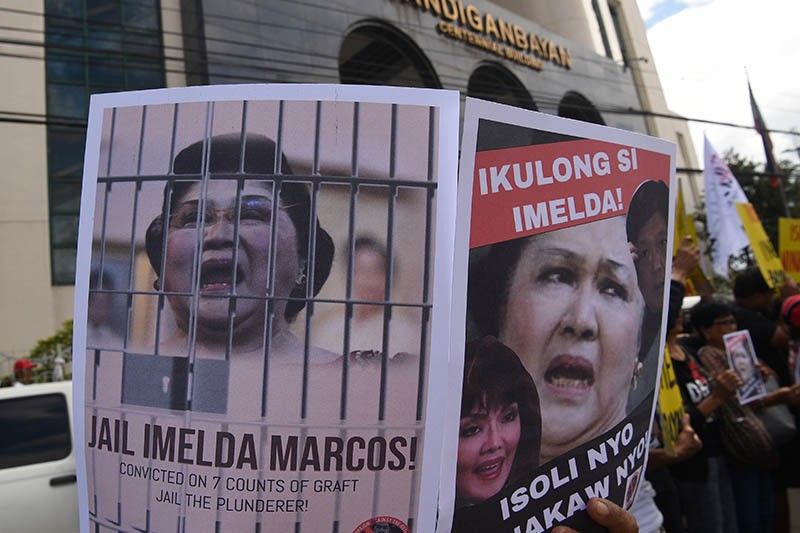 Anti-Marcos demonstrators display placards with portraits of Philippines' former first lady Imelda Marcos during a protest in front of the anti-graft court in Manila on November 13, 2018. Imelda Marcos was found guilty of corruption on November 9 and handed a lengthy prison term in a rare conviction for the former Philippine first lady accused with her late dictator husband of embezzling billions of dollars from state coffers.
AFP/Ted Aljilbe
Groups question delay in issuance of warrant vs Imelda
(Philstar.com) - November 14, 2018 - 9:47pm
MANILA, Philippines — Groups on Wednesday expressed their disappointment over the lack of an arrest warrant against Rep. Imelda Marcos (Ilocos Norte) nearly a week after her conviction for graft.
They also criticized the Philippine National Police for a seeming readiness to give the former first lady special treatment.
The anti-graft court last Friday convicted Marcos on seven counts of graft over the creation of several foundations in Switzerland during the administration of her husband, the late dictator Ferdinand Marcos.
The anti-corruption court's 5th Division ordered Marcos, a congresswoman, to serve six to 11 years in jail for each of the seven counts of graft. She was charged with making seven bank transfers totaling $200 million to Swiss foundations during her term as Metro Manila governor.
But the Sandiganbayan has yet to issue a warrant for her arrest five days later.
"The delay of the issuance of an arrest order against Marcos is dilly-dallying justice that should have been served quickly and decisively. This is an affront to all the victims of Marcos's martial law and the entire Filipino people who continue to shoulder the debts accumulated by the Marcoses, all while their hefty millions are safely tucked in offshore accounts," protest group Campaign Against the Return of the Marcoses to Malacañang (CARMMA) said in a statement.
The group said that "if Sandiganbayan and the PNP chooses to delay what has already been long-sought by the victims and their families, then it is indicative of their deliberate protection of a criminal."
PNP: No need to handcuff Imelda
When the court issues the arrest order, Rep. Marcos will likely not be handcuffed, Director General Oscar Albayalde, PNP chief, has said, citing Marcos' old age.
"Anyone who is of advanced age, especially a woman, we don't need to handcuff," Albayalde said in Filipino in an interview with dzMM radio on Monday.
He added it is unnecessary to put handcuffs on the former first lady because she has no history of violence.
Rights group Karapatan said the treatment given to Marcos shows the government's "lack of respect for human rights and victims of martial law despite laws and court decisions recognizing the crimes of the Marcos."
"The lame excuses and special treatment given by PNP chief Oscar Albayalde and the Duterte government to Imelda Marcos, a convicted thief, is more than just abominable. It is nauseatingly vile and disgusting," Karapatan secretary general Cristina Palabay said.
"Marcos' age and gender was never the issue, but her connections and the PNP's selective application of the law. If this was about age and gender, hundred of political prisoners and poor inmates would be given the same humanitarian consideration," CARMMA said Wednesday.
Social media users were also outraged by what they called "double standard" toward the dictator's wife.
But Albayalde maintained that the police force's approaches for Marcos and opposition lawmaker Sen. Antonio Trillanes IV are almost the same, noting that he has directed the Criminal Investigation and Detection Group to prepare for her arrest after word of Marcos' conviction was made public.
According to a report on Pilipino Star Ngayon, Albayalde has also said that the PNP Custodial Center, which is not a jail, is ready to receive Marcos if needed.
Related video: