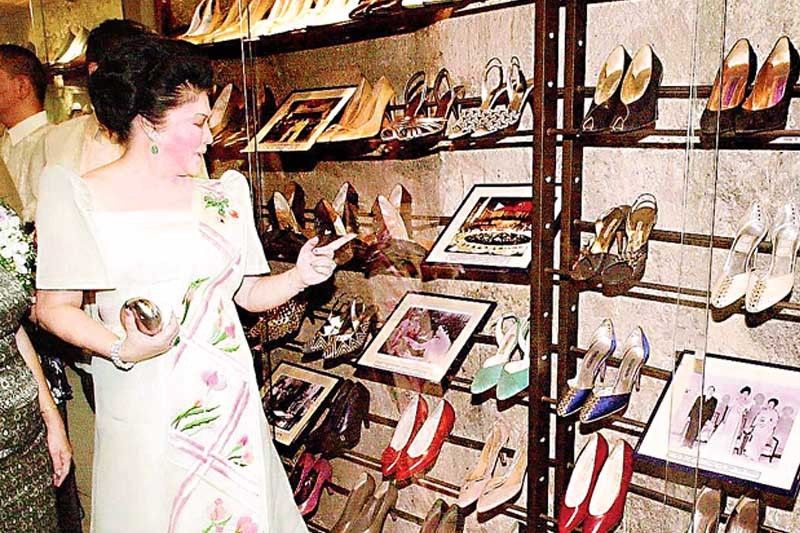 Photo taken on Feb. 16, 2001 shows former first lady Imelda Marcos looking at her shoe collection after formally opening the suburban Marikina Shoe Museum.
AFP
Imelda Marcos found guilty of graft, faces arrest
Former first lady to file appeal; Palace respects decision
MANILA, Philippines — The Sandiganbayan yesterday ordered the arrest of former first lady Imelda Marcos after finding her guilty on seven counts of graft committed during the two-decade rule of her husband and former dictator Ferdinand Marcos.
Marcos, 89, famous for a huge collection of shoes, jewelry and artwork, is facing dozens of protracted graft cases that have hounded her since her family was toppled in a military-backed popular uprising in February 1986.
The anti-corruption court's 5th Division ordered Marcos, a congresswoman, to serve six to 11 years in jail for each of the seven counts of graft. She was charged with making seven bank transfers totaling $200 million to Swiss foundations during her term as Metro Manila governor.
The foundations were identified as Maler Establishment, Trinidad Foundation, Rayby Foundation, Palmy Foundation, Vibur Foundation, Aguamina Foundation and Avertina Foundation.
Marcos and her lawyer Robert Sison did not attend the hearing yesterday.
In a statement, Imelda said she has received her copy of the decision and would definitely file an appeal. She said retired Court of Appeals justice Manuel Lazaro "will act as my counsel in the interim" as Sison is confined at the Asian Hospital and "indisposed." Lazaro, she said, intends to file a motion for reconsideration.
The arrest warrant may not be executed immediately because Marcos can appeal the ruling, a prosecutor said.
"She can elevate it to the Supreme Court if she sees grave abuse of discretion in the Sandiganbayan's decision. So this is not yet final and executory," assistant special prosecutor Ryan Quilala told reporters, adding she can also file application for bail.
Under the rules of the Sandiganbayan, the former first lady has 15 days from promulgation of ruling to file an appeal, and the anti-graft court has 30 days within which to decide on it. Marcos may also go straight to the Supreme Court to seek relief.
Marcos, serving her third straight term as a member of Congress, has registered to run for Ilocos Norte governor in next year's midterm elections to succeed her daughter, Imee, 62. Ilocos Norte is the stronghold of the still powerful Marcos family. Imee is running for senator. Hugpong ng Pagbabago, the political party formed by presidential daughter and Davao City Mayor Sara Duterte, is supporting Imee's senatorial bid.
Ferdinand Marcos ruled the Philippines for two decades, placing the country under martial law in 1972, during which time thousands of opponents were jailed, killed or made to disappear.
He was accused of amassing more than $10 billion while in office and died in exile in 1989.
President Duterte enjoys good ties with the Marcos family and has often praised the late strongman.
Duterte allowed Marcos' embalmed body to be buried at the Libingan ng mga Bayani in 2016, and Imee Marcos often accompanies the President at official events.
Duterte's spokesman Salvador Panelo said the ruling was proof that the executive "is not in the business of exerting undue interference or influence" on courts and "therefore respects the decision."
"We treat this decision by the anti-graft court as a good reminder to all public servants that public office is a public trust and that we are all accountable to the people we serve," Panelo said.
Electoral guide
Opposition Sen. Risa Hotiveros expressed hope the ruling "would serve as a crucial electoral guide" to voters in next year's elections.
Sen. Francis Pangilinan, president of the opposition Liberal Party, said the former first lady deserves the verdict for "exploiting her position to steal the people's money and betraying their trust."
"The Sandiganbayan conviction is a faithful reminder that the Marcoses have plundered the nation's wealth and have stolen from the people, no matter how much efforts to revise history are done by the Marcos family and their cohorts," Pangilinan said.
"We hope our courts will see this through conviction and give no special treatment to Mrs. Marcos," he said.
But he lamented the long time that it took the court to issue a verdict on Imelda's case.
"Ordinary Filipinos pay the price of their mistakes right away, like the jeepney driver who has to pay kotong as soon as he is caught," he said.
"This points to how long and therefore frustrating the Philippine judicial system is, and especially in relation to how powerful and powerfully entrenched the accused are," the senator said.
With the Sandiganbayan verdict, Sen. Paolo Benigno Aquino IV said the Marcoses could no longer deny that they had stolen billions from the Filipino people.
"Despite the slow grind, we hope this can be the beginning of our country's move towards justice," Aquino said in a statement.
"The acknowledgment of the truth about our history and the assurance of justice for a nation robbed of its riches and potential will finally allow us to move on," he said.
With Imelda's legal setback, opposition congressmen urged President Duterte not to give her special treatment.
Reps. Tom Villarin of Akbayan and Carlos Zarate of Bayan Muna said the Philippine National Police should immediately carry out the Sandiganbayan arrest order.
"The 89-year-old Marcos can't invoke age nor humanitarian grounds for her not to serve the sentence. She should be arrested and photos of her being brought to justice made public," Villarin said.
Zarate and Bayan Muna chairman Neri Colmenares said authorities should immediately take in the former first lady.
"She cannot avail herself of the probation law because the penalty carried by her case is more than six years," they said in a joint statement.
History's judgment
Villarin said Imelda's conviction "is a clear and unequivocal proof that she deserve history's judgment of a conjugal dictatorship that plunged our country in darkness more than three decades ago."
"It is lady justice catching up with history. The decision is a welcome relief and mitigates the pain of the past. But only with a full and voluntary acknowledgment by the Marcoses of their deeds can we say that closure is coming," he said.
"This historic decision rejects the Marcos' own narrative of historical revisionism that they brought about the golden years in our country's history," he added.
The verdict "puts to rest the Marcos family's contention that they have not amassed ill-gotten wealth nor plundered the country's coffers during their reign," Zarate said.
"Many would be happy with this decision but it would be better if the Marcoses also return all their ill-gotten wealth to the Filipino people," he said.
Rep. Antonio Tinio of Alliance of Concerned Teachers said the decision may be "too little, too late; nevertheless, a guilty verdict is a guilty verdict."
"It should see her jailed for a long time and perpetually disqualify her from holding public office," Tinio said.
"It shows us how Imelda Marcos can be held accountable for her role in the worst plunder in the nation's history. It gives us a taste of justice. We hope that similar cases can be pursued against the Marcos children," he maintained.
"Accountability for the crimes of the Marcoses is long overdue. In this light, we welcome the decision of the anti-graft court to declare Imelda Marcos guilty of seven graft charges," he said. "We commend the bravery of the Sandiganbayan in the face of a government and court skewed towards the rehabilitation of the Marcoses," he pointed out.
The Commission on Human Rights (CHR), through spokesperson Jacqueline de Guia, lauded the verdict, calling it "a triumph for the Filipino people, especially for the victims of human rights violations under martial law, in the face of historical revisionism." She said the CHR "will continue to be vigilant in this process in the interest of upholding justice for the victims of such transgressions. We will never forget."
Justice prevailed
Former solicitor general Florin Hilbay said there's no more doubt Imelda had abused her power to amass wealth.
"We might have waited for a long time, but in the end, the justice that the Filipino people have been longing for has prevailed," Hilbay, who is running for senator under the opposition coalition, said.
"With the decision of the Sandiganbayan, the truth which they have been trying to hide using public's money came out," Hilbay said.
The Sandiganbayan decision, he added, should encourage Filipinos to be more vigilant to prevent incumbent officials from committing the same abuses.
"It is in our hands whether we allow this kind of officials who abuse and take advantage of their fellow countrymen to stay," he said.
Human rights lawyer and opposition senatorial candidate Jose Manuel "Chel" Diokno said he welcomes the Sandiganbayan decision not because he wants revenge. "Justice is never vindictive," said Diokno, son of the late human rights lawyer who suffered detention during martial law.
Militant group Karapatan said Imelda should be immediately arrested.
"We demand that the Filipino people be accorded genuine justice for the human rights violations, plunder, corruption and puppetry of the Marcos regime," said Karapatan spokesperson Cristina Palabay.
"We demand the return of the billions of public funds stolen by the Marcoses to the Filipino people," she added.
"The Sandiganbayan decision is an early Christmas gift this bleak yuletide season amid surging cost of living due to runaway inflation," said labor group Bukluran ng Manggagawang Pilipino (BMP).
"The verdict elicits jubilation, a long standing prayer of the people has been answered but then again it would be safe to say that with the Duterte's administration's close affinity with the Marcoses, Imelda will be pardoned unconditionally," BMP chairman Leody de Guzman said.
Associate Justice Maryann Corpus-Mañalac wrote the Sandiganbayan decision with the concurrence of Associate Justices Rafael Lagos and Maria Theresa Mendoza-Arcega.
In the same decision, however, the anti-graft court acquitted Imelda on three counts of violation of Section 3 (h) of RA 3019 in connection with her alleged financial interests in a private local corporation, Asian Reliability Company Inc. and Dynetics (ARCI), also during her term as member of the Interim Batasan Pambansa, minister of human settlements and concurrently Metro Manila governor.
"Meanwhile, a review of the evidence point not to Ms. Marcos, but to her husband Mr. Marcos, who personally participated in the management, control and direction of the affairs of ARCI," the court said.
"The evidence merely shows Ms. Marcos' financial interests in ARCI, being the spouse of Mr. Marcos, but evidence of her active participation in the management and control thereof... is insufficient," it added.
The trial of the cases lasted for 17 years or from January 2000 to March 2017. – With Jess Diaz, Paulo Romero, Helen Flores, Rhodina Villanueva, Christina Mendez, Rainier Allan Ronda, Ding Cervantes, Reuters