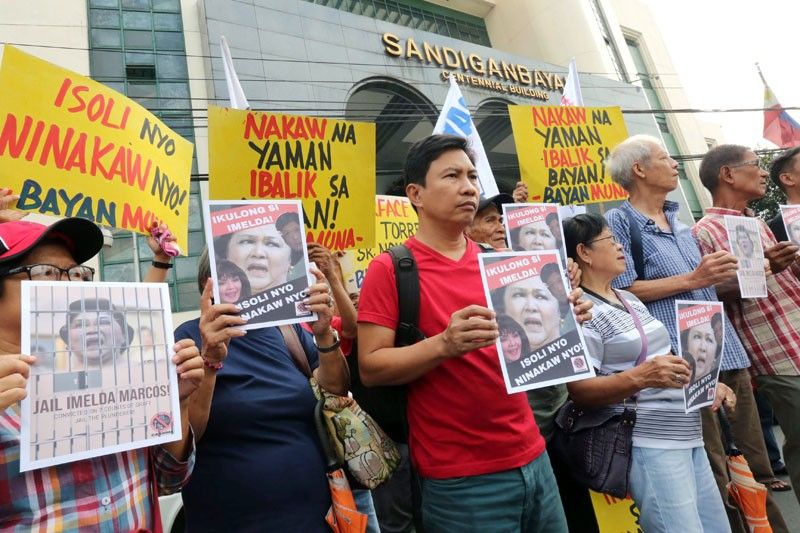 Martial law victims rally in front of the Sandiganbayan in Quezon City yesterday to demand the arrest of Ilocos Norte Rep. and former first lady Imelda Marcos following her conviction for graft.
Boy Santos
Sandigan forfeits Imelda Marcos' bail
MANILA, Philippines — The Sandiganbayan has forfeited the bail bond of former first lady and Ilocos Norte Rep. Imelda Marcos for her and her lawyer's "unjustified absence" during the promulgation of judgment last Friday.
In a one-page order dated Nov. 9, released to the media yesterday, the anti-graft court's Fifth Division ruled that the absence of the accused and her counsel appeared to be unjustified.
The Fifth Division granted the prosecution's motion and ordered the cancellation of the bail bond that Marcos posted in 1991 when the cases were filed.
But as of the closing of the Fifth Division Office of the Clerk of Court on Friday afternoon, no arrest warrant has been issued, thus law enforcement authorities could not yet enforce Marcos' arrest.
Marcos is given 30 days from Friday to expound on why no judgment on the bonds should be issued.
Philippine National Police (PNP) chief Director General Oscar Albayalde said there is no need to put handcuffs on Marcos in the event police arrest her following her conviction by the Sandiganbayan for graft.
"Anyone who is of advanced age, especially a woman, we don't need to handcuff," Albayalde, spoke to dzMM radio in Filipino.
Marcos has no history of violence, Albayalde said, adding that this was another reason why he thinks it is unnecessary to handcuff the lawmaker.
Marcos, 89, was convicted for funneling public funds to Swiss bank accounts during the 21-year rule of her husband, former dictator Ferdinand Marcos.
Meanwhile, Albayalde defended the PNP from critics who accused the government of double standard in their treatment of Marcos compared to opposition Sen. Antonio Trillanes IV.
Albayalde insisted that their approach for the two politicians are almost the same, noting that he has directed the Criminal Investigation and
Detection Group to prepare, after word of Marcos' conviction went public.
"Trillanes has previous history of rebellion," he said.
Albayalde insisted that no special treatment will be given to Marcos. She will be treated like any other detainee in the event the anti-graft court orders for her to be jailed at the PNP Custodial Center in Camp Crame.
"We do not intent to give anybody special treatment," he said.
Not exempt from imprisonment
Marcos should not invoke her age to evade imprisonment for her conviction of graft by the Sandiganbayan, a former human rights lawyer during the martial law era insisted yesterday.
"The advanced age of (Marcos) is a non-issue consequent to her conviction for seven counts of corruption by the Sandiganbayan. No law or jurisprudence exempts a felon from arrest or incarceration due to old age," Albay Rep. Edcel Lagman argued.
Imelda, widow of the late strongman Ferdinand Marcos, is now 89 years old.
Under the law, the veteran lawmaker explained that an offender aged 70 and above is "only entitled to a mitigating circumstance" under the Revised Penal Code, and that death convicts with such age cannot be subjected to such harsh punishment.
Lagman pointed out that "neither can a member of the House be privileged from arrest when the Congress is in session in offenses punishable for more than six years," which means Marcos is not excluded or exempt from arrest, much less detention.
But House Minority Leader Danilo Suarez, who is in his mid-70s, called on the general public, including the most virulent critics of the Marcoses, to try to be fair and recognize as well the good accomplishments of the former president.
"Some of these Marcos critics devote so much their time to find issues against the late President. How about the good things that they have done? Nobody gives them credit for what they have done," the Quezon congressman said.
"Remember at the onset of the EDSA revolution, the premise was that anything that is Marcos is bad, which is wrong," Suarez lamented. "I hope we have a closure on this. Let us pay attention to the increasing number of unemployment. This is unusually big."
House Majority Leader Rolando Andaya Jr., for his part, vowed to comply with any order of the court.
"While there are remedies available to all persons under our criminal justice system including but not limited to provisional remedies and appeal, the House will respect and abide by the decision of the Sandiganbayan," the Camarines Sur lawmaker said.
Behind bars
As this developed, martial law victims trooped to Sandiganbayan yesterday morning to demand an arrest warrant for Marcos.
"While we welcome the guilty verdict against Imelda, justice should come in full circle. Imelda should be arrested and be put behind bars," said Trinidad Herrera-Repuno, chairperson of Samahan ng Ex-Detainees Laban sa Detensyon at Aresto.
The group also criticized the statements of Philippine National Police chief Gen. Oscar Albayalde that Marcos's health and age should be considered on her arrest.
"Albayalde's statement should have been no surprise for us, but seriously? You have the gall to say that while the nation saw that Imelda was partying at Sara Duterte's birthday on the day of this case's promulgation! You say she's frail and old?" said Herrera-Repuno.
The martial law victims claimed they hounded the Marcoses as far as Hawaii to make them accountable for their crimes.
"Many of those who fought the dictatorship have not reach Imelda's age because they were murdered, disappeared and put to jail under Marcos' martial law. Meanwhile, those of us who survived continue to suffer at this age, our country's younger people continue to pay for what they have robbed from the people," Herrera-Repuno said.
SELDA maintained that the Sandiganbayan should stand by its decision and not be cowed by the Marcoses alliance with the present administration.
"The Sandiganbayan should prove that justice should be served to the robbers and plunderers in power," SELDA said.
Convicted too late
Although hailing the conviction of Marcos, the Communist Party of the Philippines (CPP) said the ruling came "too late.
"At 89, Imelda has only a few years left to serve her 42- to 77- year jail term," the CPP noted
The CPP however went on to lambaste Marcos who, it said, "evaded justice by more than 30 years."
The CPP also believes that "if ever she is put behind bars, Imelda will surely carry out legal maneuvers to take advantage of the slow grind of the justice system to evade justice completely."
The underground group also fear that Marcos "will ultimately be shielded by a Duterte presidential pardon."
But "with the conviction, the long-standing historical judgment of the Filipino people against the Marcos dictatorship is further solidified."
"The conviction helps thwart the brazen efforts of the Marcoses to distort history," the CPP claimed, amid alleged denials of corruption and human rights violations during martial law. - With Emmanuel Tupac, Michael Punongbayan, Delon Porcalla, Rhodina Villanueva, Artemio Dumlao
Related video: