Imelda Marcos found guilty of 7 counts of graft
November 9, 2018 | 10:07am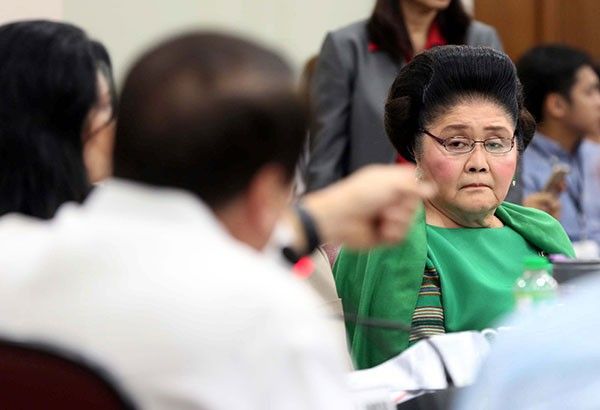 MANILA, Philippines (Updared 1:39 p.m.) — Anti-graft court Sandiganbayan ordered the arrest of Ilocos Norte Rep. Imelda Marcos, widow of ousted dictator Ferdinand Marcos, who was found guilty of graft.
The Sandiganbayan Fifth Division found Marcos guilty beyond reasonable doubt of seven counts of graft.
The court, however, acquitted her in three counts of graft in connection to the use of her Cabinet position to maintain Swiss bank accounts during the regime of her late husband.
The Ilocos Norte lawmaker is sentenced to imprisonment of six years and one month to 11 years for each count of graft or a total of 42 years and seven months to 77 years. She was also perpetually disqualified from public office.
Assistant special prosecutor Rey Quilala, however, clarified that Marcos may still file a motion for reconsideration as her conviction is not yet final. This means that the arrest order against her may still be lifted.
The court also ordered Marcos to explain her absence during the reading of her verdict.
LOOK: Dispositive portion of the Sandiganbayan 5th Division's 70-page decision convicting Rep. Imelda Marcos of 7 counts of graft. @PhilippineStar pic.twitter.com/vb2wuz5kMX

— Elizabeth T. Marcelo (@marcelo_beth) November 9, 2018
In December 1991, the Office of the Ombudsman filed 10 counts of graft against Marcos, which stemmed from the alleged creation of several private foundations in Switzerland and holding financial interests in the private sector while holding public office.
She was the minister of human settlements from 1976 to 1986 and concurrent Metro Manila governor from 1978 to 1984.
The prosecution said Marcos violated the Section 3(h) of Republic Act 3019 or the Anti-Graft and Corrupt Practices Act, which prohibits government officials from having direct or indirect "financing or pecuniary interest in any business, contract or transaction in connection with which he intervenes or takes part in his official capacity, or in which he is prohibited by the Constitution or by any law from having any interest." — Patricia Lourdes Viray with reports from Elizabeth Marcelo