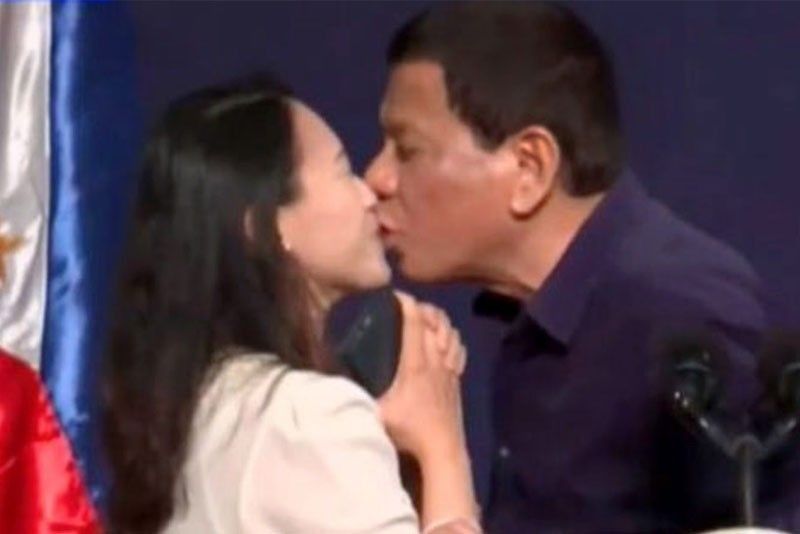 Asked what would have happened to him if he had pulled aside the President, Roque replied, "Patay na ako. Wala na akong trabaho (I'm dead. I would lose my job)."
File
Roque: Duterte's kissing episode in Korea 'inappropriate'
MANILA, Philippines — Former presidential spokesman Harry Roque Jr. has changed his tune on President Duterte's controversial kissing episode in South Korea.
Appearing on ABS-CBN's "Gandang Gabi Vice" on Sunday night, Roque said Duterte's act was "inappropriate."
Roque cited the President's kissing of a female worker on the lips in a meeting with the Filipino community in South Korea last June.
Roque, who previously justified Duterte's act despite protests from women's groups, said he considered pulling aside the President to spare him from controversy.
"Akala ko mamamatay ako nun (I thought I would die)," Roque said. "Feeling ko dun dapat tumakbo ako at hilahin siya, halika dito, dito tayo Mr. President. Halika na (I felt I should have run and pulled him aside. 'Come here Mr. President)."
Asked what would have happened to him if he had pulled aside the President, Roque replied, "Patay na ako. Wala na akong trabaho (I'm dead. I would lose my job)."
Roque, who is running as a nominee of Luntiang Pilipinas party-list, said he defended Duterte by saying that it was the President's way of showing his love for overseas Filipino workers.
Pressed on why he thought the act was inappropriate, Roque said, "Kasi meron pang slow motion (Because there was slow motion)."
"Kasi lips to lips, pwede naman beso-beso na lang (It was a kiss on the lips. A kiss on the cheek would do)," he added.
While he thought the gesture was inappropriate, Roque said he had to defend the President because it was his job as a spokesman.
Despite his opinion about the kissing episode, Roque said Duterte is "the best President we could have under these conditions."
Speaking to Palace reporters yesterday, Roque insisted that the kissing scene was "a bit too much."
"I did not know what I was actually going to do. But I have to be candid because it was the question. As I said, I never lie. But maybe that's why being press secretary would not be apt for me because whether I like it or not, I'm also very candid with my responses," Roque said.
"Now, I don't think that will be repeated. I do not know if the President thought it was inappropriate, but I don't think that incident would be repeated at all for the remainder of his term," he added.
Roque said he could speak about his advocacy now that he is no longer presidential spokesman.
"It's time to be my own person again," he said.
"Nothing has changed, I'm now back to the old person that I was. I knew that as a spokesperson I had no personal views. That period has ended. I'm now able to freely advocate for the issues that are close to my heart."
Related video: