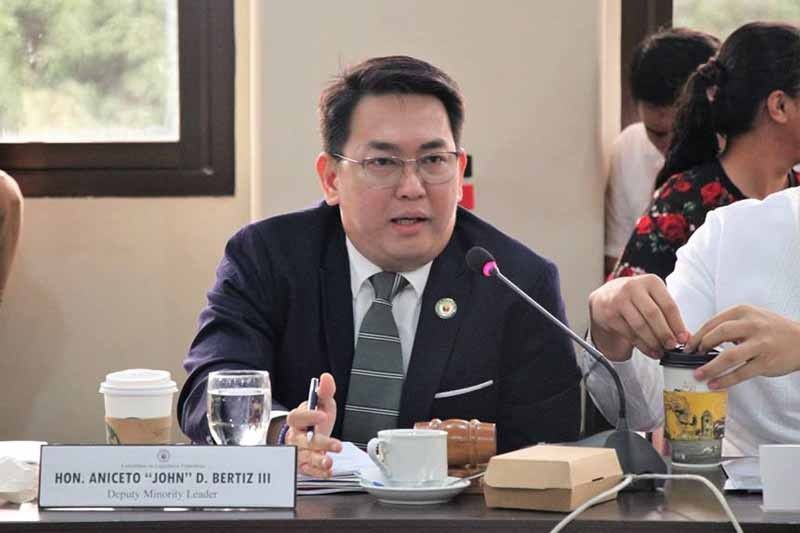 Rep. Aniceto John Bertiz III (ACTS OFW) was caught on closed-circuit television footage not following the security procedures.
Rep. John Bertiz/Facebook
Solon scolding NAIA security screener in viral video says sorry
MANILA, Philippines — The lawmaker seen not following security protocols at the Ninoy Aquino International Airport in a viral video defended his move saying he was only reprimanding the screener for not checking several Chinese-looking individuals.
CCTV camera footage posted online on Sunday showed Rep. Aniceto John Bertiz III (ACTS OFW part-list) not following security procedures.
The video showed Ilocos Norte Gov. Imee Marcos following the security check and removing her shoes while Bertiz who was also asked to take off his shoes did not follow and ignored the screening security personnel.
The incident supposedly took place on Saturday at the NAIA Terminal 2 domestic departure area.
The netizen pointed out that NAIA is implementing security condition level alert 2 where all passengers and employees are required to take off their shoes at the final security checkpoint.
In the video, Bertiz was also seen forcibly taking the identification card of the security personnel later on identified as Hamilton Abdul. The lawmaker also showed a card to the personnel.
The netizen who posted the video described Bertiz as "disrespectful" for harassing the security personnel and deliberately ignoring procedures.
For his part, Bertiz apologized for his actions.
"I offer no excuse. I am sincerely sorry for my actions," Bertiz said in a statement on Sunday.
On the other hand, Bertiz's chief of staff, Jun Aguilar explained that the lawmaker acted that way since some of the Chinese-looking passengers were not thoroughly checked by security officers.
"A group of Chinese-looking passengers escorted by airport staff had breezed through and did not undergo the same security protocols that everybody else had to go through," Aguilar said.
"The congressman questioned the security checker why those who went before him just casually walked through and were not properly searched," he added.
Aside from this, Bertiz's camp also questioned the release of the CCTV camera footage saying video controllers should not upload and post these on social media.
Aguilar said the solon's camp already addressed this issue with Manila International Airport Authority General Manager Ed Monreal.
"Whether this or that security video involved an official or not is beside the point," Aquilar said.
"The truth is, in the past, we've encountered great difficulty in obtaining CCTV videos from the MIAA, in line with our efforts to protect both departing as well as arriving overseas Filipino workers," he added.
The solon's staff said they previously repeatedly asked the MIAA for copies of surveillance videos to check on complaints of human trafficking victims being escorted by airport staff into the departure area, of baggage bullet-planting and of theft of valuables from suitcases. However, he said their requests were not granted.
The airport incident came just days after Bertiz was also involved in another viral video where he was seen speaking on behalf of Special Assistant to the President Bong Go, addressing new engineers at a Professional Regulation Commission event. He threatened not to give them their licenses if they tell him they do not know Go.
Bertiz has since apologized for the video saying it was intended to be a joke.
RELATED: Solon in PRC video says 'no license' remark for not knowing Bong Go a joke