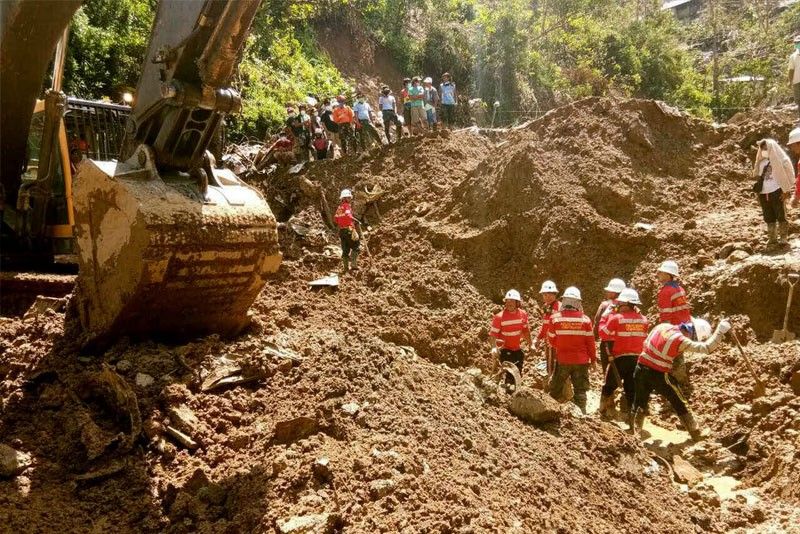 Members of Philex Mining Corp.'s rescue team on Saturday help recover bodies of miners buried in a landslide in Barangay Ucab, Itogon, Benguet.
Forced evacuation in Benguet implemented due to Paeng
MANILA, Philippines — With the approach of Typhoon Paeng toward Northern Luzon, the police implemented yesterday a forced evacuation of residents in Itogon, Benguet, site of a landslide that killed more than 40 people at the height of Typhoon Ompong last Sept. 15.
Benguet police director Sr. Supt. Lyndon Mencio said he ordered the withdrawal of residents and some 500 rescue workers from ground zero at the vicinities of Level 070 and First Gate in Barangay Ucab in Itogon.
"We already have three backhoes expediting the diggings to locate more buried bodies," he said.
Mencio said he received reports that several families who left during the onset of Typhoon Ompong have returned to the landslide area where some 45 bodies have so far been recovered while 23 others remained missing.
Mencio said they have to implement forced evacuation in anticipation of heavy rains that could be spawned by Paeng.
"We enforce evacuation as recommended by the Mines and Geoscience Bureau (MGB) because of the discovery of more cracks on the mountain that could trigger another landslide," Mencio told The STAR.
The MGB earlier warned that the area in Ucab where the landslide occurred and its immediate vicinities are "highly dangerous."
MGB supervising science research specialist Liza Manzano said the cracks on ripraps protecting the mountainside have become more visible.
She said the cracks, about two inches wide, were not distinct during the first day of the landslide aftermath.
She said rains and vibrations coming from the rescue site further aggravated the cracks, forcing authorities to withdraw their command post in the area.
Meanwhile, Mencio said the diggings have reached the point of the buried building where several body parts belonging to at least three persons were recovered as of 4 p.m. in Barangay Ucab.
Some P63.4 million worth of food and other items have been released by the Department of Social Welfare and Development (DSWD) to local officials of areas ravaged by Ompong.
Social Welfare Secretary Virginia Orogo assured the typhoon victims that efforts to help the beleaguered local government units (LGUs) will continue to enable residents to resume their normal lives.
There are still 167 evacuation centers that provide temporary shelter to 5,870 families or 21,980 persons.
Some 103,715 families or 394,129 persons have returned home, the DSWD said.
DSWD-Field Office 1 has an ongoing relief operation for persons with disabilities (PWDs), pregnant women, older persons and others with special concerns.
Regional officers and the LGU of Calasiao, Pangasinan also conducted a rapid damage assessment and needs analysis (RDANA) to determine the type and extent of damage brought by the typhoon.
In the Cordillera Administrative Region (CAR), the DSWD Field Office is still assisting families affected by the landslide in Itogon.
For individuals and groups who wish to give cash donations, DSWD FO-CAR said these could be given to the DSWD-CAR Office located at No. 40 North Drive, Baguio City.
Rescue team members from Philex Mining Corp. have recovered seven bodies at the landslide area in Itogon.
"The search-and-recovery operations were indeed faster, now that a pioneer road had been connected to Ground Zero for easier access to rescuers and equipment," according to Philex president and CEO Eulalio Austin Jr.
"Still, this did not detract from the grim nature of the work that our rescue team had to do," Austin said.
The day before, an excavator deployed by Philex from its mine camp in Tuba, Benguet, was able to reach ground zero after carving out a roadway from the Itogon provincial highway.
The Philippine Red Cross (PRC) is ramping up its relief operations a week after Ompong devastated Northern and Central Luzon by providing shelter assistance and basic household items to hundreds of families in Baggao and Gattaran in Cagayan yesterday. – With Rainier Allan Ronda
Related video: