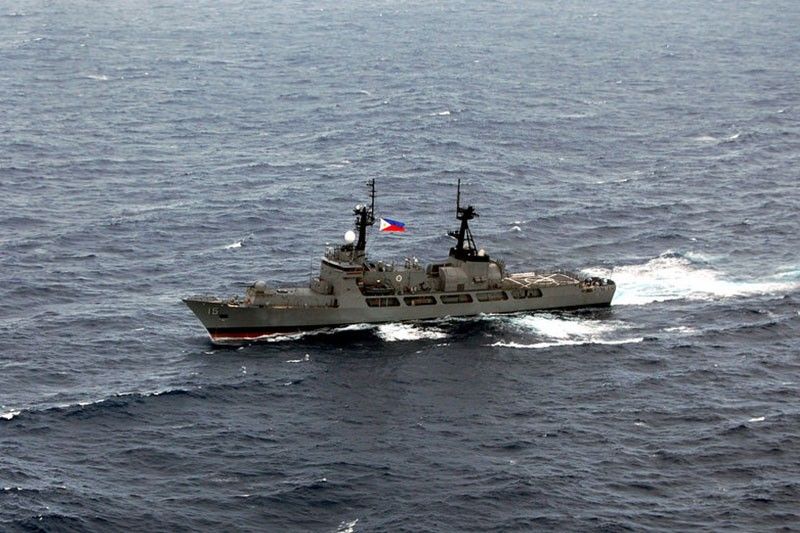 In this January 2012 photo, BRP Gregorio del Pilar patrols the West Philippine Sea.
Philippine Navy
Navy working to retrieve BRP Del Pilar from shoal
(Philstar.com) - August 31, 2018 - 11:49am
MANILA, Philippines — The Philippine Navy's Western Command has deployed all its vessels to retrieve the BRP Gregorio del Pilar, which has run aground near Hasa-Hasa Shoal in the West Philippine Sea.
The Navy's flagship ran aground on a shoal in waters that China also claims late Wednesday evening, the Armed Forces of the Philippines said.
Col. Noel Detoyato, AFP public affairs office chief, said the Western Command has mobilized its assets to conduct assessment, retrieve the aground vessel, return to safe harbor and assist all personnel aboard the ship.
"An investigation is expected in such situations to find out the possible causes of the grounding and to come up with steps to ensure that similar incidents will be prevented," Detoyato said in a statement released Friday.
None of the personnel aboard the Navy vessel were hurt during the incident, according to the AFP.
The military also noted that other nearby assets are on standby for any contingency.
Defense Secretary Delfin Lorenzana earlier confirmed that BRP Del Pilar is still aground in Hasa-Hasa Shoal while the Navy is assessing the damage.
The Del Pilar is one of the Hamilton-class cutters that the Philippine Navy acquired from the United States Coast Guard in 2011 and has converted into frigates.
The vessel has a 25-millimeter Bushmaster auto-cannon, a 76-millimeter Oto Melara cannon and machine guns. — Patricia Lourdes Viray
As It Happens
LATEST UPDATE: August 31, 2018 - 11:09am
The Philippine Navy has dispatched ships to assess, retrieve and bring flasghip BRP Gregorio del Pilar (PF-15) to safe harbor after it ran aground on Hasa-Hasa Shoal (Half Moon Shoal).
The Philippine News Agency quotes Defense Secretary Delfin Lorenzana confirming the ship had run aground and saying: "It is still there and the Navy is still assessing damage before pulling it out."
The Del Pilar is a former US Coast Guard cutter and is the lead ship of her class. The other fomer Hamilton-class ships in the Philippine Navy are BRP Ramon Alcaraz (FF-16) and BRP Andres Bonifacio (FF-15).
August 31, 2018 - 11:09am
The Philippine military is investigating the possible causes of the grounding of BRP Gregorio del Pilar in the vicinity of Hasa-Hasa Shoal in the West Philippine Sea.
"All afloat vessels in the Western Command area have already been mobilized to conduct assessment, retrieve the aground vessel and return her to safe harbor, and assist all personnel aboard BRP Del Pilar," the Armed Forces of the Philippines said in a statement. — Patricia Lourdes Viray