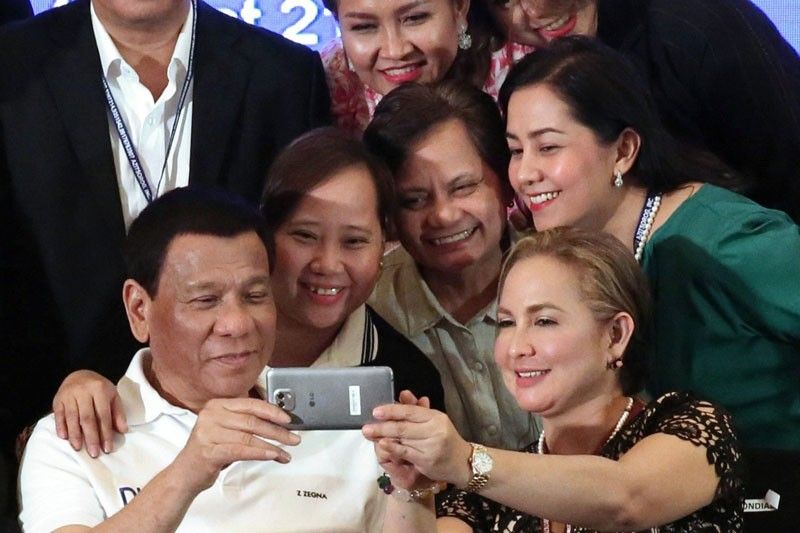 President Duterte may be watching Netflix, but he is having difficulty using touchscreen smartphones and similar gadgets.
Gadgets a challenge for Duterte
MANILA, Philippines — Is it a case of an old dog being unable to learn new tricks?
President Duterte may be watching Netflix, but he is having difficulty using touchscreen smartphones and similar gadgets.
"Ang problema diyan, nagbalik ako sa 'yung pindot-pindot lang because bugok na kasi ako (The problem is I returned to the phone with physical keypad because I am dumb with regard to these things)...I cannot learn anymore," Duterte said during the conference of the League of Municipalities of the Philippines-Visayas Island Cluster held in Cebu on Tuesday.
The 73-year-old Duterte said a female police aide taught him how to use a smartphone, but he forgot what he was taught the following day.
"So 'yung mga telepono niyang ****** na 'yan, sabi mo touch. Isang pindot mo, tatlong numero lalabas (These devils, you said they are touch screen phones. When you press one button, three numbers appear)...Kailan tayo matapos nitong p***** i**** 'to? Ayaw ko nito (When will this son of a b**** end? I do not want them)," the President said, drawing laughs from the audience.
Duterte said he once tried using messaging app Viber on his mobile phone but it did not turn out well.
"I have a Viber account but I do not use it. I do not know how… I pressed the 'send all' button. All of the names (in the phone directory) were included," he said.
"It said I created a group. What created a group? I did not call anyone. I hate doing it especially to men. I don't talk to men. And to women, especially when I was about to sleep. You will give me a problem," he added.
Duterte said everybody reacted to his message, the content of which he did not give details.
"To the elderly,do not use them (smartphones). If you do not really consciously spend time to study how it works, better lay off. Madidisgrasya ka diyan (You will end up in trouble)."
Duterte said older phones are safer because they are harder to intercept.
He claimed that countries like the United States, Russia, China, Israel, and Indonesia have been listening to his phone conversations, but he did not provide the basis for his claim.
While he is not a fan of smart phones, Duterte said he is watching Netflix shows about illegal drugs. He said he watched the online series "Dope' while resting in Davao City last Tuesday.
"Look at Netflix, dope and drug lords. They have encountered each other. They cannot control marijuana, so they just had to come up with a statement that marijuana sometimes or maybe is a chemical that is beneficial because it kills pain," he added.
Duterte to teens: Careful in choosing partners
Duterte advised teenagers against having relationship with drug addicts and spoiled brats from affluent families, saying they would end up with broken hearts and limbs.
"If you are in love with an addict, leave him. He's not a man. He's a coward and an idiot. You will have a husband who is an idiot," the President said.
He urged the youth to be more circumspect in choosing a partner.
"Imagine a man who cannot resist taking a drug that will destroy your body. Then that's about love… There are many teenagers who think like that. Avoid men who are like that. Your lives will be wasted," he added.
Duterte, who has a teenage daughter with his partner Honeylet Avaceña, said it is his duty to enforce the law to make sure the youth are saved from drugs.
"For real, all teenagers, listen to me. If your boyfriend is into taking marijuana, you think that it's the vogue? It's the fad? You think it's fashionable? Believe me, that's not a man," he said.
He also said spoiled brats should be avoided because most of them beat their partners.
Duterte advised parents not to tolerate their children who have partners addicted to drugs.
"Do not wait for a crazy son-in-law. And it won't be long before he dies. Your daughter will be a young widow," he said.
The President directed local officials who are facing difficulties in eradicating illegal drugs to coordinate with Interior and Local Government officer-in-charge Undersecretary Eduardo Año.
"The mayors, I expect you to go two bars higher in governance. If there is a drug problem, which you cannot solve, you go to Secretary Año. Tell him the problem and he will solve it for you," he said. With Christina Mendez