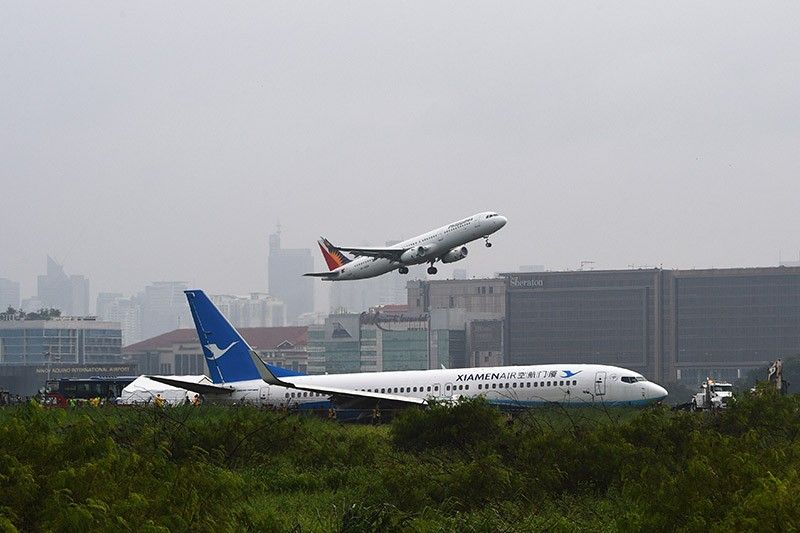 A XiamenAir Boeing 737-800 series passenger aircraft (foreground), operating as flight MF8667 from Xiamen to Manila, is seen after skidding off the runway while attempting to land in bad weather at the Manila international airport on August 17, 2018.
TED ALJIBE / AFP
Mounted flights sans notice caused airport congestion — MIAA
MANILA, Philippines — Sixty-one flights made without clearance from the Manila International Airport Authority were mounted over the weekend, an airport official said Monday.
MIAA General Manager Ed Monreal said that the recovery flights mounted by Xiamen Airlines and other carriers on August 18 and 19 caused the congestion and problem with the gate assignment of planes.
"Nalaman na lang namin nung nandyan na 'yung eroplano, which created a lot of congestion in terms of parking space," Monreal said in a press briefing.
He added: "We're scampering for gates. We're having lots of problems and complaints from passengers."
Monreal said he had told airlines to ensure that "MIAA [would not be removed] in the equation."
"We will definitely call their attention to follow the proper protocol… There might be some consequence but I can't quantify what consequence or penalties that we may impose," the official said, stressing the need for communication and cooperation between the airlines and the MIAA.
NAIA's main runway was reopened past 11 a.m. Saturday, more than 24 hours after a Xiamen Airlines aircraft skidded off the runway late Thursday.
"We've logged in 681 flights that came and departed since [the runway was reopened]," Monreal said.
The Chinese plane was removed from the muddy spot where it had been stuck early Saturday.
The incident led to flight delays and cancellations, which affected thousands of passengers.
Airport authorities initially said the runway would be opened at 12 p.m. Friday, but they moved the scheduled resumption of operations four times.